Phillips 66 (NYSE:PSX) will announce two pieces of positive news for investors this year: 1) a stock repurchase program and 2) an MLP of their transportation assets. I've written previously that I believe Phillips 66 is undervalued and these events may go some way to realizing that value and building confidence a 2-month-old spin-off.
The Detail Of The Disclosures
Recent conference presentations by Phillips 66 imply two positive events for the stock before the end of the calendar year. This analysis draws primarily on company presentations from the Citi Global Energy Conference on 5 June 2012, transcript here, and UBC Global Oil and Gas Conference on 24 May 2012, transcript here.
Specific Quotes
Perhaps the two most interesting statements were from Greg Garland, the CEO and Chairman, at the Citi conference.
Firstly, around buybacks:
You'll see us step out with share buybacks. At some point this year we'll make some announcement around that as we get our Board - we've had our first Board meeting in May - as we move forward with the Board and start thinking about the free cash and how we distribute that back.
Secondly, around an MLP (Master Limited Partnership) of transportation assets:
The other thing that I would say is around the transportation logistics space, we're looking at how can we make investments around that space. And we are considering MLP in that space. We have MLP-able assets around our transportation logistics infrastructure and we'll give you some more clarity around that. We're going to have an Analysts Meeting around December timeframe, and so you'll hear more specificity about our plans around MLPs as we approach the end of the year and that time.
Potential Price Impact
These announcements will be a mild positive for Phillips 66. I'd expect a low single digit outperformance on the day of each announcement. For the stock repurchase it reinforces the shareholder-friendly mindset of management, for the MLP it sheds light on a relatively opaque, but material, part of the business. I would not buy the stock merely on the basic of these predicted events, but if you agree on the long term upside in the stocks, these catalysts should help the patient investor.
Risks
Though positive, these announcements would be relatively small compared to the impact of Phillips 66's overall quarterly earnings announcements, a positive or negative surprise on earnings, or changes in the macroeconomic environment or commodity pricing more generally would overwhelm the impact of these company specific events.
Additionally, these statements are public knowledge. Depending on your perspective on market efficiency, you may take the view that these events are now 'priced in' to Phillips 66 stock price.
Phillips 66 Stock Performance Post Spin-Off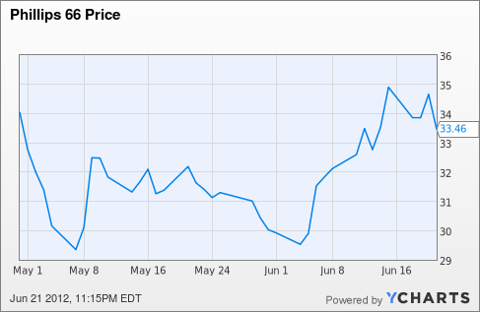 Disclosure: I am long PSX.