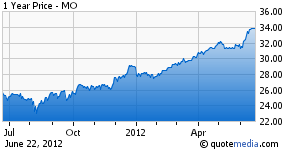 One of my favorite case studies to read is Jeremy Siegel's account of what made the Old Philip Morris (NYSE:PM) a fantastic investment from 1925 to 2003, delivering 17% annual returns to investors despite only growing dividends by 11% over that time frame. Because of the long-term wealth that Altria (NYSE:MO) has created for its shareholders, I like to compare what made Altria such a success from 1925 to 2003 and see if those factors still exist today. Of course, the operating environment for Altria is much more difficult today than it was in the 1950s, but there are two particular points of comparison that would give me pause about buying shares of Altria today.
1. First of all, Altria's payout ratio can't get much higher. As of now, Altria is paying out a $0.41 quarterly dividend. That works out to $1.64 per share annualized. Over the past twelve months, Altria has earned $1.67 per share. Comparing the current dividend to the past year's worth of earnings, we can see that Altria's payout ratio is well over 90%, giving the firm little wiggle room to focus on upgrades, expansion, share buybacks, debt reduction, etc. Likewise, it wouldn't take much of an earnings setback to cause the tobacco company to pay out more money in dividends than it is generating in earnings. The margin of safety isn't there. Altria needs sustained earnings growth relief to be able to continue its awesome history of dividend growth. This is certainly possible-Value Line estimates that Altria will earn $2.20 this year, and if the company accomplishes that feat, the payout ratio will drop to a much more manageable 75%. But that's the point-considering that Altria runs a modest buyback program, has to pay interest on its $13 billion debt, and devote some funds to expansion in areas like the smokeless tobacco market, the likelihood of Altria growing its dividend by a rate greater than 7.0% over the medium term seems unlikely, although Altria management has shown a very strong ability to navigate tough regulatory environments and declining volumes for tobacco shipments across the board.
2. My second concern about Altria is the company's present valuation. It seems imprudent to pay over 20x earnings for a tobacco company like current investors are doing today. One of the reasons why Altria has delivered such phenomenal returns is because the growing dividends got reinvested into more shares at beaten down profits. Altria returned 17% from 1925 to 2003, but it only grew earnings by 11% annually over that period. That very large 6% spread is due to the fact that Altria was dirt cheap-often under 10x earnings during the great scares of the Philip Morris litigation-which turbo-charged the returns for the investors that chose to reinvest dividends. If you're reinvesting your Altria shares at a multiple of 20, you're not going to get those same turbo-charged returns. The last time that Altria traded at 20x normalized earnings was in 1998 [and it had Kraft (KFT) under its belt back then], and the stock price fell from $55 to $26 by 2000 as the exuberance subsided.
The point is that tobacco companies are risky in the sense that they come with the added burden of heavy regulation and the incessant introduction of smoking deterrents by the government. In exchange for this risk, shares of Altria are supposed to trade at a discount rather than a premium as we see today. Value Line estimates that the long-term P/E for Altria going forward will be 12x earnings, and it certainly seems that long-term P/E compression is more likely than not.
My theory is that the low interest rate environment has pushed investors into high-yield blue chips like Altria and AT&T (NYSE:T), and when the rates start to rise in the next couple of years, the P/E compression will create a headwind for investors focused on total return in either firm. It should be telling that the last time that Altria traded at this steep of a valuation, the shares of the company fell by over fifty percent in the following twenty months.
I'm not here to say that Altria will be a bad investment going forward because the truth is that I do not know that. But I can look at factors that have made Altria a success in the past, and then compare them with the present circumstances of today. Historically, Altria had been able to raise its dividend by a few percentage points higher than its earnings growth to ride out rough patches, but if another rough patch comes, Altria seems less equipped to indulge in that luxury. Likewise, the current P/E for Altria seems historically high, and this makes it difficult for dividend reinvestment to boost returns for investors in the same way that it did in the past. Because I believe that interest rates will rise in the next couple of years to trigger a P/E compression for Altria's stock, I would advise potential investors to wait 2-4 years before sending in that buy order for Altria stock.
Disclosure: I have no positions in any stocks mentioned, and no plans to initiate any positions within the next 72 hours.