Alcoa Inc.'s (NYSE:AA) aggressive focus on restructuring and cost-cutting strategies, expected productivity gains, diverse product mix, and cheap valuations are attractive enough for a long position in its stock. The stock is down 50% from its 52-week highs. However, some potential risks to our recommendation include the continual decline in aluminum prices (trading near two-year low levels), unfavorable settlements of Alcoa's litigation, and China's aluminum companies not cutting their production capacity to reduce aluminum oversupply.
Recommendation:
Buy AA now and add to position when:
Aluminum prices start to move up
Chinese aluminum producers announce supply cuts
Industry introduction:
The Aluminum Industry is currently undergoing a downturn because of weakening global demand of the metal, along with declining metal prices. As a result, major producers (including Alcoa) are cutting capacity in an attempt to impede declining prices. However, unlike global companies, China's aluminum companies have increased their production capacity and output. As a result, the oversupplied market and rising energy costs in China have raised global competition even more.
Unless China cuts unprofitable production to support the global market, aluminum prices are not expected to rise in 2013, according to Mr. Oleg Mukhamedshin, the head of equity and corporate development at Russia's RUSAL, the world's largest aluminum company.
Company description & latest earnings review:
Alcoa Inc. is the world's leading producer of primary aluminum and fabricated aluminum. It is also the world's largest miner of bauxite and refiner of alumina. Its major markets include aerospace, automotive, packaging, consumer electronics, building and construction, commercial transportation, and industrial markets.
In 1Q2012, despite challenging market conditions, Alcoa's financial performance was better than before. This was a combined result of its aggressive strategy to move down the cost curve, higher productivity across all its segments, and higher realized prices for aluminum, despite high input costs and lower realized alumina prices. As a result, it is successfully moving towards the achievement of its strategic goal: moving down the cost curve (10% in smelting and 7% in refining).
Financial performance review:
Due to its extensive cost-cutting efforts, Alcoa has been able to record a per-diluted share gain of 9c in 1Q2012 relative to an 18c loss in 4Q2011.However, relative to 1Q2011, this recent gain is 18c lower, which signifies the impact of lower aluminum prices and weakened demand.
The company's outlook regarding the expected performance of its segments in 2Q2012 is as follows:
Alumina surplus (due to smelter curtailments) will impact the alumina price index negatively
Ongoing and scheduled (e.g. in Spain) curtailments will reduce production
Pricing pressures due to uncertain European markets
Negative impact of outage at Rockdale and Warrick power facilities
Improvement in Russia and China as shipments are expected to increase
Productivity gains in each segment will continue
Stock price Drivers & Upcoming Catalysts:
Macroeconomic environment and Aluminum price:
Like copper, aluminum prices rely on general macro conditions. So volatile movements in its prices directly impact Alcoa's share price.
Aluminum has just hit its two-year low price, due to an excess of supply and the Fed's recent extension of "Operation Twist". According to Reuters, an analyst at the U.S. fund said, "Although demand is holding at decent levels, unless we get supply cuts and/or increased monetary stimulus soon, aluminum might be a victim of further price falls."
This quote tells the entire story. Despite weak global economic environment, aluminum producers have kept smelters churning. This was because of a greater demand from financiers, who were able to record small (but low risk) profits as storage and capital costs were less than the aluminum forward pricing curve.

Click to enlarge
(Click to enlarge)
Restructuring and focus on cost-cuts
Alcoa continued its efforts to lower its upstream cost profiles so as to stay competitive in this highly uncertain environment. At the start of this year, Alcoa announced curtailing of its aluminum production capacity of around 531,000 tons, and reducing its output by 12%.
It has already closed two of its aluminum-production lines in Brazil because of abnormally high electricity costs, in an attempt to reduce high cost profiles. However, it is not planning any further closures because of an assurance by Brazilian President Dilma Rousseff of a reduction in energy costs.
We expect these extensive cost-reduction strategies, along with productivity initiatives, will continue to strengthen Alcoa's operating results in 2Q2012.
End Markets' Demand
The demand for AA's major-end markets is going to impact its share price in future.
Aerospace (47% of AA's FY 2011 revenue):
Although Alcoa raised its forecast for the aerospace demand growth rate by 3% in April, the reduced growth in the global GDP has led to a slight dip in its demand. Still, Alcoa continues to remain the leading supplier of aluminum to the world's Aerospace Industry and it continues to expect strong orders and deliveries, which are driven by travel demand and aging fleet.
Non-residential construction (19% of AA's FY 2011 revenue):
After a healthy first quarter, the construction activity is undergoing a dip as indicated by substantial drop in Architecture Billings Index (ABI). The ABI score dropped from 48.4 in April to 45.8 in May.
Commercial transportation (16% of AA's FY 2011 revenue):
The commercial transportation market demand is expected to continue its upsurge as is illustrated in this graph: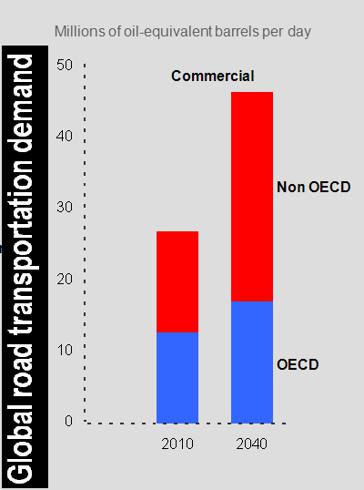 Click to enlarge
(Click to enlarge)
Industrial gas Turbine (10% of AA's FY 2011 revenue):
Demand for industrial gas turbines is also surging, which is a positive indicator for Alcoa.
Lawsuit implications
There is a pending litigation against Alcoa Inc., whose results could affect its share price in future. In this case, Aluminum Bahrain BSC, a Middle Eastern firm, has accused some of Alcoa's affiliated companies of giving more than $9.5 billion in bribes and commissions. The plaintiff claimed that bribes were given so that the Bahraini firm, Alba, would overpay $420 million for raw materials from 1997 to 2009.
Despite these accusations, Alcoa is confident that "the lawsuit lacks merit and we intend to defend it vigorously". Still, an unfavorable decision would impact its share price adversely.
Valuation:
Its forward price-to-earnings ratio of 9.4x trails the industry average of 17.7x. The long-term growth rate of 13.1% is quite lucrative. Its dividend yield of 1.4% is a little less than the industry average of 1.8%. Its YTD share price has dipped by as much as 5%, while the S&P 500 index appreciated by 6% during the same period.
Disclosure: I have no positions in any stocks mentioned, and no plans to initiate any positions within the next 72 hours.