Darden Restaurants Inc. (NYSE:DRI) posted fourth quarter fiscal 2012 earnings from continuing operation of $1.15 per share, in line with the Zacks Consensus Estimate but above the year-ago earnings of $1.00 per share.

In full fiscal 2012, earnings per share from continuing operations were $3.58 versus last year's earnings of $3.41.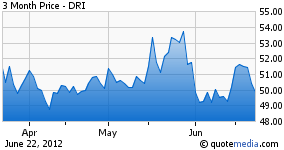 Total revenue grew 3.8% from the prior-year quarter to $2,065.6 million but fell short of the Zacks Consensus Estimate of $2,107.0 million. Combined same-store sales (comps) for the company's three core brands -- Olive Garden, Red Lobster and LongHorn Steakhouse -- dropped 1.9%, partially compensated by 2.7% growth witnessed in the company's Specialty Restaurant Group.

An earlier Lent and Easter holiday this year hurt the fourth-quarter combined result for Olive Garden, Red Lobster and LongHorn Steakhouse by 40 basis points (bps), out of which Red Lobster suffered the most. Red Lobster's comps plunged 130 bps in the fourth quarter.

In fiscal 2012, revenue increased 6.6% year over year to $7,998.7 million.

Operating Highlights

By restaurant concepts, Olive Garden's sales grew 2.7% year over year to $904.0 million in the fourth quarter, driven by contributions from 38 net new restaurants offset somewhat by a 1.8% downside in comps growth.

Sales at Red Lobster increased 2.8% to $681.0 million attributable to revenues from 6 net new restaurants. However, a 3.9% decrease in comps weakened the concept's performance.

At LongHorn Steakhouse, sales were up 11.7% at $297.0 million on the back of a 3.0% growth in comps. Moreover, revenues from 32 net new restaurants in the quarter also contributed to the upside.

Sales at The Specialty Restaurant Groups increased 26.9% to $179.0 million, driven by comps growth of 2.8% at The Capital Grille, 2.8% at Bahama Breeze and 1.9% at Seasons 52. The growth in revenues was also backed by the addition of two net new Capital Grille units, six new Seasons 52 units and four new Bahama Breeze restaurants. The addition of 11 restaurants purchased from Eddie V's restaurants in November last year also contributed to the growth.

Financial Position

Darden ended the quarter with cash and cash equivalents of $70.5 million and long-term debt (less current portion) of $1453.7 million. In the fourth quarter, the company bought back 0.4 million shares of its common stock and increased the quarterly dividend by 16% to 50 cents per share.

Guidance

Orlando, Florida-based Darden foresees its sales growth for fiscal 2013 in the range of 6% to 7% based on a 1% to 2% increase in the blended same-store sales estimate for its three core brands. However, the company intends to open 100 to 110 net new restaurants in fiscal 2012. Finally, the company expects its earnings per share to increase in 8% to 12% range in 2013.

Our Take

Slowdown in comps in two of Darden's core concepts and the failure of promotional offers in the backdrop of a challenging macro environment were the key takeaways from Darden's fourth quarter earnings. Olive again underperformed after giving a positive signal in the last quarter.
Although Darden took a set of initiatives to overcome the recent woes at Olive Garden, its sustained effect is yet to be seen. In fact, Darden expects the macroeconomic tension and faltering consumer confidence to be a continuing headwind in 2013.

However, on a positive note, the performance of its specialty restaurant was a relief in the quarter. The flaring cost environment is also cooling off, and should in turn help Darden to fare better in fiscal 2013.

Darden, which competes with Kona Grill Inc. (NASDAQ:KONA) and Brinker International Inc. (NYSE:EAT), currently retains a Zacks #3 Rank which translates into a short-term Hold rating.