As I mentioned in a previous article, Middleby (NASDAQ:MIDD) reported impressive fourth quarter results. Its earnings per share increased 32.8% to $0.89 in the fourth quarter of 2007 as compared to $0.67 in the fourth quarter of 2006. For the full year, earnings per share increased 21.0% to $3.11 in 2007 from $2.57 in 2006. Net sales rose 48.1% in the 2007 fourth quarter, and 24.1% for the full year. The net sales increase reflects the impact of several acquisitions that were made during the year. Excluding the impact of acquisitions, sales organically grew 11.9% in the 2007 fourth quarter, and 5.7% for the full year.
I always try to been very conservative when building valuation models. I had been modeling 15% earnings growth for Middleby, but this may be too conservative. Middleby's CEO is now guiding to 20-25% earnings growth.
Earnings History
Below is a summary of Middleby's earnings over the past four years.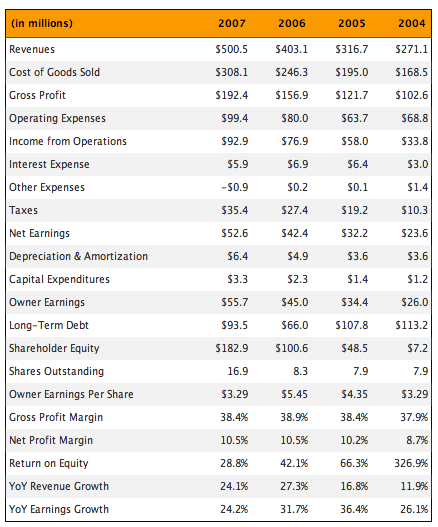 I should note that the table above is not split-adjusted, thus the jump in shares and the seeming decline in earnings per share. It should also be noted here that Middleby's purchase of Star International Holdings, Inc. for $188 million is not reflected in the numbers above as it closed following the year-end reporting period. Middleby's debt increased as a result of this purchase by $188 million. Integrating Star as well as its other 2007 acquisitions should continue to produce efficiencies going forward. Earnings growth of 20% does not seem unlikely based on Middleby's success in integrating past acquisitions. I would expect the majority of Middleby's free cash flow will be used to pay down debt in 2008.
Valuation
My previous valuation had started with owner earnings of $50 million. Based on Middleby's recent results, I have increased the starting owner earnings to $55.7 million. I had also relied upon a growth range of 9-21%. This is a wide-range, but I was assuming 9% organic growth if no acquisitions were available. With Middleby's recent acquisitions, it should be able to achieve efficiencies in the future that should result in greater than 9% growth. Other assumptions for the table below assume a reversion value based on a 1.35 PEG ratio at the end of five years. I use a 10% discount rate for the cash flows.
click to enlarge

The Risks
Execution is always a risk when companies rely on integrating acquisitions the way Middleby does. Its track record has been very good. The Star acquisition is larger than usual for Middleby and may present some challenges for them. Still, Star was profitable when Middleby acquired the company, producing an estimated annual $20 million in EBITDA.
The economy could still present Middleby with some risks. Short-sellers have moved in on Middleby largely because it is next in line in a series of dominos. The theory goes consumer - retailers - companies that sell to retailers. I believe this is a misperception that currently presents an opportunity. Many of Middleby's customers are expanding overseas, and require Middleby's equipment. Additionally, Middleby has developed innovations in its products that produce real energy savings for its customers. Finally, the company can leverage its recent acquisitions for greater earnings efficiency.
Conclusion
To be conservative, I am relying on 18% earnings growth going forward. If the company produces 18% annual earnings growth over the next five years, it will be worth $3 billion. Discounting the cash flows back at 10% results in a value of $103 per share. The current share price of $68 represents a 34% margin of safety.
I already have a full position in Middleby, but based on its current valuation, it may be worth going a little overweight in its shares. If the company hits the top end of its guidance, the company could be worth over $5 billion in five years. That's close to 5 times its current value.
Disclosure: The author is long Middleby.