I've been watching Entercom Communications (NYSE:ETM) for some time now as the stock has done a steady nosedive from its 52-week high of $29.49 to its current price at Friday's close of $10.43. The current price per share is only slightly higher than its 52-week low of $9.99 hit back on January 22, 2008. In fact, the $9.99 price was the lowest these shares have seen since Entercom became a public company in February 1999, at $22.50 per share.
Founded in 1968, Entercom is currently ranked the 4th largest radio group in terms of revenue, and ranked 6th in number of stations owned per Bear Stearns' most recent Radio Fact Book. The Company reported in their recent 10K filing that with pending acquisitions, they now have 111 radio stations serving 23 markets in the United States.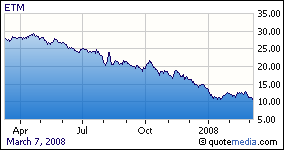 The Radio Industry has had a pretty rough year, but Entercom is beginning to look very attractive at these levels. They have very strong brands in most of their markets where they generally outperform their competition. The company's CEO, David Field, is well regarded and respected in the industry. The company carries a high debt load, but nothing that doesn't seem manageable given their high cash flow. The only negative I can find right now for Entercom is that radio is generally considered a four letter word on Wall Street, and there isn't much interest in the overall sector from investors.
What I like most about the company is their high dividend which currently yields in excess of 14%. Although this stock could retest that low of $9.99, and possibly sink lower as a result of overall market turbulence, the current Sept 10 Put option price is roughly equal to that of Entercom's current dividend. Using a married put strategy, one could largely finance the cost of this downside protection with distributions from the company, and mitigate losses in the stock for the next 6 months.
The unknown variable in this equation is how long the company will continue paying such an unusually high dividend, particularly if strategic acquisitions or debt repayment offer the company a better use for that cash.
There is a lot of pending activity in the radio sector that will hopefully unfold as the summer approaches and create a much clearer picture for the industry overall. Both Clear Channel Communications (NYSE:CCU) and Cumulus Media (NASDAQ:CMLS) have pending buyouts in the works, and there is a merger being debated between Sirius Satellite (NASDAQ:SIRI) and XM Satellite Radio (XMSR). Political spending will also help fuel some stronger advertising markets in the latter part of 2008, perhaps rekindling investor interest in the space towards year-end.
Entercom is well positioned to weather further broader macroeconomic woes, and its current valuation definitely has me intrigued as a contrarian and long-term value play.
Disclosure: None
Disclaimer: This article reflects the individual views of Mr. Hannan and may not be attributed to any person, company or other entity with whom Mr. Hannan is affiliated.