I've been working in the technology field for several years designing and laying down systems to push bits and bytes around over the web. Anyone that works in this industry knows that in order to stay competitive, one must dedicate themselves to continuous research and development. So when a company such as Trimeris whose sole foundation is based upon research and development of new drugs suddenly decides to eliminate its research and development staff, it does not paint a pretty picture for the future.
So how did I end up with Trimeris in the Ten Grand portfolio? It was not the smartest of decisions on my part, but in documenting my decision criteria and analysis, I hope some of you will learn from my mistakes.
What does Trimeris do?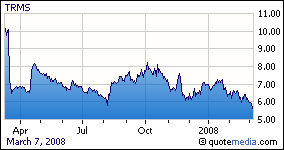 Trimeris was in the research and development of a new type of drug called "Fusion Inhibitors". The main source of their revenues comes from their Fuzeon drug. Fusion Inhibitors block viral infusion. According to the company:
FUZEON is a 36-amino acid synthetic peptide that binds to a key region of an HIV surface protein called gp41. FUZEON blocks HIV viral fusion by interfering with certain structural rearrangements within gp41 that are required for HIV to fuse to and enter a host cell. [3]
The surface looked great
I decided in January to purchase Trimeris based on the following criteria [2]:
P/E Ratio of 7.9 (For a biotechnology company this was relatively low. For comparison, Amgen runs with a P/E ratio of 15.67 and Genentech with 30.65)
Return on Assets of 29.9% (Earning 29.9 cents for every dollar of assets)
Cash and Cash Equivalents of approximately $57 million as of the period ending Sept 30th, 2007
No long term debt.
They developed a drug to help HIV patients. They were doing something to help humans, always a good thing.
The company achieved 94% sales growth from 2005 to 2006, and reported higher revenue growth of 51% in the first 3 quarters of 2007 compared to the same period in 2006. This was a good initial screen which prompted my purchase of TRMS stock. Looking back, I should have dug further into the company's operations. Thanks to PDTBiotech (a fellow reader) for calling on me to dig further and highlighting some risks.
What happened to the stock price?
You have to go back to March 15th, 2007, when the company issued its full year results for 2006. The company had decided to make a strategic shift into focusing on the profitability of Fuzeon, in addition to reducing its staff by 25% [4]. More recently, the company announced that it would no longer staff any research and development personnel going forward [1]. This pretty much nailed home the fact that the company would put its entire efforts into maximizing cash flow on their only product Fuzeon. There would be no new drugs coming down the pipe.
There are two other distractions that are of concern:
Back in November Novartis filed a lawsuit against Trimeris for patent infringement based on its Fuzeon drug [6].
Two new HIV drugs from Pfizer and Merck entered the mix in 2007 presenting competitive pressures for Fuzeon.
Sales of Fuzeon have increased overall in 2007 due to the strong growth outside of the US and Canada. If it weren't for the growth in international sales, overall sales for 2007 would have been lower.
Trimeris' Future: How much would you buy the company for?
After highlighting all the challenges facing Trimeris, what does the company have going for it? It still continues to post good sales growth of Fuzeon outside of the US and Canada, and continues to wring profits from its only drug Fuzeon with operating margins around 45% for the first 9 months of 2007. Two board seats were given to HealthCor Management and is the company's largest shareholder. HealthCor's goal is to extract value through the sale of Trimeris [5]. Given the risks and the outlook for Fuzeon, if you had the capital to buy Trimeris, what would you pay for it?
I tried to answer this question by valuing the company's future cash flows. This it not easy with companies that have long developmental pipelines, but Trimeris essentially shut that down by eliminating its entire R&D staff. The successful sale of this company rides on the success of Fuzeon against competitors in the future. Listed below are some of the assumptions I made for the cash flow analysis:
Future revenues of Fuzeon would not go longer than 6 years. With companies like Pfizer and Merck having deep R&D benches, it is only a matter of time before Fuzeon is no longer viable in the market place. Trimeris' situation now becomes a race in how fast it can sell itself to realize its current value against the backdrop of forward competitive pressures.
Estimated cost of capital for Fuzeon was set at 27.67%. This was used as the discount rate to determine the present value of the company's future estimated cash flows.
Revenue growth for 2008 was set to 7%, and then trailing off to 5% the remaining 5 years.
This results in a present value of $103.8 million dollars, with a value of approximately $4.79/share. Now let's take a more optimistic scenario and set Fuzeon to continue sales for the next 10 years. This results in a present value of $5.98/share assuming 5% year over year growth.
Another focus for 2008 will also be to bring its next generation fusion inhibitor (TRI-1144) to Phase 1 clinical trials. If they can get through to this point, they might be able to push a higher premium through a sale, and let the new company take over to finish up Phase 2 and 3 trials. This is nothing to get too excited about, but does provide some sense of direction for the company.
There are some tough challenges ahead, but I will be holding on to my position in Trimeris to see if HealthCor can push a sale through commanding a premium above the top end of my estimate. After going through the analysis I realized that successful biotech investing requires a different set of skills. I will put in a plug for a book my brothers recently got me as a gift called "Master Traders".
There is a good chapter in there titled, "The Keys to Biotech Investing" written by David Miller who has covered the industry for several years. If you want to invest in biotech, I suggest you read this chapter first. David Miller highlights the drug development process and what to pay attention to during the drug development pipeline.
If I had read this a few months earlier I probably would have moved down my stock screen list and picked up another company. But now that I am in Trimeris, I'm going to sit tight and see what comes out of the March.13th full year earnings call.
Disclosure: I own a position in TRMS
References
1. Trimeris Announced 2008 Strategic Plan.
2. Trimeris 3rd Quarter Results
3. 2006 Trimeris Annual Report
4. Trimeris Reports Financial Results for the Fourth Quarter and Year End 2006
5. Trimeris gives two board seats to HealthCor