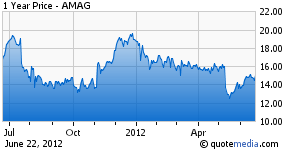 AMAG Pharma (NASDAQ:AMAG) is a specialty pharmaceutical company focused on the development and commercialization of FERAHEME (ferumoxytol) as an intravenous drug for the treatment of iron deficiency anemia (IDA).
Today, the Company announced European Union approval for the drug (brand name RIENSO in EU) for the treatment of adults with IDA due to chronic kidney disease (CKD). The drug will be marketed by EU partner Takeda (OTCPK:TKPYY) and approval triggered a $15 million (NYSE:M) milestone payment in addition to another $15M due upon first sales of the drug in Europe along with double-digit royalties.
In addition, AMAG is conducting a pivotal Phase III clinical trial (IDA-301) (ClinicalTrials.gov ID NCT01114139) to support a planned Supplemental New Drug Application seeking expanded FDA approval for treatment of IDA regardless of the underlying cause (current approval is for patients with CKD). In March, AMAG reported the first Phase III study (IDA-302) met both primary efficacy endpoints w/ no safety issues and results are expected from the fully enrolled second pivotal Phase III trial in the near-term (mid-2012).
Below is a summary of the most recently reported financials for AMAG.
AMAG reported total revenue during 1Q12 was $15.5M including $13.6M in net sales of FERAHEME compared to $13.4M and $10.9M, respectively, in the year-ago periods.
AMAG reported total FERAHEME demand was 26,600 grams-representing a 30% increase from 1Q11 and a 10% increase from 4Q11.
AMAG reported a net loss during 1Q12 of ($12.4M) vs. ($22.3M) in the year-ago period
As of 3/31/12, AMAG reported cash and equivalents of $218M which equates to over $10/share in cash w/ no debt and a projected cash balance at year-end of $225-230M based on $33M in milestone payments from Takeda for commercialization in the EU ($30M) and Canada ($3M).
As of 4/27/12, AMAG reported 21.4M shares of common stock outstanding.
AMAG expects net sales of FERAHEME to be $53-57M which excludes ex-U.S. double-digit royalties from Takeda.
AMAG expects $40-45M in research and development (R&D) and $50-55M in selling, general and administrative (SG&A) expenses in 2012.
Despite a recent rebound in shares of AMAG over the past few weeks from fresh 52-week lows in the mid-$12s to current levels around $15/share; the Company has generated some positive momentum with the EU approval announced today and has a strong balance sheet with over $10/share in cash now and by year-end in addition to pending double-digit royalties from Takeda for sales of RIENSO in Europe.
With positive Phase III results likely in the second Phase III trial in the near-term; I expect shares of AMAG to continue the recent upside momentum in the coming weeks; although longer term success for the company will depend on continued sales growth for FERAHEME/RIENSO to achieve profitability. Thanks to a strong balance sheet, AMAG has more than adequate time and resources to devote to marketing and R&D (i.e. the planned sNDA filing) to make this happen.
Disclosure: I have no positions in any stocks mentioned, and no plans to initiate any positions within the next 72 hours.