Silver remains on the run. After what has been a robust performance since the beginning of the financial crisis in 2008, the white metal has been struggling for much of the last year. And as we move into the summer, Silver has reached a most critical juncture. Thus, it is worthwhile to explore potential outcomes and investment strategies going forward. In other words, is it time to fish or cut bait with the Silver trade?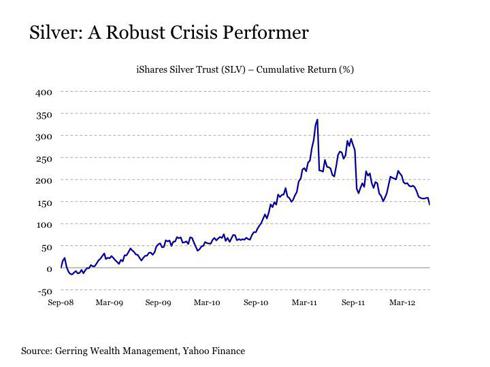 Click to enlarge
(Click to enlarge)
Before going any further, it is worth noting that Silver is not for the faint of heart. Owning Silver can prove tremendously rewarding, as it advanced a cumulative +340% from the day Lehman declared bankruptcy through the end of April 2011. But with such robust upside potential comes equally pronounced risks, as it has declined by a painful -45% since April 2011 through Friday. And such volatility is part of the daily norm in owning Silver, as it has moved by 2% or more either up or down in 35% of all trading days since the beginning of the financial crisis. As a result, Silver is an investment that should be held only by those investors with a high risk tolerance and at a relatively small allocation within an overall portfolio strategy.
So given the dramatic movements that we've seen from Silver over the last few years, it is worthwhile to evaluate the forces that have brought us to where we stand today and what we can expect going forward. In analyzing Silver, I will focus on the iShares Silver Trust (NYSEARCA:SLV), although the same principles apply to the ETFS Physical Silver Shares (NYSEARCA:SIVR), the PowerShares DB Silver ETF (NYSEARCA:DBS), the UBS E-TRACS CMCI Silver Total Return (NYSEARCA:USV) and common stock Silver Wheaton (NYSE:SLW).
First, the price performance of Silver has been heavily influenced by monetary stimulus. And the particular advantage of Silver in the post crisis environment is that it has benefited from both sides of the coin.
During periods when the Fed was engaged in aggressive balance sheet expanding stimulus, Silver would rise given its status as a store of value against money printing and currency debasement. For example, Silver jumped by +30% during QE1 and an even more robust +82% during QE2. And this balance sheet expansion can even come from abroad, as Silver gained +17% during the European Central Bank's LTRO program from late December 2011 to the end of February 2012.
Conversely, Silver has also served as a reliable safe haven during times of crisis. It rose by +30% from the Lehman collapse to the launch of QE1, gained another +8% after the end of QE1 through Bernanke's Jackson Hole speech confirming the launch of QE2, and gained another +14% from the end of QE2 through the day the Fed announced Operation Twist in late September 2011.
Given the seemingly win-win characteristics of Silver, under what circumstances does it falter. After all, it's been a rough ride for those owning Silver for much of the last year. The answer: the limbo state of Operation Twist.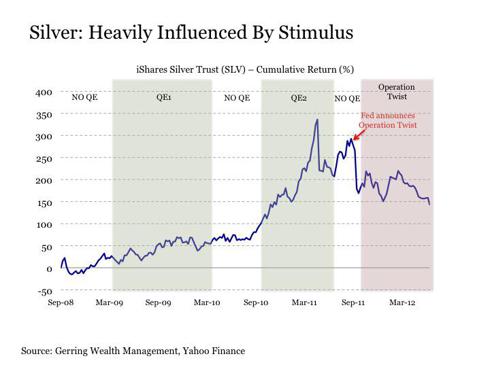 Click to enlarge
(Click to enlarge)
It was no coincidence that Silver dropped by over -22% in the two days immediately following the announcement of Operation Twist last September. And during periods when Operation Twist only is stimulating the market, the performance of Silver has been poor. It declined by -5% through the launch of the ECB's LTRO in December 2011, and gave up all of its winter gains and more in declining by -22% since the conclusion of LTRO at the end of February 2012.
In short, the following has been the bottom line for Silver since the beginning of the financial crisis.
Balance sheet expanding QE/LTRO stimulus programs: Silver soars
No monetary stimulus programs: Silver rises
Balance sheet neutral Operation Twist stimulus programs: Silver falls
Without explicit currency debasement, Silver loses its store of value appeal. But with only balance sheet neutral monetary stimulus, the system does not become sufficiently unstable to induce investors to seek safety from crisis. Thus, Silver is left to grind lower.
So where does Silver go from here? The Fed's announcement that they will only be extending Operation Twist through the end of the year suggests that it may now be worthwhile to throw in the towel on Silver holdings. And perhaps this is a prudent strategy. Only time will tell.
But I am remaining long Silver for the following reason. Implicit in the Fed's latest decision was the following point. They are applying Operation Twist now to continue support for a slowing economy. But if conditions worsen materially or a crisis breaks out in Europe, they stand ready to intervene with balance sheet expanding QE3. Moreover, it remains possible that the ECB will launch a balance sheet expanding policy stimulus of its own. Silver would likely respond extremely well given either of these developments.
Thus, my reason for continuing to own Silver is a hedge against more aggressive monetary policy action in the months ahead. For the moment the stock market begins cascading lower or crisis erupts in Europe, expectations will quickly rise that QE3 will soon be on its way. And instead of owning stocks as a hedge that will have to make the full cascade ride lower before this stimulus is applied, my inclination is to instead own Silver that has shown the propensity to rise during these traumatic stock market shocks. Moreover, if global central banks change course and somehow opt not to provide any further balance sheet expanding stimulus in the midst of a traumatic shock, stocks would likely continue to cascade lower under such a scenario while the crisis protection of Silver would likely kick in to lift it even higher.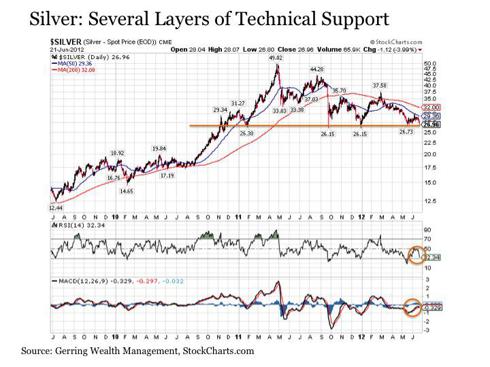 Click to enlarge
(Click to enlarge)
Lastly, it is worth noting that Silver continues to enjoy technical support at current levels. It is still holding above a well tested long-term technical support price level at $26.15. Silver is also near oversold levels following the recent pullback, yet underlying price momentum has been accelerating into this decline. Thus, Silver continues to benefit from several layers of support at least for now. Going a step further, for those investors that are bold with a medium-term time horizon and a higher risk tolerance to endure any further turbulence along the way, now might even be an interesting time to fish by adding to Silver positions.
The days and weeks ahead will be critically important for the Silver trade. And the final outcome will likely come down to one critical bet. Will central banks engage in another round of balance sheet expanding stimulus before the end of the year? Or will they simply stay the course with no further action? My inclinations are to believe that more stimulus will be the likely outcome (I don't agree with it, but it is the outcome I deem most probable from reactive global central banks). For this reason, Silver stands likely to benefit, perhaps substantially, in the months ahead. And holding Silver along with Gold (NYSEARCA:GLD) as a proportional allocation in a broader portfolio strategy provides for a portfolio hedge against such an outcome in the meantime.
Disclosure: I am long GLD, SLV.
Disclaimer: This post is for information purposes only. There are risks involved with investing including loss of principal. Gerring Wealth Management (GWM) makes no explicit or implicit guarantee with respect to performance or the outcome of any investment or projections made by GWM. There is no guarantee that the goals of the strategies discussed by GWM will be met.