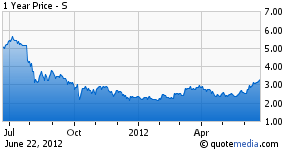 This company had almost been declared wretched by the industry not long ago: Sprint Nextel Corporation (NYSE:S). However, the recent technical charts are suddenly showing a confirmed bullish pattern for S. Charting aside, lets try to figure what has happened to Sprint, what is happening now, and what should really happen in the future?
From 2004 to 2010, Sprint had made some pretty bad decisions. The biggest one was the merger of Nextel - at that time in 2005, the shareholders overwhelmingly approved the merger, but the honeymoon started to end pretty quickly. Year after year and quarter after quarter, the new Sprint suddenly became the ugly duckling of the industry. In 2008, four years into the merger, Sprint wrote down almost $30 billion of the $36 billion amount that was paid for Nextel, wiping out more than 80% of the acquisition amount.
That was then. Bad things happen, and then things change. In 2008 CEO Dan Hesse succeeded Gary Foresee (who probably failed to foresee the doom that the Nextel merger would bring upon the company). Since Dan has joined, Sprint has improved its customer service, penetrated well into the prepaid cell phone market, and thankfully for shareholders, has a vision and more importantly, execution.
Dan brought iPhone to the Sprint offerings, a move that was initially beaten down as another doomed deal because Sprint was actually paying Apple for each iPhone. Investors and traders start discussing that Sprint will become bankrupt. Many shareholders wrote off losses and moved on in the past year, but those who patiently watched Dan's antics, probably are smiling today.
Wireless service is now no longer a luxury, and now that Sprint (through its Virgin Mobile and Boost Mobile offerings) has the attention of the American youth who crave for bandwidth, one must watch out for Sprint. Sprint smartly focusing on unlimited data, has achieved 2% post-paid churn in the first quarter of 2012, up from 1.98% in the fourth quarter of 2011, and generated $59.88 in monthly average revenue per user (ARPU).
Sprint's first quarter EBITDA beat the analyst's estimates by an impressive margin, despite the fact that their iPhone sales weren't as impressive as they fantasized. But the speedy shutdown of iDen and a strong plan to sunset Nextel showed that management has finally got some seriously and positive resolve to effectively execute their plans. The company issued higher EBITDA guidance for the year 2012, and shareholders surely sniffed some blood. Also the news that AT&T (NYSE:T) ended its merger plans with T-Mobile USA was big relief for Sprint shareholders.
Sprint's technical charts show that the action has just started, and the momentum may take the stock to as high as $4. Here are some reasons why:
Since the past three weeks or so, Sprint's relative strength has remained bullish.
The 50 day as well as the 200 day Moving Average of the stock has been rising.
The MACD shows there is some upward trend and there is an Up/Down volume pattern indicating that the stock is under possible Accumulation.
The stock has established support at 2.55 and is bound to possibly break out at 3.22 and then again at 3.57.
Based on the 2012 guidance, a modest price target for Sprint should be around $4, at least for now, as we tread into the choppy summer waters. Once and if it touches $4, Sprint will be worth revisiting again.
Let's not sprint ahead of ourselves though. There are two main risk factors for Sprint:
Verizon (NYSE:VZ) and ATT continue to remain a huge threat Sprint, and if they make any announcements around more generous data and/or minutes plans, there could be setbacks for Sprint.
One must also keep a watch on Sprint's capital spending and liquidity like a hawk. In 2012's first quarter, Sprint spent about $800 million on capital expenditures, and if Sprint announces that they will end up spending more than $6

billion in the entire 2012, investors should start reconsidering long position, because then the rating agency will start downgrading Sprint's capital structure (further).
Considering the risk/reward for Sprint, investors who have been in this trade since the mid-twos must continue to enjoy the momentum for the next few weeks. The stock could go as high as $4. Investors who plan to enter now, do your own due diligence and keep an eye on Sprint's competitors' actions, and its own capital spending.
Disclosure: I am long S.