I have been allocating more of my dry powder to the domestic apparel retailing sector on pullbacks in the last few weeks for myriad reasons. A) The sector has some compelling valuations after a recent sell-off, B) the sector is not impacted by Europe as the vast bulk of its sales come from domestic sources, C) sentiment in the sector should improve due to falling gas prices and D) lower cotton prices should help the apparel group's gross margins. One stock that seems intriguing here because of its low historical valuations, recent insider buying and the secular trend of Americans getting heavier is Casual Male (CMRG)
7 Reasons CMRG could richly reward investors from just $3 a share:
Net insider buying has resulted in 100,000 being purchased over the last few months.
The stock is selling near the bottom of its five year valuation range based on P/E, P/CF, P/S and P/B.
The company has a solid balance sheet with net cash on the books and the stock is priced at less than 7 times operating cash flow.
The stock is cheap at just 91% of book value and about a third of annual revenues. It also sports a five year projected PEG of under 1 (.78).
CMRG goes for just over 9 times forward earnings, a big discount to its five year average (16.3).
Only three analysts cover the stock. Two have price targets of $6, or double current prices and the other analyst is at $4 a share.
The stock has good long term technical support at the $3 level (see chart).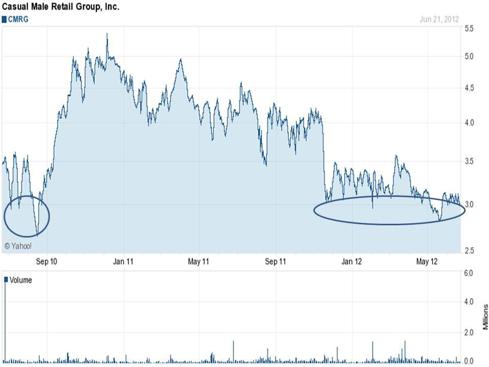 Click to enlarge
(Click to enlarge)
Disclosure: I have no positions in any stocks mentioned, but may initiate a long position in CMRG over the next 72 hours.