I wrote the part I of "3 Energy Companies Seeing Insider Buys In Last 30 Days" on June 13th in which I covered Lone Pine Resources (LPR), Continental Resources (NYSE:CLR) and Gastar Exploration (NYSEMKT:GST).
When insiders buy shares on the open market, their companies are usually under valued. Corporate insiders often have the inside track on their companies' prospects. An insider probably wouldn't risk investing too much of his or her own money into his or her own company unless the insider thought the stock might rise.
I screened for companies where at least one insider made an open-market buy in the last 30 days. Here are 3 energy stocks that I found:
1. EXCO Resources (NYSE:XCO) is a natural gas and oil company engaged in the exploration, exploitation, development and production of onshore natural gas and oil properties. The company's operations are focused in certain key natural gas and oil producing regions of the United States. EXCO's primary goal is to build value for its shareholders by enhancing the value of its assets through efficient operations, a high technology drilling program, development of its properties and exploitation of unproved upside.
Insider buys
Wilbur L. Ross is the Chairman and Chief Executive Officer W.L. Ross, the holding company that has been acquiring EXCO Resources, and he is also a director of EXCO Resources. Mr. Ross purchased 1.3 million shares during June 18th - June 20th through his company WL Ross & Co. WL Ross & Co. currently holds 7.5 million shares of EXCO Resources.
2. Bonanza Creek Energy (NYSE:BCEI) is a Denver-based independent oil and natural gas company engaged in the acquisition, exploration, development and production of onshore oil and associated liquids-rich natural gas in the United States.
Insider Buys
Mr. Chronister was elected to Bonanza Creek Energy's board of directors in March 2011. Mr. Chronister has over 30 years of experience in the oil and gas industry. Mr. Chronister purchased 7,000 shares on June 19th.
Wade Jaques purchased 1,200 shares during May 18th - June 1st. Mr. Wade is Controller of the company.
James Casperson purchased 900 shares during March 26th - May 15th and currently holds 29,169 shares of the company. Mr. Casperson was appointed Executive Vice President and Chief Financial Officer in November 2011. He previously served on the board of directors beginning in March 2011.
Michael Starzer purchased 1,000 shares on March 26th and currently controls 2,336,570 shares of the company. Mr. Starzer is a member of the board of directors and is the company's President and Chief Executive Officer. Mr. Starzer has over 28 years of experience in the oil and gas industry.
Gary Grove purchased 2,000 shares on March 26th and currently holds 225,519 shares of the company. Mr. Grove is a member of board of directors and is Executive Vice President-Engineering and Planning and Interim Chief Operating Officer.
Patrick Graham purchased 500 shares on March 26th and currently holds 95,236 shares of the company. Mr. Graham is Executive Vice President - Corporate Development. Mr. Graham was a co-founder and a Senior Vice President of Bonanza Creek Energy Company.
3. Hercules Offshore (NASDAQ:HERO) is a leading global provider of offshore contract drilling, liftboat and inland barge services. The company's fleet of jackup rigs is the fourth largest in the world and the largest in the U.S. Gulf of Mexico. In addition, the company owns and operates the largest liftboat and inland barge drilling fleets in the world. The company's diverse and unique fleet is capable of providing services such as oil and gas exploration and development drilling, well service, platform inspection, maintenance and decommissioning operations in shallow water markets.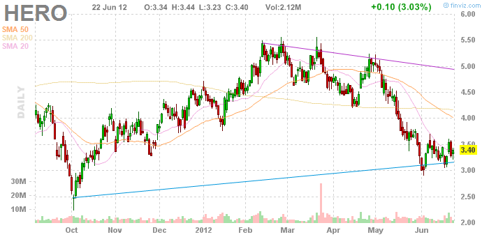 Insider buys
Director Steven Webster purchased 50,000 shares on June 20 -21st and currently holds directly 1,203,125 shares of the company.
John Rynd purchased 30,000 shares on June 19th and currently holds 671,623 shares of the company. Mr. Rynd was named Chief Executive Officer and President of Hercules Offshore in June 2008. In addition, he serves as a member of the Board of Directors for the company.
Claus Feyling purchased 25,000 shares on June 1st and currently holds 120,612 shares of the company. Mr. Feyling was appointed Vice President International Business Development of Hercules Offshore in July 2007 upon the acquisition of TODCO, where he held the same position since April 2006. In December 2011, he was named President and Director of Hercules International Holdings Ltd.
Director Thomas Bates purchased 40,000 shares on May 30 - 31st and currently holds 170,000 shares of the company.
Conclusion
The S&P Oil & Gas Exploration & Production Index is currently down for the year. Only Bonanza Creek Energy is currently outperforming the index.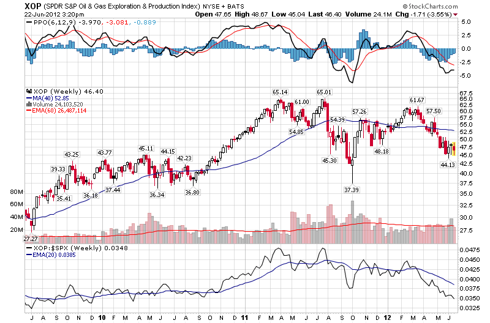 Disclosure: I am long LPR.