Volatility ended the week not as I'd envisioned it, with the term structure in a pretty solid contango.
Last weekend, given developments in Greece, I thought volatility would take off, perhaps sending the term structure into backwardation, but it appears the markets have calmed. Even Thursday's market action, which sent the S&P 500 down by 30 points, didn't put much of a dent into the contango.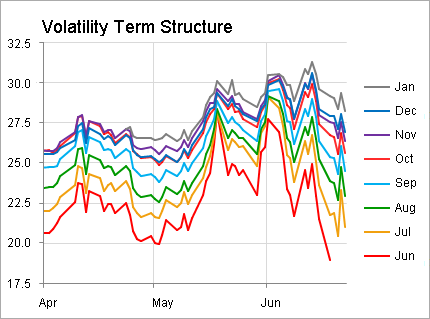 (Note that the June VIX contract has now expired)
If backwardation were to return, funds like the iPath Short-Term VIX ETN (NYSEARCA:VXX) could really shine over the medium term. But without it, they are only good for short-term trades.
For example, if you happened to buy VXX on Wednesday near 16, I hope you sold it on Thursday above 17 because just before the end of the day, it appeared as if it would close below 16 again (and it did)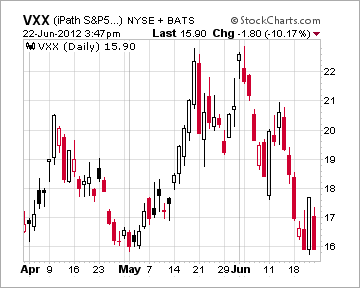 I also thought the spot VIX itself would have ended the week higher. Looks like it closed at 18.22. Historically, that's a high reading. These days, it seems almost complacent.
Disclosure: I have no positions in any stocks mentioned, and no plans to initiate any positions within the next 72 hours.