Precious metals investors were disappointed after the recent Fed meeting failed to provide further quantitative easing. Silver plunged 5%. Yesterday, I determined that short-term silver prices were likely to move strongly based on price action near the support line. (See: Silver Prices Ready For A Move?).
I stated that if silver closed below support, a quick sell-off would ensue and the near-term prospects for silver would be dull. However, the support was tested and held today, and silver closed on strong volume. See the two charts below. (The iShares Silver Trust ETF (NYSEARCA:SLV) is used as a proxy.)
Source: FreeStockCharts.com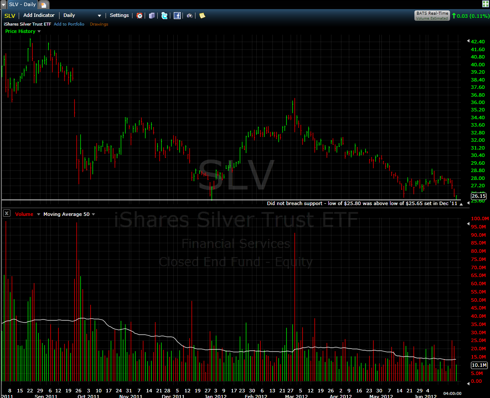 Click to enlarge
Silver entered a downtrend at 10 a.m. and threatened to break support right before 11. However, it saw a strong bounce and then entered an uptrend for the rest of the day, never retesting the support. The most bullish sign is the strong close on volume -- trading in the last few minutes far eclipsed volume levels from earlier in the day.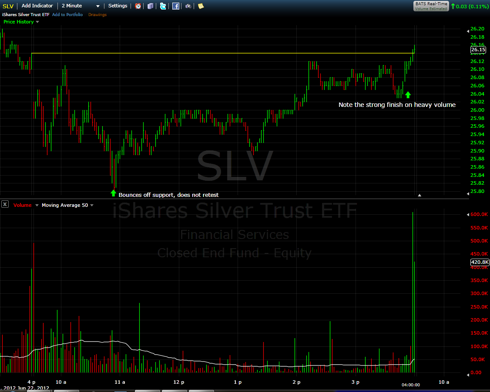 Click to enlarge
If we see another close above support, there's reason to believe a rally will occur.
The holding of support makes sense to me for several reasons. First, Operation Twist was largely expected. So while silver sold off because of an unfulfilled easing fixation, in truth, the fundamentals for silver have not suddenly become any worse. Of course, the possibility of additional easing can't hurt -- the Fed still has an easing bias.
It's also worth noting that in recent history, RSI has been a fairly good predictor of silver price action (see chart below). Whenever RSI bottoms, silver generally sees a short-term rally. Whenever it peaks, silver generally sees a short-term fall. With RSI appearing to have bottomed in the near term, near-dated calls might provide profits on a rally off the support line.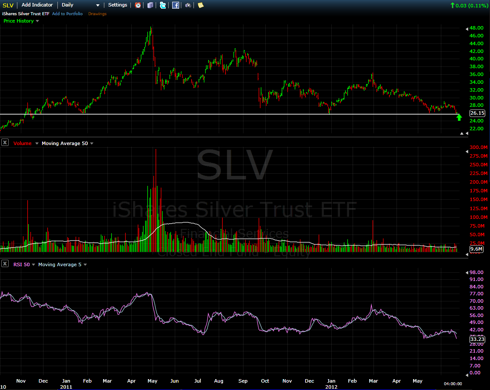 Click to enlarge
Silver is rapidly approaching oversold territory (RSI < 30). It seems as if silver is finally completing the correction that started after the peak in May '11. If confirmed over the next few weeks, this RSI reading could set the stage for the next major rally.

Disclosure: I am long SLV.
Disclaimer: I am an individual investor, not a licensed investment advisor or broker dealer. Investors are cautioned to perform their own due diligence. All information contained within this report is presented as-is and has been derived from public sources & management. Always contact a financial professional before making any major financial decisions. All investments have an inherent degree of risk. The future is uncertain, and actual results may be materially different from those expected. Past performance is no guarantee of future results. All views expressed herein are my own, and cannot be interpreted as the views of my employer(s) or any organizations I am affiliated with. Presentation of information does not necessarily constitute a recommendation to buy or sell. Never make any investment without conducting your own research and reading multiple points of view.