In a somewhat ironic development on Friday, Europe cannot decide how to handle its over-indebtedness, but they were able to agree to spend more money. From Reuters:
German Chancellor Angela Merkel resisted pressure on Friday for common euro zone bonds or a more flexible use of Europe's rescue funds but agreed with leaders of France, Italy and Spain on a 130 billion euros ($156 billion) package to revive growth.
With Spanish (NYSEARCA:EWP) yields recently reaching new euro-era record highs, Europe's back-of-the-napkin approach to crisis management may be nearing the end of the market's tolerance for foot-dragging.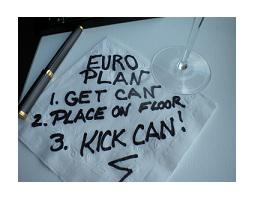 The Reuters quote below from Friday is typical of the detail-less approach of European leaders:
Spanish Prime Minister Mariano Rajoy, on the brink of requesting up to 100 billion euros in eurozone rescue funds to recapitalize struggling banks, said the four had agreed 'to use any necessary mechanism to obtain financial stability in the eurozone.'
"Seinfeld" fans may choose to characterize the statement from the Spanish Prime Minister as "a bunch of fluff." As we noted on June 12, 1,250 on the S&P 500 appears to remain an important bullish line in the sand. Friday's close was 1,335, easily remaining on the bullish side of the fence.
The video below reviews both traditional and DeMark exhaustion charts to define a bull/bear demarcation line in the neighborhood of 1,250 on the S&P 500. Other levels shown in the video where buyers may step in include 1,293, 1,275, 1,265, and 1,260. Maintaining a careful but bullish bias above 1,250 remains reasonable. Conversely, all investors should consider defensive contingency plans for a break of 1,250. The S&P 500 could move fairly rapidly from 1,278 down to 1,160, just as it moved rapidly in a bullish manner from 1,260 to 1,320 in early 2012. DeMark charts and indicators are proprietary tools from Market Studies, LLC.
(After clicking play on the video below, use the button in the lower right-hand corner of the video player to view in full-screen mode. Hit Esc to exit full-screen mode.)
On Friday, The Guardian reported increasing tension between European leaders:
In a sign that tempers are becoming increasingly frayed before next week's crucial summit, the normally gentlemanly Monti used his closing remarks to attack France and Germany publicly.
The Guardian also highlighted the ... and you are never going to believe this ... lack of detail behind Friday's pro-growth announcement from Euro leaders:
One of the keys to next week's summit will be the precise terms of the growth package. The €130bn would appear to represent a sum that might be raised or redirected from existing funds, rather than any commitment of new money. Nicholas Spiro, of Spiro Sovereign Strategy, said: 'The pact has a shuffling of the deckchairs feel to it.'
Just when the bears thought it was safe to go back in the water, the Vanguard All-World Index Ex-U.S. (NYSEARCA:VEU) finished Friday's session in the black, holding at the neckline of last week's bullish head-and-shoulders pattern (see blue arrow below).
Click to enlarge images.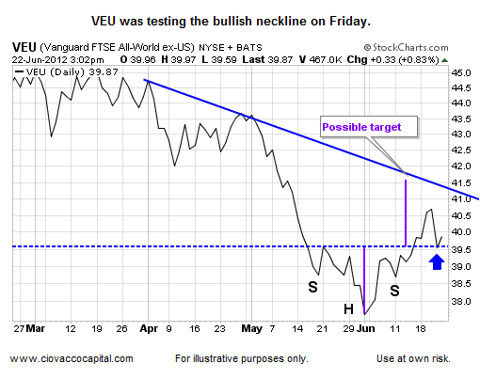 Click to enlarge
It is also difficult to get overly concerned about stocks as long as trendlines from the October 2011 lows remain intact.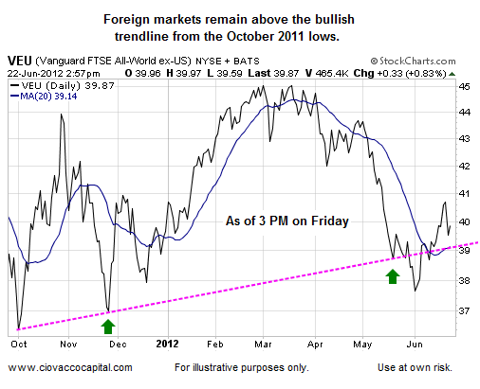 Click to enlarge
The bears did get a feather in their cap this week. The S&P 500's weekly chart showed hesitation, but did close above the Fibonacci 1,290 level.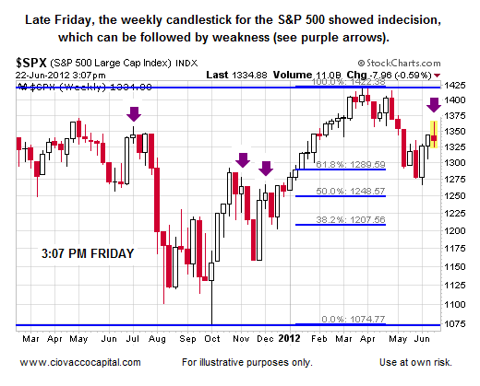 Click to enlarge
While keeping a watchful eye on central banks, we will continue to monitor the markets and developments in Europe. We remain open to continuing a "buy low" approach with cash, but also respect the bearish case that could produce significantly lower deflationary lows in stocks. The table we provided on June 21 remains useful relative to monitoring the progress of the bulls. One simple bullish hurdle is for the S&P 500's Relative Strength Index (RSI) to exceed 65. The peak thus far during the rally was 60, which means cash should be reinvested with care until the bulls show us a little more.
Disclosure: I have no positions in any stocks mentioned, and no plans to initiate any positions within the next 72 hours.