When searching for dividend stocks, yield isn't everything. It's also important to consider growth prospects and dividend history. If a company can't grow, it can't grow its dividend, potentially leaving you in the dust as other dividend stocks enjoy higher dividend growth and capital appreciation.
While big-name companies like Coca-Cola (NYSE:KO) and Procter & Gamble (NYSE:PG) often take the spotlight, in many cases, lesser-known companies can offer equally solid returns. I've found several underlooked companies with above-median dividends as well as a five-year history of dividend increases. These companies have strong growth prospects, and warrant further consideration.
Safeway Corp (SWY)
(click to enlarge. Source: FreeStockCharts.com)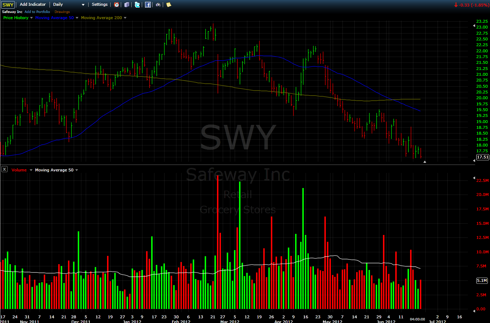 Safeway is a grocery store company encompassing well known chains like Randall's, Tom Thumb, Safeway, and Vons. Safeway has a good record of cost-cutting, engaging in measures such as the adoption of reusable product containers (RPCs). Safeway is also increasing revenue through fuel sales. Both of these factors have paid off for the company: year-on-year EPS growth is estimated at 11.69%.
Safeway offers investors a solid dividend of 3.93%. Even more impressive, the five year dividend growth rate averages 24.93%, so investors can expect to see strong yield-on-cost. Safeway stock is very reasonably valued at P/E of 8.9. As a consumer staples company with exposure only to the US and Canada, Safeway is very well positioned even in current macroeconomic conditions.
Otter Tail Corp (OTTR)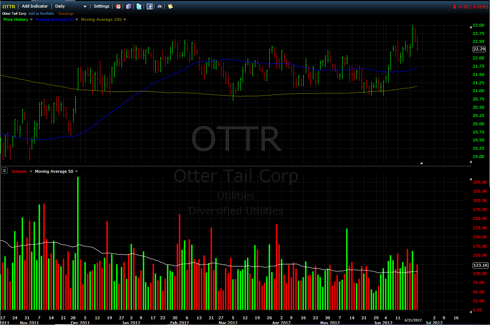 Otter Tail is a diversified holding corporation comprising electric utility, wind energy, and infrastructure businesses across the manufacturing, construction and plastics industries. As such, it serves as a good defensive play. Otter Tail is expanding in green-energy areas such as wind power.
Otter Tail's dividend yield is a phenomenal 5.26%. The five-year average dividend growth rate is 0.34%. Year-on-year EPS growth is 150%.
Greenhill and Co (GHL)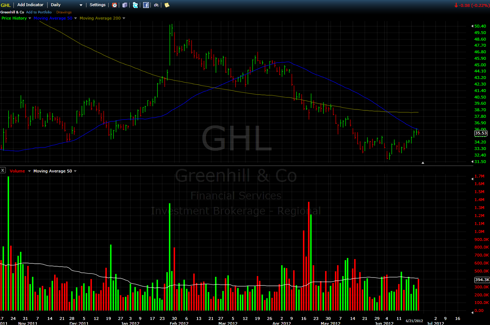 Greenhill and Co is an independent investment bank focused on providing financial advice on significant mergers, acquisitions, restructurings, financings and capital raisings to corporations, partnerships, institutions and governments. In 2010, they were named "European Boutique of the Year" by Financial News.
Its EPS growth of 26% year-on-year is driven by aggressive expansion in untapped markets. The stock offers investors a solid 5.05% dividend. Its dividend growth is strong as well: the 5-year average dividend growth rate is 12.47%. If this trend continues, investors can expect an extremely attractive yield-on-cost down the road.
Conclusion
These companies have good growth metrics, solid dividends, and a history of dividend growth. Thus, I believe they warrant further consideration by dividend-seeking investors.
Disclaimer: I am an individual investor, not a licensed investment advisor or broker dealer. Investors are cautioned to perform their own due diligence. All information contained within this report is presented as-is and has been derived from public sources & management. Always contact a financial professional before making any major financial decisions. All investments have an inherent degree of risk. The future is uncertain, and actual results may be materially different from those expected. Past performance is no guarantee of future results. All views expressed herein are my own, and cannot be interpreted as the views of my employer(s) or any organizations I am affiliated with. Presentation of information does not necessarily constitute a recommendation to buy or sell. Never make any investment without conducting your own research and reading multiple points of view.
Disclosure: I have no positions in any stocks mentioned, and no plans to initiate any positions within the next 72 hours.