Seagate Technology (NASDAQ:STX) is the #1 provider of hard drives. In 2008, it became the first company in the world to ship a billion hard drives.
It's also #1 in another respect -- from a "bang for your buck" perspective, it may just be the best tech company you can invest in. I believe that at the current share price (a 25% discount to the 52-week high), Seagate presents a great buy opportunity.
Click to enlarge.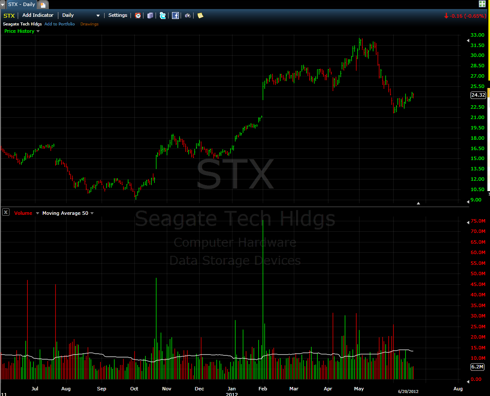 Click to enlarge
Source: FreeStockCharts.com
Company Growth Prospects: ★★★★★
Seagate is experiencing explosive growth. Year over year EPS growth on a TTM basis is 173% (vs industry average of 69%) and EPS growth on a same quarter year-on-year basis is a staggering 1,080%.
These statistics reflect Seagate's aggressive expansion stratey. Seagate recently acquired French storage maker LaCie, enabling it to increase market penetration in Europe and Japan. Seagate has a history of strong growth in the Asia-Pacific Region, and the acquisition will allow it to expand its footprint even faster.
According to Teh Ban Seng, Vice President of Seagate Asia-Pacific, the HDD industry is expected grow 30 percent and rake in $20 billion in the next three years, with the enterprise and solid-state drive (NYSE:SSD) businesses serving as key growth drivers:
We're very, very bullish for growth rates in excess of 10 percent this year, and with the market picking up pace, this figure is already considered conservative.
Stock Valuation Overview: ★★★★★
Key valuation metrics suggest Seagate is substantially undervalued. The trailing P/E ratio, 5-yr PEG ratio, Price/Cash Flow ratio, Price/Sales ratio, and Price/Book ratio are all substantially below industry averages. Considering the S&P 500's 15.5x trailing P/E ratio, Seagate's P/E ratio is absurdly low, especially considering the growth statistics I just outlined.
| | Seagate | Computer and Peripherals |
| --- | --- | --- |
| Trailing P/E Ratio | 5.63 | 17.34 |
| 5-yr PEG Ratio | 0.15 | 0.92 |
| Price/Cash Flow | 3.88 | 11.09 |
| Price/Sales | 0.80 | 3.16 |
| Price/Book | 3.55 | 5.27 |
Analyst/Investor Opinion: ★★★★★
Seagate has a perfect 10/10 "Bullish" rating according to Starmine's Equity Summary Score. Analysts with outstanding "Buy" ratings include Ford Equity Research, Standard and Poor's, Thomas White International, and Ativo Research. Average analyst price targets are in the $34-$36 range, a 50% premium to current market price.
Seagate has also attracted the attention of famous hedge fund manager David Einhorn. In the second quarter, Einhorn acquired 8.6 million shares, representing 2% of Seagate's total market cap. In total, Einhorn's Greenlight Capital owns 23.1 million Seagate shares, worth over $560M at current market prices.
Return Potential: ★★★★★
As reflected in the valuation section, Seagate is substantially undervalued in terms of financial metrics. In terms of P/E ratio, the stock can stand to double and still look cheap.
Seagate also has a solid dividend and shareholder-friendly management. At current market price, Seagate's $0.25 quarterly dividend works out to an annualized yield of just over 4%. The dividend was originally reestablished in 2011 at 18 cents, and subsequently increased by 7 cents (39%). Seagate is committed to maximizing shareholder value through dividend increases as well as stock buybacks.
Cautionary Factors
One potential headwind to analyze before investing is the rise of cloud computing. Seagate derives a large percentage of revenue and earnings from consumer hard drives. As cloud computing comes into favor, large consumer hard drives and backup external hard drives may become less popular. While storage media will always be required somewhere (cloud computing still requires hard drives in servers), Seagate may need to shift strategies in the future to adapt to changing market conditions.
I believe Seagate is already anticipating and responding to this issue with product lines such as their Backup Plus hard drives, which sync with the cloud, PCs, mobile devices like iPads, and social media sites like Flickr and Facebook to keep consumers' data safe. They are establishing a strong presence in the server sector as well with products like the Pulsar SSD.
Competitors and Related Companies
Western Digital (NYSE:WDC) is the only other major player in the hard drive sector. Western Digital boasts similar stats to Seagate, and might be worth a look as well. The lack of many major competitors gives Seagate a strong moat.
Conclusion: Seagate's a Screaming Buy
I believe Seagate is substantially undervalued. The stock is an investor's dream: strong growth, low valuation, high dividend, and strong moat. Another quarter of strong earnings could spur a very sharp rally.
Disclosure: I have no positions in any stocks mentioned, but may initiate a long position in STX, WDC over the next 72 hours.
Disclaimer: I am an individual investor, not a licensed investment advisor or broker dealer. Investors are cautioned to perform their own due diligence. All information contained within this report is presented as-is and has been derived from public sources & management. Always contact a financial professional before making any major financial decisions. All investments have an inherent degree of risk. The future is uncertain, and actual results may be materially different from those expected. Past performance is no guarantee of future results. All views expressed herein are my own, and cannot be interpreted as the views of my employer(s) or any organizations I am affiliated with. Presentation of information does not necessarily constitute a recommendation to buy or sell. Never make any investment without conducting your own research and reading multiple points of view.