After the markets closed on Thursday, June 21, Moody's downgraded 15 banks around the world, citing the usual factors: volatility in the markets, reliance on capital markets for revenues and profits, and risk management.
Investors were focused on what Moody's (NYSE:MCO) would do with regard to one financial company in particular: Morgan Stanley (NYSE:MS). As the smallest of the Big 6 American banks, and one of the last 2 remaining standalone investment banks [alongside Goldman Sachs (NYSE:GS)], Morgan Stanley is, rightly or wrongly, always seen as the "next bank to fall" should any sort of crisis develop in the American financial system. That is why Morgan Stanley's credit default swaps are the most expensive of any of the Big 6 American banks. And Morgan Stanley is the firm that we feel best highlights the irrelevance of Moody's, Fitch, and S&P (MHP).
Moody's cut Morgan Stanley's credit rating by 2 levels, from A2 to Baa1, and maintained a negative outlook. The bank's short-term rating was also cut from P-1 to P-2. Moody's press release announcing the bank downgrades explained its rationale behind each action. With regards to Morgan Stanley, Moody's commented that,
The lowering of the standalone credit assessment to baa3 positions Morgan Stanley in the third group of firms [alongside Citigroup (NYSE:C), Bank of America (NYSE:BAC), and Royal Bank of Scotland (NYSE:RBS)] with significant global capital markets activities. This position reflects (i) the firm's commitment to the global capital market business, on which it relies heavily for earnings; (ii) its historically high level of earnings volatility; and (NASDAQ:III) the problems in risk management and controls the firm suffered during the crisis. Partly mitigating these factors are (i) the firm's gradually increasing "shock absorbers" in the form of earnings from other more stable businesses (albeit still below that of most peers); (ii) its reduced risk appetite, improved liquidity profile and stronger capital position; and enhancements to risk management, internal processes and controls.
If one were to simply look at what Moody's is saying on the surface, it would seem that Morgan Stanley is becoming a riskier company to lend to; hence its credit rating should in fact be downgraded. But in today's complex and volatile markets, almost nothing is as simple as it seems. And the markets have already passed judgment on Morgan Stanley. What they are saying is that Moody's is about 9 months late in downgrading Morgan Stanley. Moody's peers also contradict its assessment.
An analysis done by Bespoke Investment Group shows that credit default swaps on Morgan Stanley and the other 5 banks that make up the Big 6 all peaked around September 2011, and have dropped sharply since then.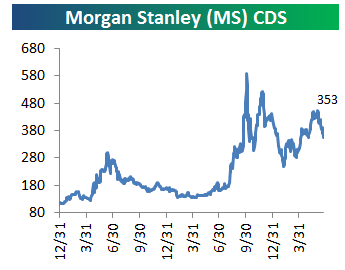 Morgan Stanley's CDS' fell on Friday after Moody's downgrade, due to the fact that most traders were expecting a 3 notch cut. The stock rose as well. But perhaps what drives home the increasing irrelevance of the rating agencies is Fitch's comments about Morgan Stanley's business, which were released on Friday.
Fitch, in its assessment of Morgan Stanley, wrote,
Morgan Stanley's move to increase its stake in Morgan Stanley Smith Barney (MSSB) is anticipated to improve earnings diversification and stability, particularly if management's operating margin target is reached. The prospect of incremental deposits and regulatory capital relief are additional positives. These benefits are already factored into Fitch's ratings of Morgan Stanley...A greater contribution from GWM [Global Wealth Management] would help to further insulate Morgan Stanley from the potential effects of difficult markets on its institutional securities segment. We believe Morgan Stanley remains fully committed to its institutional securities segment and recognize Morgan Stanley's efforts to reduce risk and reshape this business. Consequently, revenue and earnings volatility will likely diminish in future periods...GWM is not immune to tough market conditions but is comparatively more resilient, and would be expected to be more so with the addition of the remainder of MSSB.
We have two contradictory statements from two different rating agencies. Moody's is worried about Morgan Stanley's high level of exposure to the capital markets, which increases the volatility of its earnings (and by extension, increases its credit risk). And Fitch believes that Morgan Stanley's earnings will become less volatile as it increases its stake in Morgan Stanley Smith Barney and Global Wealth Management becomes an increasingly larger part of the firms overall business. Which agency does an investor listen to? The answer is simple: Neither.
It's All a Matter of Opinion
If you give 10 sell-side equity analysts a set of financial statements for a particular company, and management's expectations for the next year or so, you are likely to get 10 different price targets and valuations for that company. Each analyst will have their own opinion. And in truth, the rating agencies are no different. Their ratings are not facts. They are opinions, and often flawed ones at that.
These are the companies that rated subprime mortgages as AAA, and downgraded them only when it was no longer relevant what they were rated. Where were the agencies in 2007, when all of these downgrades should have occurred? Where were the rating agencies in 2009, when Greece and the other countries on Europe's periphery should have been downgraded?
Investors should not believe that these rating agencies present facts. They present opinions, and they should be treated as such. Just as no investors should buy or sell a stock based on the opinion of a single analyst, no investor should listen to the opinion of any one rating agency. In fact, to be frank, we do not think that any rating agency should be listened to. An analysis done by Bloomberg going back to 1974 shows that the effect of a ratings downgrade on sovereign debt yields is essentially random. Yields followed the direction of a rating change just 53% of the time. Fitch, Moody's, and S&P are all good at explaining credit risk as it relates to things that have already happened, not as it relates to what might happen. Downgrading Morgan Stanley due to worries over volatility in the capital markets might have made sense in 2005-2007. But this is the middle of 2012. Everyone knows that the capital markets are volatile, and that fact has already priced itself into both Morgan Stanley's debt and equity.
The Road Ahead for Morgan Stanley
We chose to highlight Morgan Stanley because it is the firm most often in the spotlight whenever worries over a crisis flare up. We, however, do not think that Morgan Stanley is in such dire shape.
Morgan Stanley is slowly but surely turning itself into a more diverse company, and as it acquires more of Morgan Stanley Smith Barney, revenues and earnings will become more stable. Investors should either buy or sell Morgan Stanley stock based on their own analysis and expectations of what earnings and revenues will be like, not what Moody's or some other firm tells them they will be.
The question now is this: Would we invest in Morgan Stanley? The answer is something that we ponder constantly. On the one hand, we generally do not invest in financial companies due to the uncertainty and volatility inherent in the sector. That is why our portfolio has just 2 financials: CME Group (NASDAQ:CME) and City National (NYSE:CYN). One is a company that thrives on market volatility and the other is a bank for the affluent that has proven itself to be resilient to economic stress and is too small to attract material regulatory attention. Morgan Stanley is neither of those things, which is why we have never taken a position in the company. That being said, every company has value, and Morgan Stanley certainly has a good deal of value, as it is trading at deep discounts to tangible book value, given the pessimism surrounding the company. We are debating whether or not to open a position in Morgan Stanley at this time, and believe that it is a company that other investors would be wise to look into.