For the last few years, China witnessed a boom of outdoor advertising using LCD panels as media. The concept of selling ads to captive audience in public places, pioneered by Focus Media's (NASDAQ:FMCN) CEO Jason Jiang, has flourished in the once (and still is) communist country – now everywhere you look, there is a screen trying to sell you some.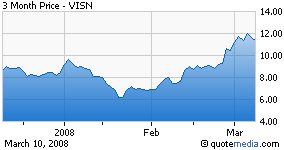 Focus has proved to be a stellar performer for investors – even after its recent correction, its return is over 330 percent, for those who bought shares when it listed in the summer of 2005. The latest LCD advertiser IPO is VisionChina (NASDAQ:VISN). Can an investment in it be as good as Focus Media? The answer depends on whether the company can eventually dominate the market, which is still fragmented with some strong competitors.
VisionChina Media is the largest operator of advertising networks with LCD panels on buses in China. It set aggressive expansion goals after its recent IPO in Nasdaq.
"We want to expand to all the 30 top cities in China," company chief financial officer, Dina Liu, said in an interview. Currently, the company's network cover buses in 14 major cities in China, including Beijing, Shenzhen and Guangzhou.
"And all the cities with subways," Ms. Liu added. At moment, VisionChina is putting its screens on subways trains in Beijing, Shenzhen and Guangzhou. That leaves four more to go, i.e. Shanghai, Nanjing, Tianjin and Chongqing.
With the US$108 million raised from IPO last December, Ms. Liu wanted to double its current network of 33,000 LCD screens in the next few years.
VisionChina's business is to sell air time of its LCD network on buses and subway trains to advertisers. The government's licenses to run television programs on public transportation are actually granted to local television stations as an extension to their current businesses. So  VisionChina need to sign a contract with each of these television stations, and then sign another with each of the local buses companies or subways.
It's quite a complicated process, but not one without great reward. Ms Liu said their "TV on bus" platform attracted tremendous attention from fast food chains like KFC (NYSE:YUM) and McDonald (NYSE:MCD), soft drink companies like Pepsi (NYSE:PEP) and Coca Cola (NYSE:KO), and all the other fast moving consumer goods, such as dairy products, snacks, etc. "There are millions of people taking buses in those cities. They will be watching those ads as they commute to work or school every day," she added.
Advertisers also loved the fact that they can target multiple cities at one time, to do regional or national marketing campaigns, said David Chen, VisionChina's chief strategy officer. "80 percent of advertising budget in China is for national campaign," Mr. Chen said. The advertising spending is highly concentrated in top tier cities, i.e. Beijing, Shanghai, Guangzhou and Shenzhen - 60 percent of the total, said Mr. Chen. "And VisionChina's network has already has three of the four covered," he added.
Ms. Liu said the company has been increasing prices by 20 to 30 percent every half year. She expects the Beijing Olympic will be another booster to push VisionChina's rate card even higher.
More advertising time can be added if the demand increases. "We are allowed to have 30 minutes of advertisement for every one hour program. Currently, we sell seven minutes on average," said Ms. Liu.
The major cost of VisionChina's operation is the license fees paid to the television stations and bus companies. Most of them are long-term fixed cost contracts, Ms Liu said. Ten years with a fixed annual fee is usually the deal. As part of the licensing agreement, the television stations will supply the content for the television programs. So VisionChina gets its news, sports, or any entertainments program it plays on buses for fee.
Because the cost is rather fixed, as its business ramp up, VisionChina's net profit will be growing even more, said Ms Liu. When its sales jumped to US$9.3 million in the third quarter last year, from US$4.7 million in the second quarter, its net profit shot up to US$5.4 million, from US$1.3 million three months earlier. "There is not much different in operation costs," said Ms Liu.
But VisionChina is not the only one in the market. In fact, there is another company almost as big in bus advertising – Towana. Analysys, a Beijing based research firm, estimated that for the fourth quarter 2007, Towana, has 40.1 percent of the total bus advertising market, very close  to VisionChina's 42.9 percent.
Analyst Gao Xiaohu of Analysys estimated that Towana has installed about 20 percent more LCD screens on buses than VisionChina, although its screens, as a media asset, might be inferior to VisionChina. "Some of Towana's buses routes are not as prime as VisionChina's," said Mr Gao.
The lack of Shanghai in VisionChina's network also raised concern of Ming Zhao, analyst of Susquehanna Financial Group, a U.S. based investment bank.
Shanghai is closed in the hand of Shanghai Media Group [SMG], the state-owned company which runs the Shanghai television station. SMG decided not to partner with anyone but runs its own network on buses under one of its subsidiaries. Although basically a one-city operator, the company has 12.5 percent of the total bus advertising market in China, said Mr Gao. The remaining, about 4.5 percent, belongs to a company called Bus Online, said Mr Gao. Despite its small size, it has a license with Central China Televisions, the central government television station, which gives it a national broadcast right. It only needs to sign up the buses companies for each city it plans to get into, said Mr Gao.
Disclosure: none