Illinois Tool Works (NYSE:ITW) is hard to figure out. I've owned the stock for over a year and have struggled with my strategy for owning, trading, or selling it. I've sat over this introduction for a half hour and wondered about where to go with it. There's something inherently tricky about Illinois Tool Works.
There are a few aspects to sort through when figuring out the stock and the company. First, there is its broad scope. The company is a diversified industrial goods company, with businesses in industrial packaging, power systems and electronics, food equipment, construction products, polymers and fluids, decorative surfaces, and a miscellaneous category. I count 97 listed businesses on the company's website.
This disparity echoes ITW's three guiding principles: decentralization, the 80/20 process, and innovation. The first is meant to offer the company to, "quickly identify and respond to customer needs at the business unit level by providing original, customized products and service," while also diversifying the business model. The 80/20 model has the company focus on meeting high-volume customers' needs (80% of total volume, 20% of total customers) with the idea that meeting their needs will allow ITW to hone its businesses towards top performance. Innovation, naturally, fuels the meeting of high and low-volume customer needs at the business unit level through adapting and developing new products quickly. All of this business speak, however, doesn't provide investors with obvious clarity on how to evaluate the company.
Once one understands ITW's business model, the next step is to understand how it trades. As a cyclical stock, ITW's position is vulnerable in the current market environment, where evaluating cyclical stocks is especially difficult. The past 15-18 months has been an excessively volatile period for the stock market as a whole, with doom and gloom alternating with hope and dope, resulting in little clarity or direction. The stock market has grappled with indecisiveness, and indecisiveness is winning. That indecisiveness stems from the fuzzy global economic climate: are we in a slow recovery or teetering towards a double dip recession? Will Europe drag everybody down or figure it out and grow tighter and, eventually, stronger? Are China, Brazil, India, and other emerging markets slowing down, leaving the vulnerable developed world to pick up the slack? And so on.
The effect on ITW's stock price is readily evident. The stock price recovered from its March 2009 lows over the rest of that year, gained another 10% in 2010, and then has bounced around in the past 18 months, ending up where it started. There was a nearly 10% move in the first half of 2011, a huge dive over the debt ceiling debate debacle last summer, a crater with the rest of the market in early October, and then a strong recovery through this spring, at which point the stock has stagnated.
(Chart from January 3, 2011-June 22, 2012)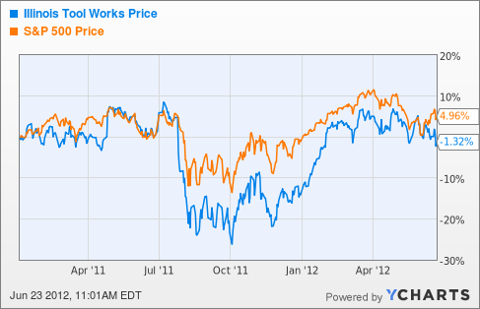 Zeroing in on ITW as a stock leads to another curiosity. The stock's rocky short-term movement exaggerates the company's performance, while the flat medium-term movement minimizes it. In 2011, ITW beat its original guidance (given during the Q4 2010 conference call) by $0.05 (this after taking out a $0.33 tax benefit), and grew its dividend for the 48th consecutive year, items that should merit more than flat stock-performance. The quarterly performance was a little uneven, mostly due to a bad Q2 (a low range hit on lowered guidance, plus another lowering of guidance for the year) and a just OK Q3. The Q2 report had the bad luck of arriving amidst the debt-ceiling debate, and the double whammy took out about a quarter of the stock's price over the next three weeks. It's been catch-up ever since, despite the solid overall performance. ITW started off 2012 well, by the way, hitting the high point of the guidance range in Q1 and raising guidance for the year.
The last item to consider in owning ITW is related to both the stock performance and the diversity of the business. In January, ITW agreed to nominate Relational Investors Principal and co-founder David Batchelder to its board of directors. Relational Investors is a notable activist shareholder group, and the immediate expectation was that Relational would force ITW to focus its overall business and therefore unlock shareholder value. Indeed, on the most recent conference call, CEO David Speer highlighted ITW's effort to simplify its companies by running its businesses through the same 80/20 wringer, which should lead to a divestment of non-core businesses and merging of similar businesses. Relational's presence on the board should certainly encourage this movement, and any increased efficiencies or even the simpler reporting process will aid investors in understanding the company, and possibly in receiving better returns.
Given this relative understanding of Illinois Tool Works and its current position, what about how it ranks compared to its peers? For this list, I selected three diversified manufacturers (Parker Hannifin (NYSE:PH), Tyco International (NYSE:TYC), and Emerson Electric (NYSE:EMR)), a tool company (Stanley Black and Decker (NYSE:SWK)), and an auto parts maker (Johnson Controls (NYSE:JCI)):
(Sources: TDAmeritrade, WSJ)
| | | | | | | |
| --- | --- | --- | --- | --- | --- | --- |
| As of Q1 2012 | ITW | JCI | PH | SWK | EMR | TYC |
| Market Cap | $26.2B | $19.3B | $12B | $10.7B | $33.8B | $24.7B |
| Revenue Growth (based on Q1 2012) | 3.62% | 4.15% | 4.75% | 11.42% | 1% | 9.07% |
| Yearly Revenue Growth | 12.08% | 19% | 23.55% | 23.38% | 15% | 1.99% |
| EPS Growth (Annual) | 47.72% | 21% | 17.75% | 39.68% | 19.47% | 17.47% |
| Estimated Earnings Growth (next 3 years) | 12.05% | 18.22% | 11.77% | 12.40% | 10.58% | 12.72% |
| Earnings 2011 | 3.77 | 2.42 | 6.37 | 5.24 | 3.24 | 3.24 |
| Earnings 2012 (Est.) | 4.25 | 2.71 | 7.45 | 5.82 | 3.39 | 3.69 |
| Earnings 2013 (Est.) | 4.72 | 3.32 | 8.15 | 6.59 | 3.92 | 4.16 |
| Free Cash Flow 2011 | 3.24 | -0.36 | 5.82 | 4.1 | 3.43 | 2.14 |
| 2011 P/E | 14.24 | 11.14 | 12.04 | 11.77 | 14.11 | 16.14 |
| 2012 P/E | 12.63 | 9.94 | 10.29 | 10.59 | 13.48 | 14.17 |
| 2013 P/E | 11.37 | 8.12 | 9.41 | 9.36 | 11.66 | 12.57 |
| 2011 P/FCF | 16.56 | neg. | 13.18 | 15.04 | 13.33 | 24.43 |
| PEG Ratio | 1.18 | 0.61 | 1.02 | 0.95 | 1.33 | 1.27 |
| Price | 53.67 | 26.95 | 76.68 | 61.65 | 45.71 | 52.28 |
| Dividend | 1.44 | 0.72 | 1.64 | 1.64 | 1.6 | 1 |
| Dividend Yield | 2.68% | 2.67% | 2.14% | 2.66% | 3.50% | 1.91% |
(Note: Johnson Controls' past EPS growth is for only 1 year)
Illinois Tool Works' performance on this table shows about average expected growth, above-average valuation and dividend, and consistent past growth. Compared to these industrial companies, ITW has an on-par valuation with Emerson Electric and a better valuation than Tyco. Emerson has a better dividend, Tyco marginally more growth.
The other three companies on the chart are all less valued for their own reasons, but offer a strong contrast with ITW. Parker Hannifin and Stanley Black and Decker, both smaller but still significant companies, are dented due to European exposure. Johnson Controls has cut guidance for 2012 and hasn't outperformed earnings estimates in a long time. JCI and SWK are less diversified companies than ITW, which may leave them more vulnerable to downturns.
The 1-year performance of this group inversely matches their valuations: Tyco has done the best and is as such relatively overvalued, Johnson has done the worst (and Illinois Tool Works is #2 in the group).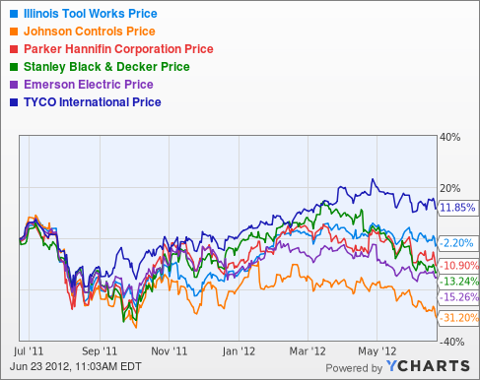 The chart illustrates what a difficult period this has been for major industrial companies, with only two stocks breaking even after including dividends, including ITW. For short-term investors, this group remains a dangerous one to play, as we could be in for a rocky summer.
I'm more interested in the medium to long term, and that's where this group gets interesting. The glacial progress in Europe towards trying to grow its economies rather than shrink them into shape took another big step at the end of last week with the 130 million euro deal to fund struggling countries. The U.S. recovery has weakened, but will get there, and I believe the presidential election will serve a catalyst for the market, regardless of the outcome due to its uncertainty-lifting effect and the fact that we are a good deal past the bottom compared to where we were in 2008, just about approaching that bottom.
When the economy turns, Illinois Tool Works will return value to shareholders. That's never been my question; the company has a strong track record of earnings results, dividend raises (the company's 49th consecutive annual dividend raise should come by September), and steady growth, and the Relational board member could spur ITW to simplify and refocus the company.
Most cyclical will do well when the economy turns, so the bigger question becomes whether ITW is worth holding in the meantime when there could be better, bigger upside plays out there. Looking at my table, I'm very interested in Johnson Controls as a bottom-fishing, turnaround play and Stanley Black and Decker as an overly maligned Europe play. The thinking in favoring those two companies to ITW, for example, would be that they have more room to run if things get good. If things don't get good, both stocks have fallen off more than ITW, and while more volatile, they have equally strong dividends. Anybody buying a cyclical now, which I like as an idea, should be ready to wait a little while for things to get better anyway.
In the short-term, I have a 12-month target of $65/share for Illinois Tool Works, assuming a slightly improved macro climate and the company's continued performance. The number is an average of 14x 2013 earnings and 15x 2012 earnings. Total return there would be about 24% from current levels, which is very promising. Tom Armistead made a reasoned case for why ITW could be worth 90/share in 2015, good for an annual return of 16%.
That said, I wonder if ITW will be able to break back into the 60s without a major clearing of the economic landscape. And if that clearing does happen, I wonder if there are stocks which might soar higher in those open skies.
There's a lot to figure out in owning Illinois Tool Works stock. I'm now figuring out whether I'd be better off not owning the stock. This research has led me closer to making a change, at least.
Disclosure: I am long ITW.