Looking for a promising biotech firm reaching a high-growth market like China? Keep China Biologic Products, Inc. (NASDAQ:CBPO) on your radar. The Beijing-based firm has seen impressive revenue and earnings growth over the last year, and even with a sizable pipeline, the stock still appears to be undervalued by several measures.
China Biologic creates plasma-based treatments for a range of diseases and disorders. They currently produce over 20 products including human albumin used to treat shock during emergency blood loss and surgery, human hepatitis B immunoglobin to prevent contagious hepatitis, and human tetanus immunoglobin. The company sells these products to hospitals and inoculation centers in the People's Republic of China. Its market cap stands at $239.87M, with Thursday's closing price at $9.37.
Sentiment for CBPO stock is decidedly positive. Trends for shares shorted are bullish month over month: Shares shorted have decreased from 184.60K to 77.15K over the last month, a decrease which represents about 1.55% of the company's float of 6.94M shares. Days to cover ratio at 8.87 days. Insiders are also optimistic about their employer China Biologic: Over the last six months, insiders were net buyers of 802,860 shares, which represents about 11.57% of the company's 6.94M share float. The stock is currently rallying above its 20-day, 50-day, and 200-day moving averages.
Despite this positivity, price multiples remain low. PEG at 0.62. P/FCF at 6.64. TTM P/E at 16.96 vs. 22.83 for biotech industry average. TTM P/Sales at 1.39 vs. 24.02 for biotech industry average.
The company also has some cash to spend, which is always important for small-cap biotech companies. Current ratio is at 3.50. The company holds almost $85 million in cash as of the end of the first quarter, over 50% growth from a year prior. In fact, sales and liquidity trends look strong compared to inventory growth: Revenue grew by 37.02% during the most recent quarter ($47.23M vs. $34.47M y/y). Inventory grew by 22.6% during the same time period ($70.58M vs. $57.57M y/y). Inventory, as a percentage of current assets, decreased from 42.99% to 37.76% during the most recent quarter (comparing 3 months ending 2012-03-31 to 3 months ending 2011-03-31).
On the downside, CBPO has seen a sharp rise in its accounts receivable over the last year: Accounts receivable grew by 72.21% during the same time period ($27.33M vs. $15.87M y/y). Receivables, as a percentage of current assets, increased from 11.85% to 14.62% during the most recent quarter (comparing 3 months ending 2012-03-31 to 3 months ending 2011-03-31).
China Biologic currently has 6 new products in its pipeline, with 2 set for registration, filing, and commercialization in 2012. Those 2 drugs are Human Prothrombin Complex Concentrate and Human Coagulation Factor VIII.
Considering all of this information, China Biologic appears to be headed in the right direction, and its stock is priced favorably.
For a closer look at China Biologic, use Kapitall tools!
For an interactive version of this chart, click on the image below. Market cap data sourced from Zacks Investment Research.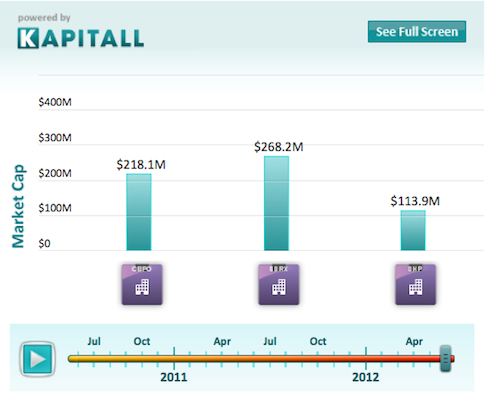 Tool provided by Kapitall (kapitall.com).
*Written by Alexander Crawford. Price multiple data sourced from Fidelity, accounting data sourced from Google Finance, short data sourced from Yahoo! Finance. Company data sourced from the company's website and Finviz.
Disclosure: I have no positions in any stocks mentioned, and no plans to initiate any positions within the next 72 hours.