Facebook (NASDAQ:FB)
The stock has lost more than $20 billion in market value since IPO on May 18, as investors became wary of slowing growth and concerned about the sustainability of advertising revenue growth. In light of recent developments and announcements by Facebook to improve the monetization of its user base, we recommend holding the stock until we see a translation of these developments in revenue growth in the upcoming earnings announcement.
Stock Price Drivers
Adding, retaining and engaging users
Facebook has over 845 million Monthly Average Users, and the financial performance of the company largely depends on the monetization of its large user base. An effective monetization program will boost Facebook's growth.
Low spending on advertising due to economic pressures
The company generates more than 85% of its revenue from advertising. Therefore, a fall in advertising budgets of companies can have a direct impact on the financial performance of Facebook. However, the recent trend towards social media advertising is expected to offset the risk for Facebook.
Sustain and Improve Existing Growth
Investors are concerned about Facebook's slowing growth. Therefore, the announcement of a sustainable or rising growth rate will definitely alleviate investors' concerns and improve the valuation.
Upcoming Catalysts
Monetization of a mobile user base
Mobile users account for 40% of the current 845 million user base of Facebook. Investors have been concerned about Facebook's inability to monetize mobile users. Now with the introduction of mobile newsfeed sponsored ads, investors will carefully analyze the impact of this new product. In case of successful mobile user monetization, the stock can jump based on investors' confidence.
Ability to measure the effectiveness of ads
Historically, organizations were unable to quantitatively measure the impact of advertising on Facebook. A better ROI-driven performance measurement system will definitely enable the companies to measure the effectiveness of Facebook advertising, and in case of positive returns, it can further motivate companies to expand Facebook advertising budgets.
Severe impact of litigation
Due to the sensitive nature of the business, Facebook has faced numerous lawsuits from users. Users are particularly concerned about the sharing of personal data with advertisers. An adverse impact of any lawsuit can seriously impact the profitability of the company.
Recent Developments
Facebook announced Newsfeed Sponsored Ads in February 2012 in a move to more effectively monetize the existing user base. Sponsored Ads are paid for by companies/individuals, and appear in those users desktop and mobile newsfeeds who have liked or shown interest in a business via their Facebook page. The move was successful, as according to a study by TBG Digital, one of the largest Facebook API Ad partner, Desktop Newsfeed Sponsored Ads generate on average a higher Click-Through Rate (CTR) of 0.588% more than traditional sidebar Ads. In addition, Desktop Newsfeed Sponsored Ads generate a higher revenue of $3.72 per 1000 page impressions compared to old side bar Ads.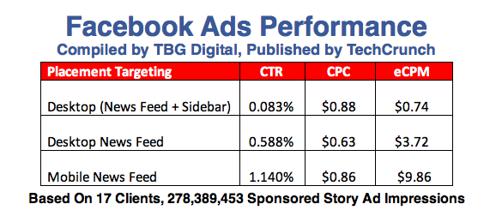 Click to enlarge
In response to news relating to Facebook's inability to monetize mobile users, a recent study by TPB Digital has shown that mobile newsfeed sponsored ads have a higher Click-Through Rate than desktop newsfeed ads. Across 278,389,453 sponsored stories ad impressions, mobile newsfeed had a Click-Through Rate of 1.14% compared to a desktop newsfeed CTR of 0.588%. On top, Facebook was able to generate a higher effective cost per thousand impressions (eCPM) of $9.86 as compared to $3.72 for every thousand ads displayed in desktop newsfeeds. Similar results were found by other API Ad companies Spruce Media, Nanigans, AdParlor. Therefore, mobile ads have been found out to be even more effective to monetize users than desktop ads.
However, Facebook's recent decision, in response to a lawsuit settlement, allowed users to opt out of Sponsored Story Ads. The recent change is expected to give more power in user hands and undermines the overall monetization efforts of Facebook.
Nevertheless, the effectiveness of mobile ads, demonstrated above via higher eCPM and CTR, has great future prospects for Facebook; there is no other internet service currently that can take benefit of such a large mobile user base other than Facebook.
Bloomberg reported that Facebook is working on a real-time bidding service for advertising, which will be called Facebook Exchange. The bidding service is expected to be similar to Google's (NASDAQ:GOOG) existing advertising bidding service and will reduce the time it takes advertisers to reach users. The advertisers will be able to instantaneously reach users and will be able to target specific users based on listed interests. Also, it is widely believed that Facebook is working on a location based mobile ad product, which will enable companies to target users based on their location.
ComScore recently reported that brands can effectively market products via Facebook. The brand awareness success cannot just be measured in terms of fan numbers. But in fact, brands can take advantage of Facebook to measure the total engagement level of consumers and amplification level of products to friends. Furthermore, Facebook is an effective advertising platform that can reach a large user base. The study concluded that brands can lift purchase behavior by using a targeted three-factor strategy.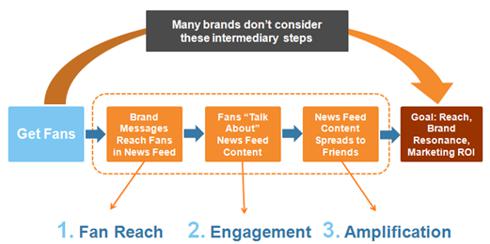 Click to enlarge
Industry
Social media is a booming industry, with most of the companies generating revenues from advertising. A large active user base, and the ability to monetize it, is considered essential for the growth of social media companies. Social media spending now accounts for 12% of total online advertisement spending.
Market Performance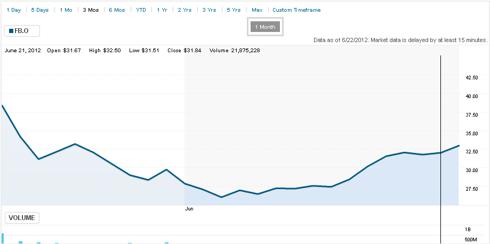 Click to enlarge
Financial Review
The company primarily generates revenues from advertising and fees associated with platform developers selling virtual goods. Revenue increased 88% YOY in 2011 to $1,737 million and was primarily attributable to a 68% YOY increase in advertising revenue, and a 5x increase in fees. 12% of Facebook's 2011 revenue came from Zynga, and it is expected that it will contribute a similar amount in future owing to the popularity of its games.
Valuation
The stock is currently trading 60 times forward earnings and 14 times forward Sales. We think that the company is moving in the right direction but we are cautious about issuing a buy rating just on the basis of some of these recent decisions by the company. In fact, we want to see the monetary benefits of these key developments in upcoming financial results of the company. If the company translates these developments in revenues, then we believe that Facebook is successfully monetizing its large user base and has immense growth potential, therefore issuing a buy rating. But at the moment, we recommend a hold stance till the financial results come out.
Thomson Reuters

Price

Revenue (2012E) (Millions)

EPS (2012E)

# Shares (Millions)

P/E

P/S

Groupon (NASDAQ:GRPN)

10.6

2,400.24

0.2

645.8

53.00

2.85

LinkedIn (NYSE:LNKD)

104.1

902

0.66

103.3

157.73

11.92

Zynga (NASDAQ:ZNGA)

5.86

1448.81

0.27

736.65

21.70

2.98

Facebook (FB)

32.62

4,960.98

0.54

2,138.08

60.41

14.06

Pandora (NYSE:P)

10.93

275.57

-0.03

166.65

NM

6.61

Google

568.72

35,338.30

43.27

326.03

13.14

5.25

Average

61.20

7.28
Disclosure: I have no positions in any stocks mentioned, and no plans to initiate any positions within the next 72 hours.