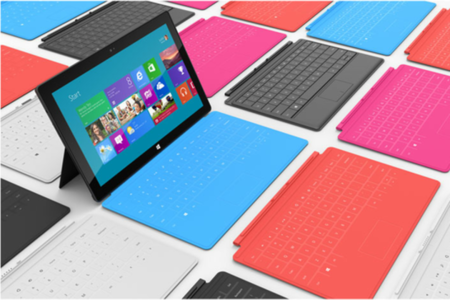 Last Sunday, rumors were swirling about the possibility of a new Microsoft (NASDAQ:MSFT) Tablet. Then, on Monday night the rumors were put to rest. We all know now that the new "Surface" is going to be a force to be reckoned with in the "Big Boy's" Tablet War. The company has specifically targeted Apple's (NASDAQ:AAPL) iPad. If you did not get to see how the new tablet works, there are lots of articles about it. One of the best sources is a video of the entire event which demonstrates the superior capabilities that this new product has.
But many questions were left unanswered in the presentation. Little things like price, data capabilities, and availability dates left many analysts scratching their heads. But there is an even bigger question that I have about this new device.
First, there are actually two different tablets. One will come out first and operate on Windows RT, which has been designed specifically for this hardware. It will only be touch-enabled and not have the option of the (non-touch) traditional windows in the design. The other tablet, which will come out three months later, will operate on Windows Pro. This will have a full version of Windows 8 which has the option of working like the classic Windows 7 (non-touch), or as the Metro touch version-- depending on each user's preference:
Each of the tablet devices in Microsoft's new Surface range is made from magnesium liquid metal, with what's known as a PVD finish. PVD stands for physical vapour deposition and it's a treatment used for making high performance kit such as premium sports watches. It produces a tarnish resistant and polished-looking surface which looks and feels very premium. Microsoft has said the Surface for Windows RT model is a mere 9.3mm thick and weighs around 680g, while Surface for Windows 8 Pro is a bit more substantial at 14mm thick. Both feature a bevelled edge design, Corning Gorilla Glass displays and an integral kick-stand which has been designed to fit flush to the back of the device and to 'feel and sound like a high end car door' when opening and closing.
So even though it is ultra thin it will not bend. It appears to be virtually indestructible. The new cover, that can be removed, doubles as a keyboard. And two types are available. There is one that is totally flat, for those who like that feel, and one that is more traditional, with raised keys. Also the Surface has the "typical tablet" flat keyboard on the screen itself. If you watch the video, the cover will "snap" on in seconds with magnets. You can not make a mistake putting it on. And when typing on the keyboard, it senses and distinguishes an intentional key-strike, and then reacts faster, making the user type significantly faster. When it is folded backwards to use as a tablet, the keyboard intuitively "knows" to turn off.
If it is folded the other way as a cover, it looks just like a very thin book. It even forms a spine and can be carried "easily with books". They both have a stylist that writes with "digital ink", and there is a USB port to use for any "hook-ups" including a printer. The keyboard and the USB separate this tablet from the pack. So now, is it a tablet or a PC? It really is both. And just look at the colors. I love the colors, but the first thing that I think of when I see those particular hues of pink and blue, and hear the word indestructible is-- kids.
Could this possibly be the prototype for the new Barnes and Noble (NYSE:BKS) computer that will be marketed to school districts and colleges as part of its new partnership with Microsoft? At the beginning of May, an article in the Wall Street Journal detailed some of the possibilities for the future:
By taking a minority stake in a new subsidiary that will market the Nook, Microsoft gains several footholds in e-reading. For starters, Barnes & Noble committed to creating a Nook e-reading app for Windows 8 - a forthcoming Microsoft operating system that will be used in tablet-style hardware and PCs - and for smartphones powered by Microsoft software. The Nook, like Amazon's Kindle Fire, runs on Google's Android software.

Another possible benefit for Microsoft is that its software may power devices designed for electronic books, magazines and newspapers. Executives of the two companies didn't rule out the idea that future Nook devices could run Microsoft operating systems, and their contract also cites the possibility Microsoft could make e-readers.
Something that I have discussed in other articles is the fact that the "Nook Study" program that is targeted to high school and college students can only be used on laptops and PCs. The Nook screen is too small to view eTextbooks:
It is a misconception that the eTextbooks would be loaded on the Nook Tablet. According to the B&N website the Nook Study, an eTextbook reader is only available on PCs and Macs at this time. This is because it is very hard to read a textbook on a smaller screen such as the Nook. The program can access over 2.5 million books and textbooks right now.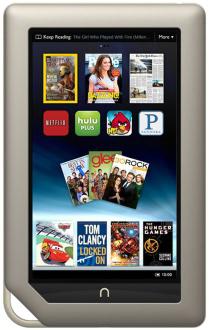 So is the new Surface's screen big enough? It is 10.6 inches, which is even larger than an iPad screen. And the new Micro-tablet will run Windows RT which should support the Nook Study program. If not, the newer version of the Surface with full Windows 8 will definitely support it, as long as the screen is large enough.
This "e-textbook" program by Barnes and Noble will save students and school districts an average of over 60% on book costs. Not to mention all the forests that will be saved by using electronics instead of paper. And how easy it will be for students of all ages to carry this one little notebook, rather than a bunch of heavy textbooks. Of course, students can also check out library books with new e-reader software. The earnings potential for Microsoft and Barnes & Noble will be infinite. When the Microsoft partnership with B&N was first announced, Barnes and Noble stock shot way up, as you can see from the chart below. The shares have fallen back since then, due to a disappointing earnings report that came out last week.It is possible that investors are confused about this move by Microsoft. They expected the first Microsoft tablet to be a Micro-Nook.
Microsoft also introduced the new Windows Phone 8 last week. Even though company officials said that they have not announced all of the "bells and whistles", the ones that were made public are incredible. The new phones will be able to talk to, and even "play with" the new Microsoft tablets. So the student's phone will just HAVE to be the WP8, because "that's what everybody else has". And if B&N does make the new Nook e-reading app for Windows 8, as promised, it should also be available for the Windows Phone 8. So then students will be able to use their phones to theoretically "talk to their homework" that is on the tablet. This will be made possible through a "tap and send" program on the WP8 that will be available for use on all Windows 8 apps due to a Shared Windows Core.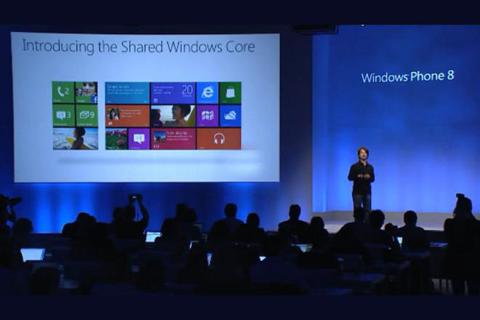 In the future, when we look back, last week will go down as "The Week of Microsoft". I will always remember where I was when I first saw them "snap" the Surface's keyboard into place, and an ordinary tablet suddenly became a PC right before my eyes. The minute that the keyboard was in place, the border color on the Surface screen changed to match the color of the keyboard. That is because it "knows" what color each keyboard is.
But this was not all good news for everyone. The jury is still out about the effect this will have on Apple, but a lot of analysts agree that this will be very harmful to the rest of the hardware makers:
That's all well and good for Microsoft, but a lot of eyebrows went up over the fate of Microsoft's customers, the PC hardware OEMs - Hewlett-Packard (NYSE:HPQ), Dell (NASDAQ:DELL), Acer, Lenovo, and others - that distribute most of Microsoft's software and deliver to the company most of its revenues. How were they taking this? No one in current employ would go on the record saying anything, but Stan Shih, the retired founder of Acer, felt sufficiently distant from the action to say that Surface was just a straw man, a bar-setter, a reference design, an example that would spur the OEMs on to more vigorous innovation. During the keynote, Microsoft CEO Steve Ballmer wasn't that reassuring. He indicated that the company might sell a whole lot of Surfaces.
Another company that will be hurt from this move by Microsoft is Google (NASDAQ:GOOG). Not only will the Android system have to share the market with Windows 8 tablets and phones, the company will also have to face the fact that devices such as the Nook will probably switch to a Windows OS. The chart above shows how HPQ, DELL, and GOOG have fallen since March, compared to Microsoft.
I am going to have to agree with Steve Ballmer. Microsoft might sell a whole lot of Surfaces. Especially if this really might be the new "school laptop-tablet". And if it is not? A lot of "kids" of all ages are going to want it anyway.
Disclosure: I am long MSFT.