Apple (NASDAQ:AAPL) & Google (NASDAQ:GOOG)
This is a strategy to use AAA rated university income, generated by near term Stanford 4.75% bonds, MIT 7.25% century bonds and Zero Coupon US Treasuries, to build up a small position in Apple and Google stock over many years.
Ambition To Invent The Future
It is fair to say that Apple's founder Steve Jobs and Google's founders Larry Page and Sergey Brin have played a major role in inventing the world we know today. That said, as a strategist, I would not dive into their stocks. Instead consider a strategy to build up positions over the long term by investing in and around Apple and Google's businesses today.
Companies find themselves in the spotlight when their products and services are used to create an Apple product or work with Google on new technology. For instance, since Nuance Communications (NASDAQ:NUAN) provides the foundation for the iPhone's speech recognition; the stock has become a favorite for Apple investors to speculate.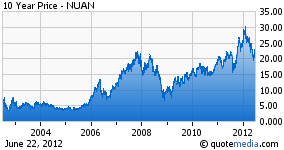 When Google's CEO Larry Page made it a priority to create smarter vehicles, Google investors began to pay more attention to Ford (NYSE:F). Currently Ford is using Google's 'Prediction API' to develop vehicles that are slightly more aware than their classic counterparts. Keep in mind large businesses like Apple and Google are diversified, they work on several products and services.
Many opportunities to benefit from Apple and Google's business are simply not available to retail investors. Google buys small companies that are often not publicly traded, such as YouTube. Apple, however, is not known for acquiring smaller companies, though both companies share a common pursuit of engaging hundreds of thousands of students in the United States every day.
Investor's Mind & Hand (MIT Century Bonds)
It is important for investors to consider a long term strategy to reduce risk. Because Apple and Google stock are well over $500 a share, if you buy just 10 shares of Apple and 10 shares of Google you will spend over $10,000. And when the market fell in 2008 Apple and Google certainly were not spared.
Investors need a strategy to generate income sufficient to make smaller investments in Apple and Google over a long term. To do this it makes sense to follow the lead of the late Steve Jobs and his successor Tim Cook, and Google's CEO Larry Page; invest in quality education.
Today for-profit schools are flailing:
It seems there is no end in sight to these companies' downward spiral, therefore they are not suitable for this strategy.
Instead the best way to indirectly benefit from Apple and Google's involvement with education may be through university bonds. While Apple and Google work with several universities, two universities offer AAA rated bonds to consider; MIT and Stanford. Their mottoes are 'mind & hand,' and 'the wind of freedom blows,' respectively.
| | | | |
| --- | --- | --- | --- |
| | CUSIP | Yield | Price |
| Mass Inst Tech MTN 7.25% 2096 | 57571KAB0 | 4.3% | 167.50 |
| Stanford Leland Jr Univ 4.75% 2019 (callable) | 854403AC6 | 1.7% | 119.33 |
Universities Connected by Apple & Google
Google and Apple realize that in order to succeed in business it is vital to tap the creativity and purchasing power of college students. Google was founded by two Stanford PhD students; the original Google web address was google.stanford.edu.
Apple specifically has made a very strong effort to engage the scientific and medical fields, while Google has invested in MIT students' intelligence and creativity, many times. Apple also developed iTunes U, a program that offers university course materials on the popular iTunes platform, including MIT and Stanford.
Corporate Analysis
| | | | | |
| --- | --- | --- | --- | --- |
| | Employees | Market Cap. | Cash / Debt | Credit Rating |
| Apple | 60,400 | 544 B | 28.5 B / 0 | (last rated Ba2 Dec. 2000, currently has no debt.) |
| Google | 33,000 | 186 B | 47.6 B / 7.7 B | Aa2 |
To view Apple's earnings report click here, to view Google's earnings report click here.
| | | | | |
| --- | --- | --- | --- | --- |
| | Staff | Students | Endowment | Credit Rating |
| MIT | 1,018 | 10,894 | 9.9 B | AAA |
| Stanford | 1,910 | 15,319 | 16.5 B | AAA |
To view Stanford's annual report click here, to view MIT's annual report to their president click here.
MIT & Stanford Income For Apple & Google Equity
Due to the expense of Google and Apple's stock and the unpredictable nature of the market, consider basic positions to begin with. Here is an example of portfolio allocations to consider.
Portfolio Size

Apple

(582)

Google

(571)

Stanford 4.75% 2019

(119.33)

MIT 7.25% 2096

(167.50)

US 0%

2/15/2031

(61.44)

Total / %
$25,000
1
0
0
1
1
$2,872 / 11.5%
$100,000
1
1
1
1
1
$4,673 / 4.6%
$250,000
1
1
1
1
5
$7,096 / 2.8%
$500,000
2
1
2
2
10
$13,621 / 2.7%
$1,000,000
2
2
3
5
20
$26,560 / 2.7%
$2,500,000
3
2
5
10
25
$40,396 / 1.6%
$5,000,000
3
3
10
15
35
$62,042 / 1.2%
Please note the price of MIT's century bond has fluctuated between 158 and 172 in the past few weeks. (Also note that MIT's 2096 century bond is not the same as MIT's 2111 5.6% bond.) Currently there is an offering of 165 MIT 2096 bonds with a minimum quantity of 10, however some financial institutions [Pershing LLC] quoted me on Friday June 22nd, a minimum quantity of 1 bond.
The point is to think long term, if either Apple or Google goes down this strategy will continue to generate some income. If the stocks go up you have some exposure and are prepared in either event to invest more down the line. Furthermore remember bond income is taxable, to reduce annual tax burden consider this strategy for an IRA; also depending on the age of the investor you may choose a different year US Treasury.
Apple co-founder Steve Wozniak recently said Apple is going to $1,000 a share.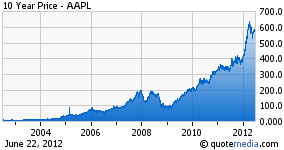 However, the sharp increase in share price and already astronomic market cap are reasons to err on the side of caution in the near term, while keeping an eye on further investments in the companies if their shares become more affordable. Consider the ratio of stocks to bonds relative to the overall portfolio to gauge risk.
You may decide you would like to at least double your position in the stocks within two years. You may see profit in the US Treasury position within 5 years, so you could profit some to further add to either stock. Though smaller portfolios conversely should work to buy more US Treasuries when interest rates rise (possibly around 2014.)
By 2019 the Stanford University bond will mature and the MIT bonds should have generated income. At this point consider another University bond position (not necessarily Stanford), or purchase more near or longer term US Treasuries. You need to use your best judgment in order to decide how Apple and Google are faring in the future.
Time Will Tell
Apple's stock has soared recently, however the company is missing former CEO Steve Jobs. Investors seem confident in Tim Cook, however the precise vision that created Apple computers from concept to reality will require a great level of intelligence to reproduce.
Google's CEO transition has also shaken up their company; some say for the better. Now Google is splitting and distributing Class C shares that are expected to be priced less because they have no voting power.
Only time will tell if these companies can continue remarkable increases in shareholder value. Investors can debate that the stocks will go up or down; the fact is they will go up and will go down. One company may have fantastic earnings and the stock will plummet while the other gets its credit rating cut and the stock rallies. It is important to consider that Apple and Google's price can swing greatly in either direction; however a modern long term stock portfolio is incomplete without a little exposure to them, for the future.
If you have any additional considerations on Apple and Google's equity or debt, or a University bond that might work for this strategy, please comment below.
Disclosure: I am long AAPL, GOOG, F, NUAN, COCO, EDMC, APOL, LINC.
Additional disclosure: long Mass Inst Tech Mtn Be Fr 7.25% 2096