NII Holdings (NASDAQ:NIHD) has been an extremely poor performer in 2011. The company has been hit hard due to disappointing earnings the last few quarters. Much of this is due to the costs and challenges in rolling out its new upgraded networks in the Latin American markets it serves. Although 2012 is likely to remain turbulent, the company is laying the groundwork for a much better 2013. Investors who bite the bullet on this stock could be richly rewarded in the coming year if NIHD executes on its strategic plan. Insiders and institutional holders certainly seem to believe in the firm's long term future.
Business description from Yahoo Finance (see here):
NII Holdings provides wireless communication services under the Nextel brand name to businesses and individuals in Mexico, Brazil, Argentina, Peru, and Chile.
7 reasons NIHD is a good play at just over $10 a share:
Three insiders bought new shares in the company in May.
The stock is cheap at 54% of book value and less than 2 times operating cash flow.
The cheapest of the shares is starting to attract institutional investors who picked up over 10mm new shares (over 6% of float) in the last quarter
Sales are expected to start growing again next year as analysts' project revenue growth of 7% in FY2013.
The sixteen analysts that cover the stock have a median analysts' price target of $21.50, double the current price of the stock.
Scooping up this company is a bet primarily on its strength in Brazil (4.2mm subscribers) and Mexico (3.8mm subscribers). It is important to remember that this was a $44 stock within the last year.
The stock looks like it is trying to put in a short term technical bottom at these levels (See Chart)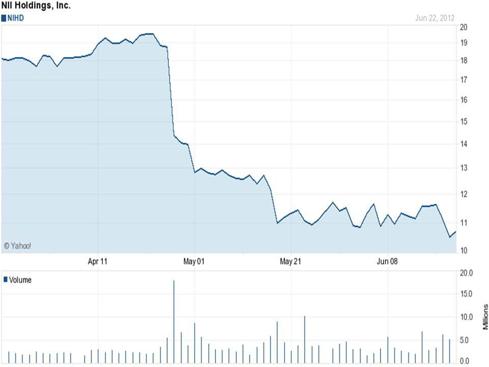 Disclosure: I have no positions in any stocks mentioned, but may initiate a long position in NIHD over the next 72 hours.