Worthington Industries, Inc. (NYSE:WOR) operates as a diversified metals processing company focusing on steel processing and manufactured metal products in the United States, Canada, and Europe. It processes flat-rolled steel and stainless steel for the automotive, construction, lawn and garden, hardware, furniture, office equipment, electrical control, tubing, leisure and recreation, appliance, agricultural, HVAC, container, and aerospace markets.
It is scheduled to report its Q4 2012 results on June 28, 2012, before the market opens.
Technical Overview
Key Metrics
Market Cap: 1.20B
52-week trading range: 12.84 - 23.75
Trailing P/E: 10.55
Forward P/E: 9.01
Price/Sales: 0.49
Price/Book: 1.71
PEG Ratio: 1.44
Total Debt: 547.77M
Annual dividend yield: 2.80%
Return on Equity: 16.93%
Return on Assets: 3.81%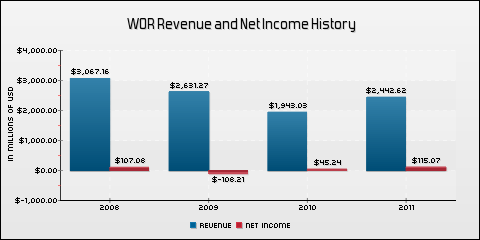 Recent EPS Actuals vs. Estimates
The company has met or beaten analysts' estimates in the last quarters. In the last quarter it reported $0.37 EPS, beating analyst estimates of $0.35.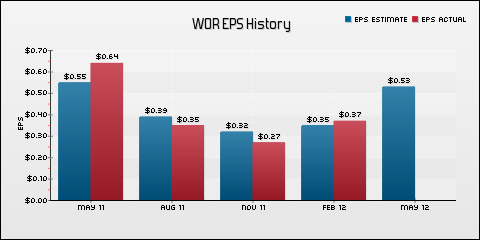 The consensus EPS is $0.53 based on 7 analysts' estimates, down from $0.64 a year ago. Revenue estimates are $682.41M, up from $675.70M a year ago. The median target price by analysts for the stock is $21.00.
Average recommendation: Overweight
Source: Marketwatch
Latest Developments
On May 4, 2012, Worthington Industries, Inc. announced that it has executed a new $425 million five year revolving credit facility.
On April 30, 2012, Reliance Steel & Aluminum Co. announced that, through its wholly-owned subsidiary Precision Strip, Inc., it has completed the acquisition of the assets of the Worthington Steel Vonore plant, a processing facility owned by Worthington Industries, Inc.
On April 26, 2012, Worthington Industries, Inc. announced that Mark A. Russell will become the next President and Chief Operating Officer of the Company, effective August 1, 2012, replacing George P. Stoe who is stepping down into a semi-retirement role.
Competitors
Worthington Industries, Inc. operates in Steel & Iron industry. The company could be compared to AK Steel Holding Corporation (NYSE:AKS), Metals USA Holdings Corp. (NYSE:MUSA), Reliance Steel & Aluminum Co. (NYSE:RS), and Schnitzer Steel Industries Inc. (NASDAQ:SCHN). Below is the table comparison of the most important ratios between these companies and the industry.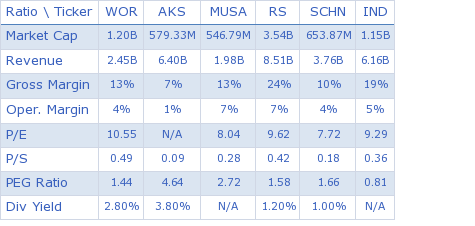 Below is the chart comparison with the stock price changes as a percentage for the selected companies and S&P 500 index for the last one year period.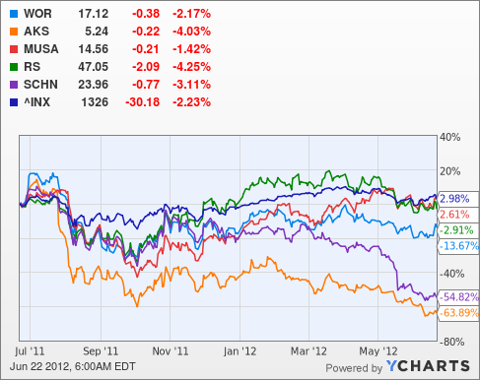 Click to enlarge
Competitors' Latest Development
Sources: Yahoo Finance, Google Finance, Marketwatch, Finviz, Reuters.
Disclosure: I have no positions in any stocks mentioned, and no plans to initiate any positions within the next 72 hours.