From afar the elections in Greece seem to have taken the cataclysmic Greece-leaves-the-euro scenario off the table. In reality, Greece's stay in the euro remains far from certain. Greece wants to get a two-year extension on meeting current bailout targets, which sounds reasonable until you understand that means the rest of Europe would need to cough up an additional 16-to-20 billion euros. On Sunday morning, Reuters reported what could be interpreted as "we are pushing you out" comments from Germany:
Greece's new government should stop asking for more help and instead move quickly to enact reform measures agreed to in return for previous bailouts from its European partners, German Finance Minister Wolfgang Schaeuble said on Sunday. Schaeuble told Bild am Sonntag in unusually blunt language that Greece has forfeited much of Europe's trust during the sovereign debt crisis, as reflected in an opinion poll covering the euro zone's four biggest nations and published in the paper. "The most important task facing new prime minister (Antonis) Samaras is to enact the program agreed upon quickly and without further delay instead of asking how much more others can do for Greece," said Schaeuble, a close ally of Chancellor Angela Merkel and Europe's most powerful finance minister.
Why would Germany want to push Greece (NYSEARCA:GREK) from the euro? Ezera Klein outlined one common theory on the Washington Post's blog:
You might ask why they seem so intent on cracking Greece in half. One plausible story I've begun to hear is that an increasing number in the euro zone actually want to drive Greece out. The idea, basically, is that Greece is such an unsalvageable basket case, and its economy is so much weaker than anyone else's, and its governments have been so much more dishonest and difficult to deal with, that solving Greece's problems would mean rewarding irresponsibility while not solving them would mean an endless cycle of crisis. At some point, it's better just to cut them off and cauterize the wound. At that point, having shown how serious they are about punishing wayward members, the euro zone can extend more support to the remaining, and more responsible, countries in the currency union. Having made an example out of Greece, and forced everyone to stare into the abyss, they will both have more support for saving the rest of the periphery and less fear that other countries will think they can flout the rules without consequences.
The markets were given some reason to hope when the Guardian reported Germany had softened its stance on how bailout funds could be deployed. Like most stories from Europe in recent years, Angela Merkel stamped out those hopes. Germany does not have unlimited resources. Currently, there is little in the way of consensus relative to the next steps to stem rising bond yields in Spain and Italy, which could make for a rocky ride in the coming week.
Following the typical script, European leaders may only take action after being pushed to the edge of the cliff by the financial markets. As we noted Friday, despite the back-of-the napkin approach to crisis management, numerous markets have held above important technical levels, which still gives the nod to the bulls. However, market charts have deteriorated to a point where understanding bull/bear demarcation points are prudent.
We have recently noted potentially bullish inverse head-and-shoulders patterns in other markets. As of Friday's close, the pattern is still discernible on the S&P 500's chart below. The orange arrows below show previous resistance, which is now possible support (green arrow).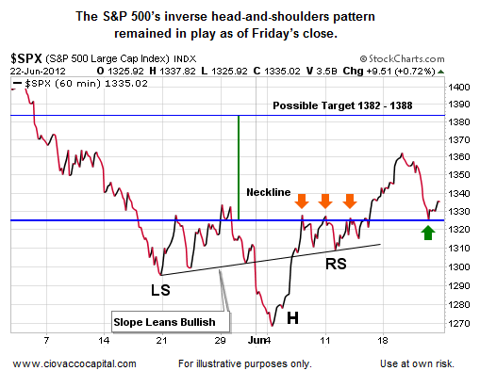 The necklines offer a good way to monitor the battle between the bulls and bears. Since the pattern becomes bearish if the neckline does not hold, we can get good information regardless of the how things unfold in the coming weeks. If the S&P 500 (NYSEARCA:SPY) can hold above 1,319, an upside target of 1,388 remains possible.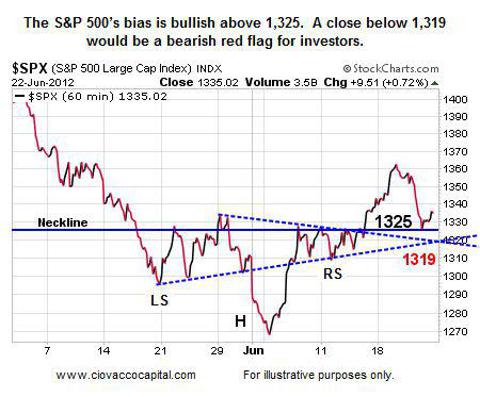 Recent volume on the S&P 500 ETF (below) fits well with a bullish inverse head-and-shoulders pattern. It is also common for a market to retest the neckline, which is what appeared to happen during Thursday's steep decline. The neckline is in green below.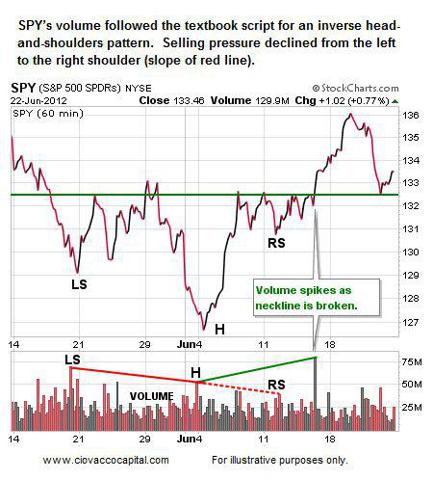 Bearish momentum could accelerate if the necklines on SPY and the S&P 500 are broken. The levels for investors to watch are shown below.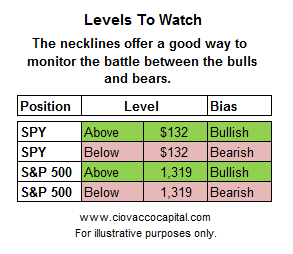 A bearish break of a head-and-shoulders neckline needs to be respected since prices can fall rapidly. Should we see a bearish resolution to the pattern above, our June 23 video explains why the S&P 500 may attract buyers near 1,293, 1,275, 1,265, and 1,260.
Disclosure: I have no positions in any stocks mentioned, and no plans to initiate any positions within the next 72 hours.