Viropharma (VPHM) is a biotechnology company searching for a second act. In the past several years, the company has been hit hard by the possible lose of its Vancocin franchise to generic competition and the failure of its Phase 2 drug for hepatitis.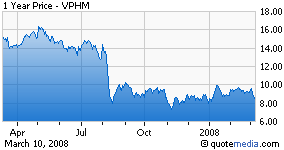 However, at the current price of $8.40, I believe VPHM is a high risk buy with a target of $10.48 for a 20% plus upside. My target price is derived from the net cash position the company will have at the end of 2008 of $5.36 per share, combined with the $5.12 per share value of the Maribavir currently in Phase 3 study.
Act 2: A Compelling Case for Maribavir
Maribavir is currently in Phase III study in allogeneic stem cell transplant patients. This is a population at severe risk of contracting CMV disease. However, there is little choice for physicians who combat the disease. Currently, less than 25% of transplant centers practice prophylaxis the preferred way of attempting to prevent the disease in transplant patients. The main deterrent to preventative prophylaxis is the blackbox labeling on best in breed treatment, Val/Ganciclovir.
VPHM believes that Maribavir will have $400-500 million in worldwide sales at peak levels
That the CMV market sees rapid uptake of new drugs i.e. Val/Ganciclovir which went from $0.00 sales for CMV to @$80 million in two years
The market is underserved with a limited number of drugs
Doctors would quickly embrace Maribavir if Phase III results are positive because of side effects on existing treatments (blackbox labeling), their poor prophylactic profile, and CMV's building resistance to Val/Ganciclovir
Post Phase 2 Data Review
Maribavir Phase II data demonstrated that the compound was successful in preventing the occurrence of CMV disease in all three drug-receiving populations. In addition, on the DNA PCR test all three study groups showed statistically significant reductions of CMV levels. These results were achieved with a drastically reduced side effect profile compared to existing treatments.
The ability of Maribavir to prevent the incidence of CMV disease with a low side effect profile in this population is significant as physicians in treating these patients are actively looking for alternative treatments to the existing standard of care. In studies Physicians have show a willingness to consider new treatment that will allow them to increase prophylaxis and duration of treatment. These physicians believe increased preventative care and longer treatment would be a significant advance in the treatment of CMV.
In addition, this medical provider population has exhibited a rapid movement to new treatments in the past. When Val/Ganciclovir was introduced it took the drug less than 4 years to achieve a penetration of over 40% in CMV market. These facts have convinced me that Maribavir will be adopted at a rapid pace.
Using a probabilistic forecast of how fast Maribavir will be adapted as the standard of care in CMV, I value the drug at $5.12 per share to Vancocin.