The following is a review of the U.S. Treasury yield curve for June 15, 2012 to June 22, 2012. During the week there was no change in short-term yields, while yields on issues maturing from 1-year to 30-year moved higher. See chart below.
Change in Basis Points Chart: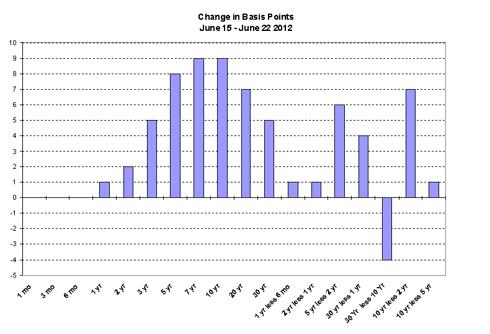 Click to enlarge
Yield Curve Chart: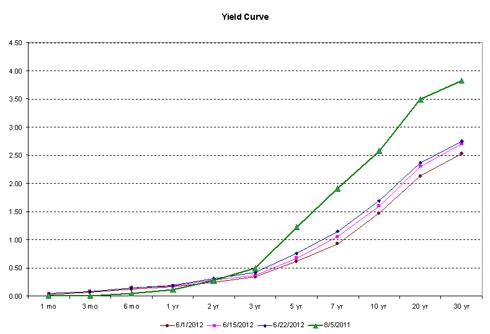 Click to enlarge
Charts source data: treasury.gov
The 10-year less 2-year spread increased 7 basis points, from 131bp to 138bp.
Since the U.S. Treasury lost its AAA credit rating, in August 2011, short-term yields have moved slightly higher, while longer-term yields have declined. See chart above.
Outlook
We remain in the camp expecting interest rates to be flat-to-higher. Also, we expect a steeper yield curve. This should benefit STPP and TBT. However, should deflation take hold like in Japan, then yields might go far lower and stay at low levels that might surprise the most bullish of bulls.
A 25bp to 50bp shift higher, across the yield curve, might help reduce deflation fears and at the same time provide some relief to savers and boost economic growth. A steeper curve could help many financials. The downside to higher interest rates would be increased interest expense paid by the government.
Something to think about.
Net interest expense in FY 2008 was $252.757 billion, and in FY 2009 it plunged over $65 billion to $186.902 billion and in FY 2011 stood at $229.968 billion, according to the historical tables in the fiscal year 2013 budget of the U.S. government.
Did the decline in net interest spending harm or help the economy? If lower net interest spending helped the economy, then wouldn't allowing the so-called fiscal cliff to occur help the economy? The CBO projects federal debt as a percentage of GDP would gradually decline, under its extended baseline, which is being called the fiscal cliff.
Debt becomes more expensive the lower tax rates fall. Will rational investors want to borrow if they believe the after-tax cost of debt will be increasing and/or if the prospect of deflation has increased?
Performance of selected ETFs/ETNs
Selected ETF / ETN Price changes for the week June 15 to June 22
FLAT
$62.11 June 22

$62.85 June 15

(0.74) $ Change

(1.18) % Change
STPP
$35.63 June 22

$35.36 June 15

0.27 $ Change

0.76 % Change
TLT
$125.02 June 22

$126.40 June 15

(1.38) $ Change

(1.09) % Change
TBT
$15.90 June 22

$15.58 June 15

0.32 $ Change

2.05 % Change
Source: Yahoo Finance
Disclosure: I am long TBT.