Riddle me this, Batman: what do you get when you cross the density of DRAM with the speed of SRAM and non-volatility of FLASH?
If you don't know, that's OK — the answer is a digital memory storage technology that's still largely in the development stage. It's called "magnetoresistive random access memory," or "MRAM," and those following its evolution say it has the potential to revolutionize electronics as a smaller, faster, more energy efficient and durable way of storing and sending your data, iTunes songs or even digitized Batman reruns — if that's your thing.
This nanotechnology relies on electron spin rather than charge to acquire, store and transmit information. Albert Fert, the co-recipient of the Nobel Prize for Physics in 2007, recently predicted that MRAM and its offshoots are good candidates to be the "universal" memory of the future. This kind of Holy Grail talk has helped feed market hunger for MRAM's promise, but there are still plenty of developments, testing and marketing hurdles yet to cross - not to mention the pesky little issue of cost competitiveness.
Companies leading the charge include Cypress Semiconductor Corporation (NYSE: CY), Freescale Semiconductor (NYSE: FSL) — the Motorola Inc. (NYSE: MOT) spinoff, which was the first company to bring the memory to market, IBM Corp. (NYSE: IBM) and last but certainly not least, Eden Prairie, Minn.-based NVE Corp. (Nasdaq: NVEC).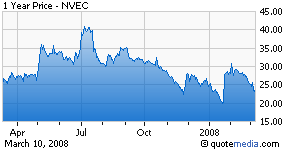 "Spintronics," as the highly durable applications of this technology are called, is something that has attracted several big chunks of Department of Defense R&D change for NVE. The company has built itself around researching and marketing new uses of the technology for harsh battlefield conditions in addition to medical and industrial applications where absolute reliability is required.
The enviable intellectual property real estate of MRAM technology could eventually translate into big returns for the company, since competitors will likely need license agreements to use key parts of the technology that NVE has patented.
Even though the ultimate commercial viability of MRAM miniaturization has yet to be fully realized because high production costs remain a challenge, investors don't need proof that NVE's stock has other legs to stand on.
NVE made the wise decision early on to diversify into a sector with above-average profit margins, unlike many nanotech R&D firms that rely on government funding. NVE currently markets a wide range of spintronic sensors, isolators and couplers that are used in medical devices like pacemakers, nerve stimulators, hearing aids, insulin pumps, in automotive safety, navigation and control devices, and in other aerospace and military applications.
Driven by medical technology, product sales for NVE in the quarter ended Dec. 31 rose 25% year-over-year and operating margins rose 990 basis points to 47.5% year-over-year. This helped the company put up a 62% increase in year-over-year net income and beat consensus earnings per share estimates by 20%.
The results the day after the earnings release, along with upgrades by Broadpoint Capital and Northland Securities on Jan. 24, knocked the company's stock off the downward trajectory it had been taking since its 52-week high of $41.95 in early July (weighed on to some degree by hefty short-interest positions), and sent prices up around 35% on the day.
NVE's 52-week low of $19.50 was on Jan. 22. It closed at $23.44 on Friday; the current mean price target for the four analysts surveyed by Thomson Financial is $36.75.
The apparent reversal in investor confidence seems in large part due to the result of clarity regarding the state of NVE's medical sales and the resolution of inventory issues with one large customer, which management claims had depressed revenues in the prior two quarters.
On a conference call discussing the results, management explained that NVE saw a pickup in its coupler sales, renewed contracts with key medical device customers and entered distribution relationships with a company that has a presence in China, Japan and South America, as well as tech hubs in the United States. The face-to-face sales abilities of such partners are expected to add to sales revenue — something NVE wants to rely more heavily on in the future in lieu of its current high mix of federal R&D funding that faces the risk of tightening government budgets.
Craig-Hallum Capital Group analyst Steven Crowley expects continued growth in NVE's medical product revenues as more clients are added, and noted in a Jan. 24 report that one key customer's own rapid growth will likely flow through to NVE's revenues. Crowley has a "buy" rating on the stock, a $39 price target, expects year-over-year revenue growth of 20% by the end of fiscal 2009 and sees NVE as an undervalued, long-term growth pick.
A couple clues to the company's own expectations for near-term sales include a fairly significant recent capital investment in its production facilities and a build-up in product inventory.
Even though $109 million NVE (NVEC) is competing with some of the tech world's true mega fauna over MRAM, its intellectual property rights over a wide swath of the field's technological underpinnings are enough to give a headache to any goliath out there. And if analysts' positive spins on future revenues are right, this nano stock could be gearing up for some mega long-term growth.
Disclosure: none