China Digital TV (NYSE:STV) went public on October 5, 2007 at a price of $16.00. The IPO was one of the most touted and desired of 2007 and shares quickly shot up reaching a high of $55.31 on October 9. Since that time, the shares have fallen over 70% and are now trading below their IPO price at $15.60.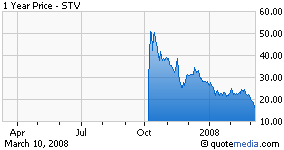 The dramatic share price decline comes in spite of the company having consistently reported knock out results over the past two quarters. In fact, for Q407, revenues grew 102.4% to $19.7M and net income increased 235% to $12.9M. For full year 2007, revenues grew 83% to $55.5M and net income increased 160% to $33.8M. As of December 31st, the company also reported a net cash position of more than $228M thanks to the $192M received via the IPO and through continued quarterly profit growth.
While share prices of other high growth China companies have fallen dramatically over the past few months, most maintain very lofty p/e ratios (Baidu (NASDAQ:BIDU) 97x, Sohu (NASDAQ:SOHU) 61x), but not STV. At current valuations, STV shares are trading at just 27 times trailing earnings, less than one fifth its trailing earnings growth rate. By comparison, Cisco Systems (NASDAQ:CSCO) posted revenue growth of just 7.2% for 2007 and is currently trading at 18 times trailing earnings, more than twice its trailing earnings growth rate.
For 2008, STV management has forecasted revenue growth of between 42.5-51.5%.
I believe these numbers are very conservative and see the company actually achieving closer to 70% revenue growth fueled by the Summer Olympics. Company leadership has a short, but remarkable, history of under promising and over delivering. Case in point for Q407, they forecasted a high end revenue range of $17.5M and actually achieved $19.7M. For Q108, I expect the company to post revenues of $18M and net income of $11M which will represent year over year growth of nearly 70% and 80% respectively.
A key reason for the dramatic share price decline over the past two weeks is a large increase in short sellers. In January, there were virtually no short positions in the stock, however as of March 1, 2008, the short position has ballooned to nearly 3.5M shares. This represents nearly 29% of the shares made available at the IPO. The short sellers have basically walked the share price down nearly 40% since the company's blowout Q4 earnings announcement on February 21, 2008, from $25.86 to the current $15.60 level. Even yesterday's partnership announcement with Intel (NASDAQ:INTC) could not stop the bleeding.
In order to reverse the sharp slide due from the short sellers, the company needs an upgrade from a large brokerage firm and or a significant institutional shareholder investment. Up to this point, the company has only been covered by a handful of small firms and has no significant institutional investors to speak of. Should either of these actions happen, a major short squeeze would quickly push the company shares back to the $20 to $22 level. If either of these actions do not occur, the company may be forced into instituting a share buyback plan to prevent the shares from sinking further.
Long term, the future of the company is very bright and patient shareholders could see the share price double over the next 6-12 months, however near term the short sellers are fully in control of the share price.
Disclosure: Author has a long position in shares of STV