Energy Transfer Equity LP (NYSE:ETE) is an MLP that owns and operates a diversified portfolio of energy assets. These assets include exploring, producing, gathering, treating, processing, refining, marketing, and transportation of natural gas, natural gas liquids, and crude oil. It has interests in a number of different companies. It owns the general partner interest, 100% of the distribution rights and 28% of the outstanding limited partner interests in Energy Transfer Partners LP (NYSE:ETP). It owns the general partner interests, 100% of the incentive distribution rights, and approximately 22% of the outstanding limited partner interests in Regency Energy Partners LP (NYSE:RGP).
It is the parent of Southern Union Company -- a natural gas company. ETE, through ETP, owns an interest in both Sunoco (NYSE:SUN) -- an oil company -- and Sunoco Logistics Partners LP (NYSE:SXL) -- a midstream oil company. ETP will acquire at the close of the deal 100% of Sunoco Inc. This includes the general partner, the incentive distribution rights, and 32.4% of the limited partner interests in Sunoco Logistics Partners LP. ETP also owns a 70% interest in Lone Star NGL LLC.
With the closing of the Sunoco acquisition, ETE will contribute its interest in Southern Union Company to an ETP controlled entity called ETP Holdco Corp in return for a 60% interest in the new entity (Holdco). ETP will contribute its interest in Sunoco (after SUN's interest in SXL is transferred to ETP) to Holdco for a 40% interest in Holdco. This entire transaction has already been approved by the necessary parties. It is a sensible organization, and it will provide ETE with good growth in future income.
There are many other benefits to the new acquisitions and organizational structures. They will provide ETE and ETP with more of a one stop shopping capability for customers. Plus there will be synergies between the various companies, which should lead to cost savings and greater productivity. Plus, there is always the possibility of building further pipelines next to currently owned pipelines. The chart below shows how this might be beneficial.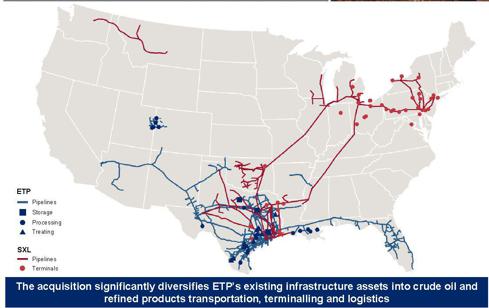 The analysts seem to agree with this assessment in regards to ETE. They have raised both the FY2012 ($1.65 to $2.15) and FY2013 ($2.11 to $2.54) EPS estimates for ETE significantly over the last three months. When you consider that most other companies, especially companies in cyclical industries, have had their EPS estimates cut during this time, the above significant raises are especially impressive. ETE has an average analysts' next 5 years EPS growth estimate per annum of 16.70%. This is fantastic. Plus, ETE beat Q1 2012 earnings estimates by 92.10%. It trades at a PE of 22.80 and an FPE of 15.44.
These are both good values considering ETE's next 5 years EPS growth estimate per annum of 16.70%. ETE might even be considered cheap given ETE's great dividend of 6.38%. Keep in mind ETE does own huge numbers of incentive distribution rights, which could lead to even further profits. I do not envision this in the short term given the current world economic conditions.
The two year chart of ETE provides some technical direction for this trade.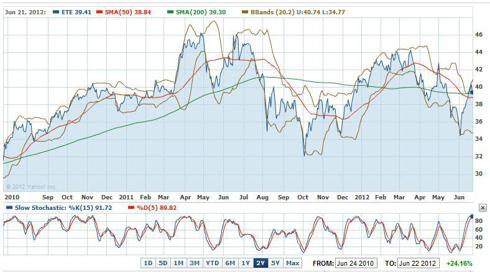 The slow stochastic sub chart shows that ETE is currently overbought. It has rallied hard as oil has rallied a little. It has rallied hard as many other oil and gas stocks such as ONEOK Partners (NYSE:OKS) or Breitburn Energy Partners (BBEP) have rallied little. This marks ETE as a leader. The main chart shows that ETE's price has recently rebounded above its 200-day SMA. Its 50-day SMA is still below its 200-day SMA. However, the 50-day SMA gives the appearance of wanting to move upward through the 200-day SMA. If it does that, that would be a strong buy signal.
Currently we are at the "window dressing" stage of Q2 (the end). With the recent actions by ETE and ETP and the recent analysts EPS raises of ETE's estimates for both 2012 and 2013, ETE seems poised to profit from the window dressing process. Even without this, it should at worst continue to consolidate after the recent EPS raises. Logically, ETE should see good price appreciation based on fundamentals. Most of its business will still be fee based. That should be less exposed to price fluctuations in commodities due to a world economic slowdown. Even if ETE falls. There is good support at $38, $34.50, and $32.
It seems unlikely to go down much further. If it does go down, it will likely bounce back up quickly. With ETE's 6.38% dividend, it is a stock that should see you through troubled times. Its market cap of nearly $11B marks it as a stable stock. Its Beta of 0.78 does the same. Over the long term, it should appreciate in value. During that time, it will be paying you a great dividend.
Note: Some of the fundamental fiscal data came from Yahoo Finance.
Good Luck Trading.
Disclosure: I have no positions in any stocks mentioned, but may initiate a long position in ETE over the next 72 hours.