With commercial real estate occupancy rates beginning to climb back from pre-recession levels, the self-storage sector has become the steady specialty sector to rely on. In fact, the self-storage sector was one of the most durable sectors during the great recession as the necessity-driven fundamentals led many of the other REITs in overall revenue performance.
One of the primary drivers for self-storage revenue maximization has been the growth in marketing and advertising initiatives. Accordingly, the self-storage REITs have become increasingly adept at growing competitive moats aimed to increase internet exposure and build broad-based traffic on the web and on the ground. All of the publicly-traded self-storage REITs have focused strategic branding initiatives around dedicated internet models aimed to provide brand differentiation growth.
There are four (4) publicly-traded REITs that make up the self-storage sector with a combined market capitalization of $29.189 billion. The average dividend yield for the specialty sector is 3.23 percent and the sector lead the entire equity REIT sector ($468 billion in market cap) with year-end (2011) total returns of 35.22 percent.

Click to enlarge
Extra Space - Leading the Industry by Design
One self-storage REIT leading the way in core brand-related growth is Extra Space Storage (NYSE:EXR). Based in Salt Lake City, Extra Space operates 882 properties that include 359 wholly-owned facilities (41 percent of portfolio), 340 joint venture facilities (38 percent of portfolio), and 183 managed facilities (21 percent of portfolio). Extra Space's strategic expansion platform has been a direct result of the highly fragmented business fundamentals that has led to industry-wide consolidation. By exploiting the company's strategic growth initiatives, Extra Space has gained a competitive advantage over its peer group and built a powerful brand-name along the way: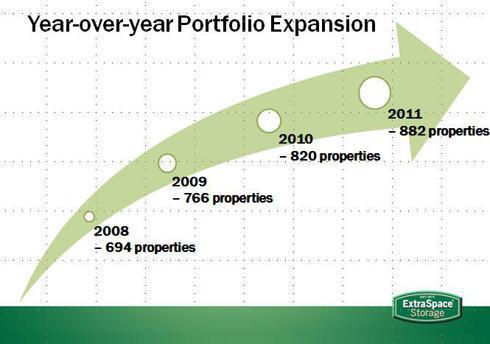 Extra Space recently reported solid first quarter results as same-store revenue increased on the heels of a rise in storage occupancy rates. Management provided encouraging guidance for 2012, prompting analysts to revise their estimates higher for both 2012 and 2013.
Extra Space reported first quarter funds from operation (FFO) per share was 33 cents (32 percent increase over the same quarter last year). Same-store revenue rose 6.3% year-over-year, driven by a 340 basis point increase in same-store occupancy to 87.1%. Meanwhile, same-store net operating income increased 11% over the same period. Management provided full year FFO guidance of $1.40-$1.46 per share based on same-store revenue growth of 3.5-5.0 percent. This prompted analysts to revise their estimates higher for both 2012 and 2013.
Aside from the earnings growth, investors are rewarded with a dividend that yields a solid 2.8 percent. Extra Space actually cut its quarterly dividend in late 2009 and then again in early 2010. But management raised it by 40 percent in 2011 and by 43 percent earlier this year. In fact, Extra Space reported the fifth largest dividend increase (of all U.S. REITs) following the largest payout performers LaSalle Hotel Properties (NYSE:LHO), Excel Trust Inc. (NYSE:EXL), Apartment Investment & Management Co. (NYSE:AIV), and DDR Corp. (NYSE:DDR).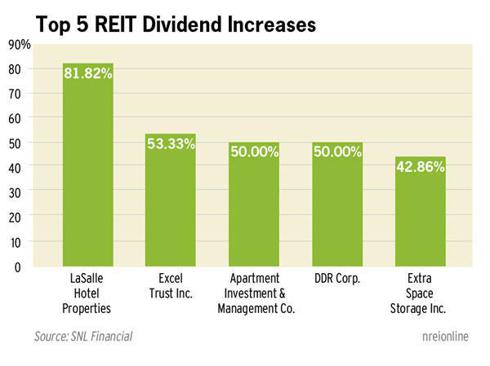 Click to enlarge
Compared with its peer group, Extra Space continues to lead the way in both revenue growth and NOI growth. As noted above, Extra Space reported a 6.3 percent increase in revenue: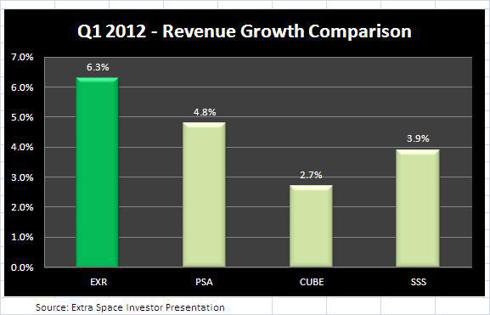 Click to enlarge
In addition, Extra Space leads revenue performance with a reported NOI increase of 10.8 percent.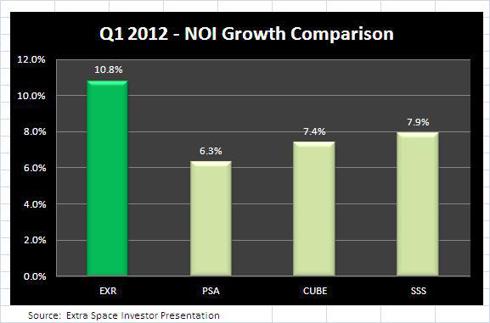 Click to enlarge
By focusing on revenue performance, Extra Space has led the self-storage REIT sector for the last 24 quarters in average same-store performance. Spencer F. Kirk, Chairman and CEO of Extra Space Storage Inc., commented on the REIT's most recent results:
With strong property performance and robust acquisition activity we produced 32 percent annual growth in our FFO per share over 2010 and delivered an excellent return to our stockholders. We are intensely focused on the fundamentals that drive our business. Strong execution on the basics and continued innovation will drive our success and allow us to capitalize on an environment marked by higher occupancy, stronger pricing and limited supply.
Extra Space has a market cap of around $3.0 billion and assets of $2.523 billion and debt of $1.498 billion. The debt structure allows for considerable flexibility as the REIT has fixed-rate debt of around $819 million (61 percent), variable-rate debt of around $118 million (8 percent), lines of credit of $215 million (16 percent), trust preferred shares of $120 million (9 percent), and convertible bonds of $88 million (6 percent). (As of Q1-12)
Extra Space and its peer group should all continue to benefit from industry consolidation; however, Extra Space has focused on its "cutting-edge" revenue and occupancy model. This strategic initiative has allowed Extra Space to achieve occupancy levels that meet customer demand while also providing lease rate optimization.
This strategically deployed cutting-edge platform is built on sound revenue management, innovative marketing, and sophisticated information technology. Accordingly, Extra Space does extensive statistical and analytical testing on every aspect of the business to drive optimal results. In turn, this leads to maximized efficiency and results in greater brand awareness that leads to enhanced profitability.
Extra Space's stock price has been climbing nicely for the past two years. The current price is $28.92 share and that around 6.5 percent below the 52-week high of $ 30.82. In addition, the Russell 3000 "best in class" REIT (provides special status as one of the largest 3000 companies on the U.S. stock markets) is paying a 2.8 percent dividend.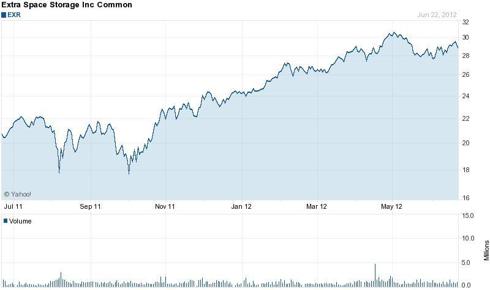 Click to enlarge
Extra Space peer Group includes (NYSE:PSA), (NYSE:CUBE), and (SSS).
Disclosure: I have no positions in any stocks mentioned, and no plans to initiate any positions within the next 72 hours.