In this volatile market, finding companies with low valuations and a solid dividend yield is a good strategy. If you combine that with a stock that has a growth kicker, so much the better. One stock that has all three traits is Rockwood Holdings (NYSE:ROC).
"Rockwood Holdings develops, manufactures, and markets specialty chemicals and materials for industrial and commercial applications primarily in Germany, the United States, and Europe.." (Business description from Yahoo Finance)
6 reasons ROC is a solid dividend and growth play at $45 a share:

Rockwood is the #1 producer of Lithium compounds & chemicals. Its lithium grade battery compounds have grown at a 17% annual clip over the last decade. Lithium sales account for 1/8 of Rockwood's sales and have margins of north of 38%.
ROC is selling at under 9 times forward earnings, a deep discount to its five year historical average (15.9).
The stock yields 3.1% and is priced at 8 times operating cash flow.
The company has easily beat earnings estimates the last two quarters and consensus earnings estimates for both FY2012 and FY2013 have risen in the last three months.
The 8 analysts that cover the stock have a $63 median price target on the stock, Credit Suisse has an "outperform" rating and a $71 price target on Rockwood.
The stock has a dirt cheap five year projected PEG (.38). It also looks like it is establishing a short term technical bottom in the $44 to $46 range (See Chart).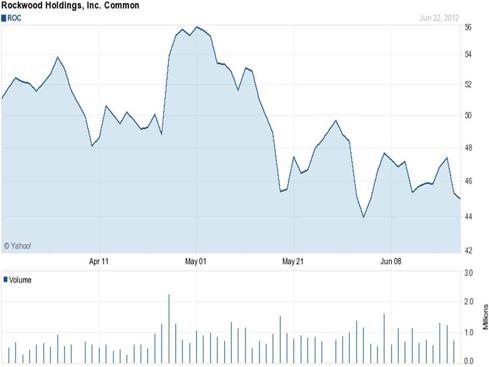 Click to enlarge
Disclosure: I am long ROC.