As most investors know, you're unlikely to succeed for long if you haven't dealt explicitly with risk. In fact, there's just no way to avoid risk completely. Even simple preservation of capital carries its own risk - inflation can impact the real value of even seemingly low-risk investments such as investment grade bonds.
Real estate ownership, like any business or commercial endeavor, is subject to all sorts of risk. For example, the "brick and mortar" industry faces several kinds of risk that are inherent in this sector of the market. Liquidity risk, market risk, and interest rate risk are just a few of the factors that can influence the gain of loss that is passed on to the investor.
To be successful as a real estate investor, you need an understanding of investment risk and realistic expectations of reward. Also, an understanding of the tradeoff between the return you are expecting from an investment and the degree of risk you must assume to earn it is perhaps the most important key to successful investing.
REITs Offer Exceptional Risk and Return Fundamentals
Real estate investment trusts (REITs) offer strong long-term total returns. During the period from January 1978 through December 2010, equity REIT performance exceeded both the broad equity market and other forms of real estate investment by more than one percentage point per year, producing an average annual return of nearly 12.3 percent. As such, a $100 million investment in equity REITs at the beginning of that time period would have been worth more than $5,500 million by the end. (source: NAREIT)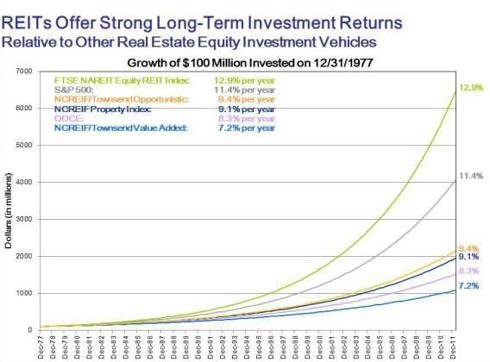 Click to enlarge
Because REITs must pay out almost all of their taxable income to shareholders, investors have historically looked to REITs for reliable and significant dividends (typically four times higher than those of other stocks, on average). In addition, much of the value of a REIT stock is in the REIT's current dividend yield, so a more modest decline in future growth expectations will have a more muted effect on the stock's trading price.
One essential measure of risk control that REITs provide (compared with other equities) is the benefit of "built-in" diversification. REITs are distinguished from other asset sectors by superior diversification fundamentals that limit risk by sector, geographic location, and tenant roster, This superior risk control principle is explained by the grand-father of intelligent investing (in The Intelligent Investor), Ben Graham:
For most investors, diversification is the simplest and cheapest way to widen your margin-of-safety.
Accordingly, Graham believed recognized that "successful investing is about managing risk, not avoiding it" - likewise, REITs provide investors with diversified risk-aligned alternatives known to intelligently bear risk for profit.
Risk: Is the Thrill of Victory Worth the Agony of Defeat?
Many investors looking for high income turn to REITs as an alternative to bonds. These unique fixed-income alternatives trade like a stock - providing transparency, liquidity, and diversification - yet a REIT provides a broader competitive advantage too by turning the rental income into powerful dividends that provide more lasting differentiation.
Outstanding REITs, in my opinion, are distinguished at least as much for their ability to control risk as they are for generating return. Accordingly, recognizing risk is essential and a REIT investor must acquire the necessary "trace of wisdom" to distinguish whether a portfolio is low-risk or high-risk.
The High Risk Mortgage REITs
A mortgage REIT is made up of loans and other debt instruments that are secured by real estate collateral. Unlike other types of dividend-paying companies which pay the same dividend each quarter, the dividends paid by mortgage REITs are very unstable and are cut often - sometimes drastically - when interest rates and/or mortgage defaults rise.
Though mortgage REITs can produce significant returns, sometimes in short time frames, they carry significant added risks. Since they only hold debt instruments and not property, they cannot participate in the appreciation of the collateral properties. Their value is also quite sensitive to interest rate fluctuations. This isn't a large factor in equity REITs, as they generally are financed by fixed rate mortgages. With interest rate influences being so important to mortgage REITs, their prices tend to be more volatile than those of the equity type. Owned property values are more stable and predictable than the mortgages in the mortgage REIT.
There are a few different types of mortgage REITs: (1) those that utilize leverage to trade government-backed (i.e. Fannie Mae and Freddie Mac) residential mortgages; (2) those that act like a bank by originating "private-label" (i.e., non-government backed) mortgage loans that are non-conforming (i.e., jumbo, Alt-A, subprime); and (3) those that purchase high-risk "distressed" mortgage loans at cheap prices and work with the debtor to improve the chances of repayment.
Examples of mortgage REITs engaged in government-backed leverage are Annaly Capital Management (NYSE:NLY) and Cypress Sharpridge Investments (NYSE:CYS). Examples of bank-like mortgage REITs engaged in the origination of private-label mortgages are Colony Financial (NYSE:CLNY) and Apollo Commercial Real Estate Finance (NYSE:ARI). Examples of vulture mortgage REITs engaged in workouts of distressed mortgages are PennyMac Mortgage Investment Trust (NYSE:PMT) and Chimera Investment Corp. (NYSE:CIM).
Generally, mortgage REITs are considered more for trading in the shorter term than the longer term holding strategy of the equity REITs. Although mortgage REITs have higher dividend yields and can, at times, deliver spectacular returns, equity REITs are less vulnerable to changes in interest rates and have historically provided better long-term total returns, more stable market price performance, lower risk, and greater liquidity (see my Seeking Alpha article comparing total return performance for mortgage REITs and equity REITs here).
The worst risk for mortgage REITs is that a rise in interest rates usually means that interest rate spreads fall (short term rates tend to rise faster than long term rates) and that book values fall (higher long term rates cause the book value of the portfolio to be marked down). During the last rising rate cycle (2003-2005) short term rates rose fast enough and high enough that the yield curve eventually went negative and mortgage REIT profitability went in the tank. Yields on mortgage REITs went from 15% to 4%, due to dividend cuts, and total returns during the 2003 to 2005 period were approximately negative 30%.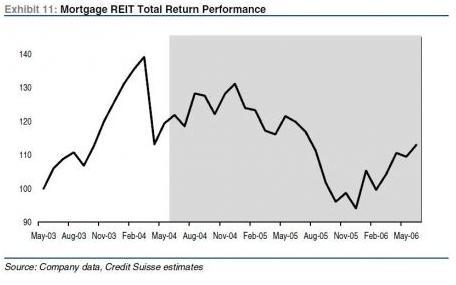 The Lower Risk Equity REITs
As I wrote in a recent Seeking Alpha article (Defend Your With These 'Wide Moat' REITs):
As we learned from the great recession, the REITs with wider moats performed much better and they were in a better position to defend against highly competitive forces. By protecting these differentiated revenue streams, the more durable REITs have been able to defend against loss and most importantly, grow the ever important reward - we call durable dividends.
One of the simplest ways to examine the potential for adversity or loss (in a REIT portfolio) is to examine the durability of the revenue streams. By measuring the predictability and consistency of the income stream, an investor is more likely to recognize the potential for loss.
Oftentimes a REIT investor can limit risk by staying away from certain sectors that are doing badly or categories where there are weaker supply and demand fundamentals. For example, the office sector has not recovered as quickly as the other sectors; however, the risk fundamentals are improving, as explained by Karen Nickerson, Vice President & Senior Credit Officer with Moody's Investors Service:
Signs are encouraging for the office sector, but risks remain. The U.S. labor market is improving, corporate profits are strong and balance sheets are stable. Office vacancy in the fourth quarter 2011 declined 50 basis points to 16 percent year-over-year, according to a fourth-quarter report by CBRE Econometric Advisors. However, Europe's debt situation remains unsettled and U.S. fiscal policy remains uncertain. In light of these unknowns, we expect the office market recovery to remain tentative.
Examples of improved office REIT fundamentals include Boston Properties (NYSE:BXP) and SL Green Realty (NYSE:SLG) - both office sector REITs reported stronger than expected quarterly earnings, a sign that the nation's largest landlords have been able to boost revenue despite tepid job growth risk. (Boston Properties current dividend yield is 2.1 percent and SL Green's current dividend yield is 1.3 percent).
Like the office sector, the improving fundamentals have placed apartment properties well ahead in occupancy and rent growth vs. the other commercial property sectors, which in many cases are experiencing anemic growth.
Take Camden Property Trust (NYSE:CPT) for example. The Houston-based apartment owner owns 67,000 units in major markets across the US. In the first quarter Camden increased rents by 5.4 percent from a year earlier, and the occupancy remained relatively stable at 95 percent.
Another indicator of the growing stability fundamentals of the apartment sector are recent reported dividend results. In my previous Seeking Alpha article (Building an Intelligent REIT Portfolio with 'Wide Moat' Revenue Streams), I explained that eleven multifamily REITS have raised dividends (since June 5th) and that represents 20.8 percent of the total REIT sector. Camden with a current dividend yield of 3.4 percent increased its dividend 14.29 percent (from .49000 to .56000). The largest increase was from Apartment Investment Management Company (NYSE:AIV) who increased its dividend fifty percent (from .12000 to .18000) with a current dividend yield of 2.7 percent.
Six healthcare-sector REITs have reported increased dividends (since June 5th) with Ventas Inc. (NYSE:VTR) leading the U.S. group with an increase of 7.83 percent (Ventas Inc.'s current dividend yield is 4.1 percent). HCP Inc. (NYSE:HCP) has also increased its highly reliable dividend (27 year track record of paid and increased dividends) by another 4.17 percent and the current dividend yield is 4.7 percent.
Several other retail REITs with growing dividend yields include Simon Property Group (NYSE:SPG) increasing its dividend by 5.26 percent (current yield is 2.7 percent). Taubman Centers (NYSE:TCO) increased its dividend by 2.5 percent (Taubman has never cut its dividend yield since it went public in 1992). Retail Opportunity Investment Corporation (NASDAQ:ROIC) grew its dividend yield by 8.33 percent (current yield is 4.3 percent). Weingarten Realty (NYSE:WRI) grew its dividend yield by 5.45 percent (current yield is 4.6 percent) and Tanger Factory Outlets increased its consistency (19 year track record for paid and increased dividends) by five percent (current yield is 2.7 percent).
REIT Investing: The Raised Nail Gets Hammered
My intent for this article was to provide income investors with an opportunity to recognize and assess the risks of REITs and make a determination of the likelihood (or probability) of loss or failure. Risks come in many shapes and sizes, and can be increased or decreased in ways other than overweighting or underweighting sectors or stocks.
By building a fixed-income portfolio targeted at principal preservation first (and yield second), an investor is more likely to minimize risk and maximize predictable total returns. REITs that earn healthy returns, seem modestly priced and have a record of increasing their dividends are often the ones that perform best.
Mortgage REIT yields are currently earning 13 percent to 17 percent dividends and most investors are comfortable losing another few points in yield. However, when dividends decline, share prices will too. (see 2003-2005 mortgage REIT total return chart above).
Alternatively (to these high yielding REITs with steadily declining dividends), a moderately yielding equity REIT paying 3 percent to 7 percent - with steadily increasing dividends (and rising profits) - is distinguished for their ability to control risk. These REITs build larger economic moats by providing a more defensive component - defined by the revenue streams (dividends) - that ultimately provide higher competitive positioning and protection from loss.
Several of these lower-risk REIT alternatives include Realty Income (NYSE:O), National Retail Properties (NYSE:NNN), Federal Realty (NYSE:FRT), HCP, Inc. , Washington REIT (NYSE:WRE), Universal Health Realty (NYSE:UHT), Tanger Factory Outlets (NYSE:SKT), and W.P. Carey (NYSE:WPC).
Great investing requires the ability to control risk and generate returns. And recognizing risk is an absolute prerequisite for controlling risk. When building an investment portfolio, one must consider the potential for loss and be ready for the consequences when risk meets adversity. The big yielding opportunities often involve high risk and these high flying investors must consider the outcome when and if the "raised nail gets hammered". My temptation not to invest or recommend the high flying REITs are centered around a well-known quote by Warren Buffett:
Success in investing doesn't correlate with I.Q. once you're above the level of 25. Once you have ordinary intelligence, what you need is the temperament to control the urges that get other people into trouble in investing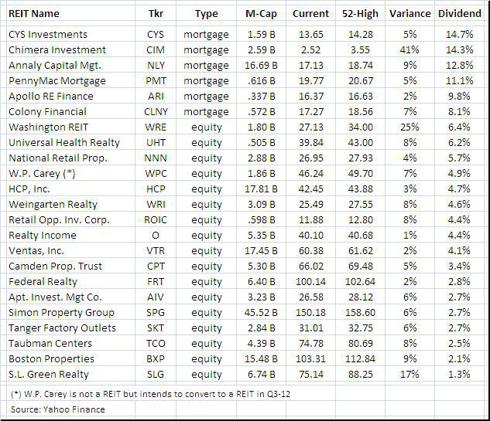 Click to enlarge
Source: SNL Financial data regarding equity REIT dividend increases for 2012.
Disclosure: I have no positions in any stocks mentioned, and no plans to initiate any positions within the next 72 hours.