Vail Resorts (NYSE:MTN) missed analysts' earning estimates for the second quarter ended January 31, but it maintained its guidance for the full year. The stock dropped on the news. And, as noted yesterday, the stock appears to be headed lower. Analysts should lower their target prices of about $65.50 to reflect current market conditions.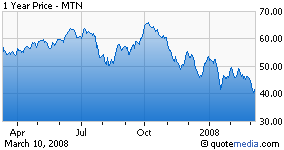 MTN fell 3.89% to $40 yesterday. In their conference call with analysts after they released their second quarter earnings, Vail executives expressed optimism about all of their operations. But they conceded that they will be affected by domestic and world economic trends, which don't look very bright at the moment.
Indeed, Vail's real estate developments appear to be selling well, and speculators are making as much as 50% profits on their purchase prices and probably much bigger margins on their down payments. While great snows and the weak dollar coupled with increased season pass revenues have boosted Vail's skii revenues since about Christmas, early season sales were disappointing. Because vacationers are scheduling their visits to Vail's ski resorts close to when they plan to make the trips instead of planning months ahead, the company seems to have less visibility about its late season than it would like.
Thus, the big unknowns for Vail Resorts are what will happen to the North American and world economies and to currencies, and how the unpredictable economic outlook will affect the company during the next 12 to 18 months. Obviously, a long economic winter would hurt Vail as much as other retailers, hotel and resort operators and builders of luxury second homes.
Meanwhile, Vail is finalizing additional credit lines at 50 basis points over LIBOR, which indicates that it still has access to the credit markets. Then there is the snow. It's been generally positive for Vail this season, but the negative impact of the poor snow early in the season shows how vulnerable Vail is to quirky and unpredictable weather patterns. Generally speaking, the snow is almost always good during most of the season, but when the first good snows will arrive and the late season snows will stop can't be predicted. Short seasons hurt. Fortunately, this year's season looks like it will end on a strong note.
Disclosure: none