Schnitzer Steel Industries, Inc. (NASDAQ:SCHN) engages in recycling ferrous and nonferrous scrap metals, and used and salvaged vehicles; and manufacturing finished steel products. The company operates through three segments: Metals Recycling Business (MRB), Auto Parts Business (APB), and Steel Manufacturing Business (SMB).
It is scheduled to report its results on June 28, 2012, before the market opens.
Technical Overview
Key Metrics
Market Cap: 659.12M
52-week trading range: 22.78 - 59.06
Trailing P/E: 7.72
Forward P/E: 8.87
Price/Sales: 0.18
Price/Book: 0.59
PEG Ratio: 1.66
Total Debt: 413.56M
Annual dividend yield: 1.00%
Return on Equity: 8.34%
Return on Assets: 4.95%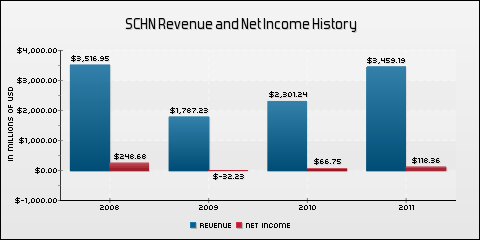 Recent EPS Actuals vs. Estimates
The company has met or beaten analysts' estimates in the last three quarters. In the last quarter it reported $0.35 EPS, beating analyst estimates of $0.33.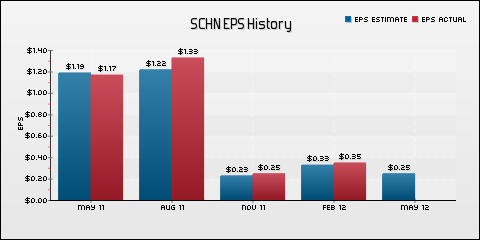 The consensus EPS is $0.25 based on 8 analysts' estimates, down from $1.17 a year ago. Revenue estimates are $876.03M, down from $981.06M a year ago. The median target price by analysts for the stock is $29.00.
Average recommendation: Hold
Source: Marketwatch
Analyst Upgrades and Downgrades
On May 18, 2012, Auriga reiterated Hold rating for the company.
On May 1, 2012, KeyBanc Capital Mkts initiated Hold rating for the company.
Latest Developments
On May 17, 2012, Schnitzer Steel Industries, Inc. announced its market outlook for its third quarter of fiscal 2012. During the quarter, the global demand for recycled metals has remained soft and the tepid US economic recovery, together with lower than normal spring scrap flows, has contributed to tighter supplies. Margins have compressed from the second quarter, as a slight increase in average gross ferrous selling prices has been more than offset by higher costs of both raw materials and freight.
On March 16, 2012, Schnitzer Steel Industries, Inc. announced that for the second quarter of 2012, it expects diluted earnings per share (EPS) to be approximately $0.28-$0.35.
Competitors
Schnitzer Steel Industries Inc. operates in Steel & Iron industry. The company could be compared to Commercial Metals Company (NYSE:CMC), Industrial Services of America, Inc. (NASDAQ:IDSA), Metalico Inc. (NYSEMKT:MEA), and Nucor Corporation (NYSE:NUE). Below is the table comparison of the most important ratios between these companies and the industry.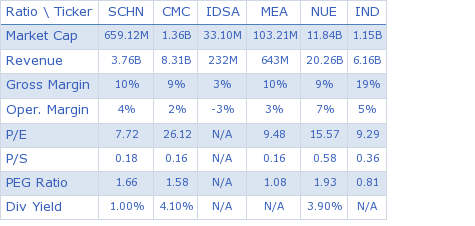 Below is the chart comparison with the stock price changes as a percentage for the selected companies and S&P 500 index for the last one year period.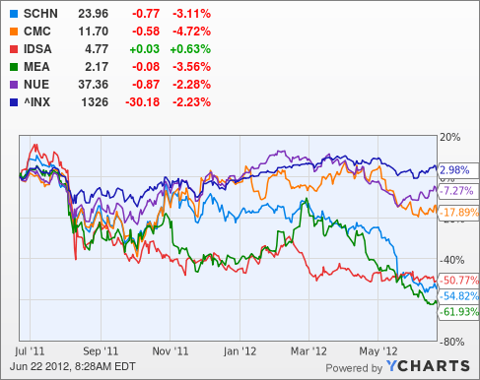 Competitors' Latest Development
Sources: Yahoo Finance, Google Finance, Marketwatch, Finviz, Reuters.
Disclosure: I have no positions in any stocks mentioned, and no plans to initiate any positions within the next 72 hours.