Restaurant group Darden (NYSE:DRI), the owner of The Olive Garden, Red Lobster, and Longhorn Steakhouse, reported earnings for its 2012 fourth quarter on Friday morning. The firm earned $1.15 per share, which was in-line with expectations, on lighter than expected sales growth ($2.07 billion vs. $2.11 billion consensus). The firm also raised its quarterly dividend 16% to $0.50. This equates to an annual dividend of $2.00, which is about a 4% annual yield at current levels. Though the firm raised its dividend, the Valuentum Dividend Cushion indicates that it may not be that safe (click here for more information on our innovative dividend-cut predictor). The firm's balance sheet is highly leveraged, and we do not think the firm will be able to raise its dividend much more going forward.
In spite of mostly meeting expectations, performance from The Olive Garden and Red Lobster was underwhelming. Though The Olive Garden was able to increase prices 2.8%, same-store sales for the quarter fell 1.8%. However, traffic declines continue to accelerate. Store traffic was down 2.6% in March, but that number ticked up to 7.5% in May. Once the crown jewel of Darden, The Olive Garden's slightly higher prices have not been well-received compared to lower-priced chains like Chili's (NYSE:EAT).
Seafood-chain Red Lobster also saw same-store sales tumble in the fourth quarter, falling 3.9%. Much like The Olive Garden, Red Lobster benefited from increased pricing and a favorable menu mix, but store traffic continued to deteriorate. Traffic in May was down a startling 7.8%. Red Lobster also struggles to drive traffic given high prices relative to its casual dining peers.
On the other hand, Longhorn Steakhouse reported same-store sales growth of 3% for the fourth quarter. Longhorn is a relatively younger concept, and it hasn't struggled nearly as much with driving traffic as The Olive Garden and Red Lobster have. Still, Longhorn is a relatively small (14%) part of Darden's overall restaurant portfolio. We suspect it could be a greater part of the business mix going forward.
In addition to fairly weak store traffic, the firm did not give optimistic guidance. Across all concepts, the company expects 1-2% same-store sales growth for fiscal year 2013, though it will open 100-110 new restaurants. Darden expects revenue growth of 6-7%, with earnings per share growing 8-12%. We think this number could be conservative if input costs continue to fall.
Darden's restaurant portfolio will continue to be challenged going forward, in our view. Nearly all of its concepts fall into a middle ground between a restaurant such as Chili's and a higher-end concept like McCormick and Schmick's. Over the past several years, this space has been flooded with competitors like the Cheesecake Factory (NASDAQ:CAKE), PF Chang's, and BJ's Restaurant's (NASDAQ:BJRI). Further, with uncertain economic conditions, consumers remain value-conscious, which benefits casual diners like Red Robin (NASDAQ:RRGB), Buffalo Wild Wings (NASDAQ:BWLD), and even Cracker Barrel (NASDAQ:CBRL). We think this will also benefit fast-casual diners like Panera (NASDAQ:PNRA) and Chipotle (NYSE:CMG), which offer slightly healthier food than McDonald's (NYSE:MCD) and Wendy's (NYSE:WEN) and also have a higher perceived value than traditional fast-food chains.
At its current price, we do not think Darden is a very compelling investment opportunity on the basis of our Valuentum Buying Index.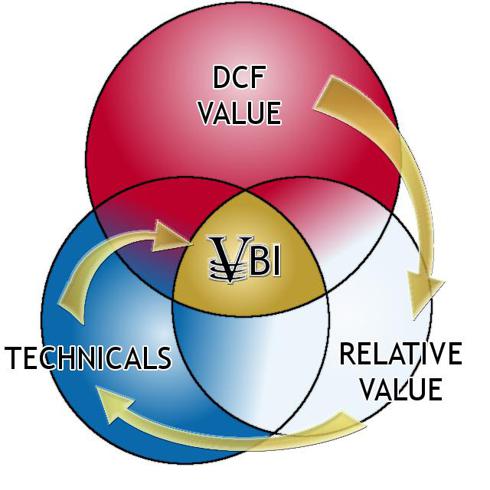 We believe the firm is losing market share and that its concepts seem to be losing a bit of their luster. It would take a much lower price (the lower bound of our fair value estimate range) for us to get excited about shares of the restaurant group.
Disclosure: I have no positions in any stocks mentioned, and no plans to initiate any positions within the next 72 hours.