Weekly Outlook: The market had an interesting week as it rallied into the Fed announcing the extension of Operation Twist, but it then fell after the announcement came out on weak data and renewed fears of Europe. The market was not impressed by the capital injection of the Fed so far, but at the same time, the market did close the week out well. The issue for the market right now is that we have little to no fundamental catalysts of organic growth but a floor is constantly being put in on the markets by Fed capital injections as well as bailouts in Europe. Over time, though, the question becomes what will happen first: the markets can get themselves going on their own or the market will stop caring about free money. At some point, it has to break one way or another.
We definitely have an exciting week as it's the last week of the month, which tends to mean the market may see some window dressing. Additionally, the market has a lot of data to digest and has earnings season right around the corner. Further, we will want to see how the situations in Europe continue to progress this week. Finally, we have the general elections right around the corner, and the market may start to begin to react to news out of that over time. It's something to watch for as the summer progresses.
We have a pretty busy week of data here at home that will begin with New Home Sales on Monday that will be an important report. Housing data has been wholly better, and that can definitely give the market a lift. Expectations are for a small push up in new home sales annualized rate to 350K. Tuesday brings us an important Consumer Confidence report. Expectations are generally lower for that report, and it's hard to expect we will see a great report there. Wednesday brings us Durable Orders, Pending Home Sales, and Crude Inventories. Thursday is packed full with Initial Claims and GDP, which are both going to be very important reports. We end the week on a busy note with Personal Income/Spending for May, Chicago PMI, and Michigan Consumer Sentiment.
All three reports have a lot of weight on the market as well. We expect large positive reactions to decent to good reports and less movement on weak reports if we are going to get window dressing. Yet, if we are getting solidly weak data points, it could bode disastrous for the markets.
Europe is obviously also going to be very closely watched. As far as market moving news for them, we should watch the German GFK Consumer Confidence Report on Monday. Wednesday we get the German Consumer Price Index report. Thursday will be busy with German Unemployment Numbers, Great Britain GDP, Euro-Zone Business Climate Report, and Euro-Zone Consumer Confidence. All four of those reports will be crucial to European markets and the euro. Friday brings us the French GDP as well. It's a little bit lighter week to start for Europe, which may allow for the market to focus more on the home markets, which could be beneficial if New Home Sales and other reports come out solid.
Earnings are really important this week; as we near Q2 earnings as they are going to be signals to what we can expect for Q2 results. We get important reports from Apollo Group (NASDAQ:APOL) on Monday. Tuesday brings us LDK Solar (NYSE:LDK). Wednesday brings us General Mills (NYSE:GIS), Lennar (NYSE:LEN), Monsanto (NYSE:MON), and Paychex (NASDAQ:PAYX). Thursday brings us Family Dollar (NYSE:FDO), Nike (NYSE:NKE), and Research in Motion (RIMM). Finally, we finish up Friday with Constellation Brands (NYSE:STZ) and KB Homes (NYSE:KBH). We will get some interesting perspectives on for-profit education, solar, consumer staples, housing, agriculture, employment, discount stores, footwear retail, and technology. It will be interesting to see if RIMM can rescue their company, and what NKE and GIS have to say about Europe.
The Fed takes a step back this week from their dominance last week. We get the Fed Chicago Index and Dallas Manufacturing Index on Monday. They release the Richmond Manufacturing Index on Tuesday. There are a couple of speeches on Thursday as well as Kansas City Index. Overall, it's a light week of speeches that can parse for the market. The reports are always important to the market, but with so much other data, they may get intermixed. Look for more talk of Twist to occur, but for it to be put in context of the market's move.
So where are we headed this week?
With how weak Q2 has been, we would expect a nice end to the week. The market has the ability to react well to decent news and ignore weak news. We are expecting something similar to that to occur this week. While many do not believe window dressing exists in many capacities, we see the market setting up this week to take attention away from Europe with light data and news expected and be able to allow market makers to bid things up. Additionally, with the nice finish on Friday, the market ended more positively. We need some catalysts to get this going, but if they are there, we may see a nice finish to a tough quarter.
Stocks To Trade:
Two stocks we are watching this week are Sara Lee (SLE) and Avago (NASDAQ:AVGO). We like combining these two into a pair trade with short on SLE and long on AVGO. First, SLE is looking quite weak right now. The stock has a strong future P/E at nearly 19, and the company is looking weak on its chart. SLE lost its spot on the S&P 500 as well to Monster Beverage (NASDAQ:MNST), and that announcement bodes for what we are seeing on SLE. The company has lost its way as of late in its attempt to remove parts of its business. We believe the stock remains weak below its 200-day MA, and if it gets hit with any more weakness could drop below very key support at 18.50. AVGO is looking great right now.
An undervalued semi company that is breaking out is what AVGO looks like right now. The company has been on a tear since the beginning of June, and we believe it will continue as earnings were strong on May 22. Those earnings showed great value and the wrongful discounting of AVGO. We look for them to continue higher.
Position #1: Long AVGO, Short SLE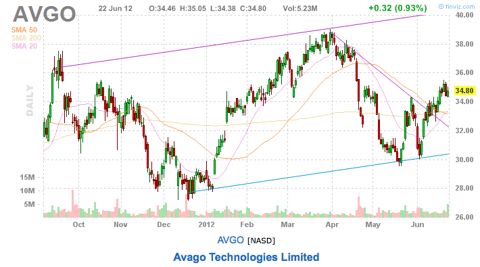 Click to enlarge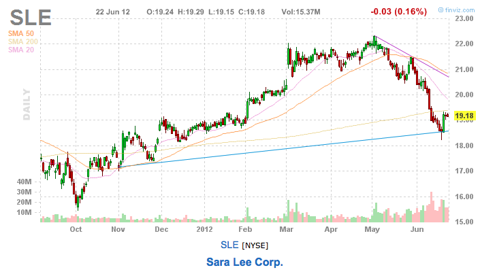 Click to enlarge
Oxen Group Holdings:
We have the following positions. In our Short-Term Equity Portfolio we are long Home Depot (NYSE:HD), Apple (NASDAQ:AAPL), MNST and Marathon Petroleum (NYSE:MPC). We are short Advance Auto (NYSE:AAP), SPDR S&P (NYSEARCA:SPY), QCOM, and Home Properties (NYSE:HME). In our Options Portfolio, we are long Starwood (HOT), Dollar General (NYSE:DG), Monster Beverage and AutoZone (NYSE:AZO). We are short Aflac (NYSE:AFL) and Garmin (NASDAQ:GRMN). We have a reverse iron condor on Apple. In our Earnings Alpha portfolio, we are long Vertex (NASDAQ:VRTX), Intuitive Surgical (NASDAQ:ISRG), Marriott (NYSE:MAR) and Lennar . We are short Constellation, Schlumberger (NYSE:SLB) and Walgreen (WAG). We have a reverse iron butterfly in Decker's Outdoor (NASDAQ:DECK).
Disclosure: I am long PNRA.