Novavax (NASDAQ:NVAX) is a clinical-stage biopharmaceutical company creating novel vaccines to address a broad range of infectious diseases worldwide. Using innovative virus-like particle (NYSE:VLP) and recombinant nanoparticle technology, as well as new and efficient manufacturing approaches, the company produces potent vaccine candidates to combat diseases, with the goal of allowing countries to better prepare for and more effectively respond to rapidly spreading infections.
Click to enlarge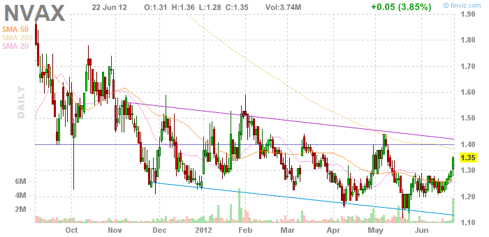 I see at least 3 reasons to buy the stock currently:
1. New bird-flu study shows virus's pandemic potential
There was an article on The Wall Street Journal on June 22th stating:
In a new experiment showing how the virus that causes bird flu might spark a human pandemic, scientists induced five genetic changes in the bug, transforming it into a type capable of airborne transmission between mammals.

The findings signal how the virus, which has killed nearly 60% of about 600 people known to have been infected in more than a dozen countries since 2003, could pose a much greater public-health risk in the future. Two of the mutations the scientists created already circulate in birds and people, and natural evolution could bring about the remaining three, researchers said.

The findings appear in the journal Science, which on Thursday published several papers and commentaries about the virus-also known as H5N1. The studies were funded by the U.S. National Institutes of Health and other groups.
I believe this news caused Novavax share spike on Friday with highest volume since January 2012. Novavax states on its web homepage:
Transmission of the highly pathogenic avian H5N1 flu virus "bird flu" in domestic poultry and humans is continuing in many countries worldwide and remains a serious pandemic threat with the potential to evolve into new strains where cross-protection and induction of neutralizing antibodies will be essential. Novavax has shown in a human study that its H5N1 VLP vaccine was well tolerated, produced no vaccine-related serious adverse events and induced neutralizing antibodies that were cross-reactive with different avian H5N1 influenza viruses. This is the only report of an unadjuvanted vaccine inducing cross-reactive neutralizing antibodies against multiple clades of H5N1 influenza virus and demonstrates the significant potential of the VLP technology.
2. Insiders are buying
Timothy Hahn purchased 30,000 shares on May 14th and currently holds 50,000 shares. Dr. Hahn joined Novavax as Senior Vice President, Manufacturing and Process Development in June 2011, with the responsibility for process development, technology transfer, manufacturing, quality control testing, engineering, and facilities.
Gregory Glenn purchased 25,000 shares on May 10th and currently holds 29,000 shares. Dr. Glenn is a pioneer in vaccine delivery and adjuvants, and has brought several products from concept into clinical development, such as the travelers' diarrhea vaccine patch and an adjuvant patch for a pandemic influenza vaccine, developed under U.S. government contracts.
Richard Douglas purchased 50,000 shares on April 10th and currently holds 200,000 shares. Dr. Douglas joined the Novavax Board in 2010. He has over 25 years of biotechnology experience having previously served in Corporate Development roles at Genzyme Corporation since 1989.
3. Catalysts expected starting Q3/2012
The company is expected to report data from the seasonal influenza phase II trial in Q3 and from the pandemic trial at Q4. From the Respiratory Syncytial Virus (RSV) phase II trial data is expected early 2013.
Conclusion
The news from Friday could be the initial catalyst for this stock with more catalyst pending. The stock has been building a base for one year already and could be ready to break higher in the coming months.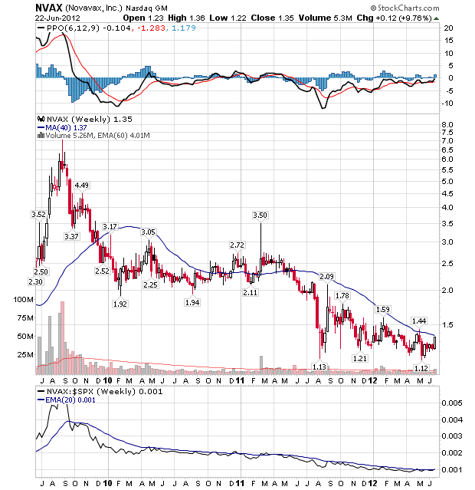 The shares of BioCryst Pharmaceuticals (NASDAQ:BCRX) from the same sector also saw a volume spike on Friday.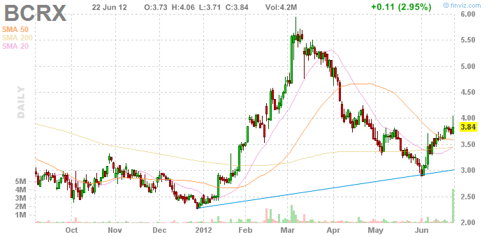 Disclosure: I am long NVAX.