Income investors have to possess patience and an ability to block out the European wall of worry. I do not know why panic is in the air. Asset allocation and risk tolerance determine one's fate. The goal is to generate dividends and income to live on his or her retirement funds. Most retirees do not want to go back to WalMart (NYSE:WMT) as a greeter when they are 75 years old.

U.S. Treasury Bonds
U.S. Treasury Bonds or Bills have been a solid performer during decreasing rates. The Federal Reserve is manipulating U.S. Treasury Bonds to the detriment of retirees, foundations, endowments. This is intolerable. You work your life so the Federal Reserve says you have to invest in riskier assets for income. When interest rates go back up, and they will, bond holders will be pounded due to the inverse relationship between bond values and interest rates.
Current Interest Rates
The current yields say "run", not "walk away", from Treasury Bonds. Here is today's Treasury Bond yields:

Common sense tells the common investor that a 2.68% interest rate for 30 years is unacceptable. That is why I say with 100% certainty to avoid this sector. Government Sponsored Entity (GSE) Mortgage Backed Sector (MBS) track the yields of the U.S. Treasury Bond and U.S Treasury Bill sectors.
Dividend Champions
These names are well known, blue chips, and have tested the age of time for increasing dividends. They provide the backbone to a portfolio with increasing dividends. I believe there are precision like methods to improve upon this cookie cutter approach. For the common investor, this simple method is ideal.
AT&T, Inc. (NYSE:T) is a leading telecom equity with a 5% dividend. Tablets, smart phones, ultra notebooks all need internet connectivity. The company provides a utility type function in today's modern society.
Action: I believe AT&T's value is stretched. The capital gains more than offset the reduced dividend yield.
Kimberly Clark Corporation (NYSE:KMB) develops and sells personal care products, consumer tissue products, and a diverse health care segment. Kimberly Clark sells personal care products. These include Huggies and Pull Ups.
Action: I believe Kimberly Clark Corporation provides ample room for growth and dividend hikes. If your portfolio needs a blue chip, dividend increasing name - Kimberly fits the bill.
I would advise against buying Altria Group Inc. (NYSE:MO) at current levels. The high dividend names have attracted investors reaching for income. This has stretched valuations to an unrealistic level. I have capital gains in Altria, but I am not reinvesting new funds.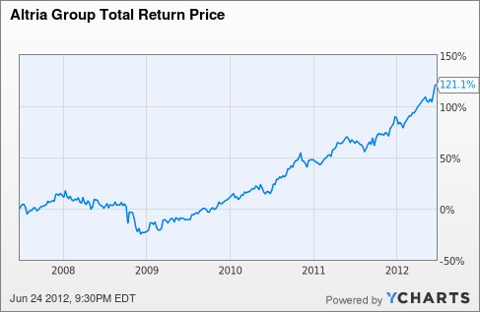 MO Total Return Price data by YCharts
Hedged Special Situations
My goal is to make money or minimize the losses via hedges. I don't believe in Vanguard's strategy to allocate funds to specific asset classes, and then reallocate every 6 months. I believe in buying mispriced securities to provide high yield and significant capital gains. To those who believe a cookie cutter method, encompassing 2 minutes a year to incorporate - I salute you.
My methodology takes work and is not a 2 minute a year investing strategy. I'll highlight a few examples which provide outsized returns:
American Capital Agency Corp. (NASDAQ:AGNC)
American Capital Agency is exploiting the Federal Reserve's desire for lower rates. American Capital Agency has almost tripled in value, assuming dividends were not reinvested, since their 2008 initial public offering.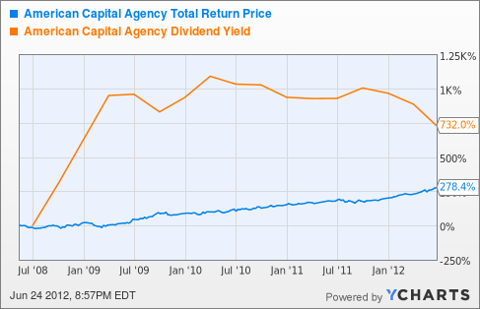 AGNC Total Return Price data by YCharts
Action: I recommend buying and holding this position.
American Tower (NYSE:AMT)
American Tower decided about 2 years ago to become a real estate investment trust (REIT). I am exploring a few names that are considering the REIT conversion process. These names have a catalyst to become more focused upon quarterly distributions. Overall, the catalyst often provides outperforming stock returns.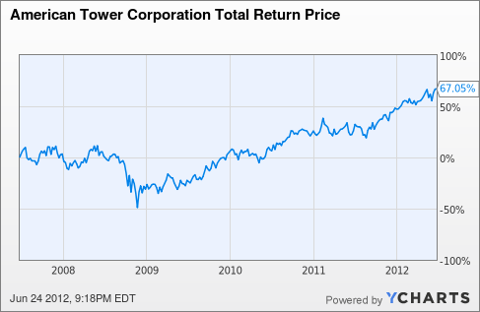 AMT Total Return Price data by YCharts
It is often said to buy when there is blood in the streets. BP plc (NYSE:BP) clearly had blood in the streets when the Gulf of Mexico had uncontained oil spills. Rumors were rampant that the company may file for bankruptcy due to the voluminous number of legal claims. Fortunately the giant global oil enterprise was able to contain the damage. If an investor is willing to step up and buy when t here is fear, uncertainty, and doubt in the air - then potential capital gains are possible. I recommend using a long stock and married put to remove some of the risk.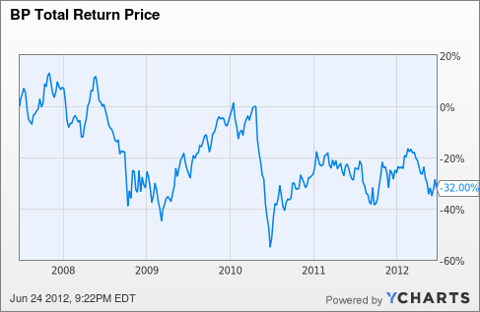 BP Total Return Price data by YCharts
Action: I recommend not buying at this time due to the increase in price.
Action
I believe in being smart, pro active with your investment style, and maintaining a conservative mindset. Never short change your abilities and common sense. Take one step at a time.
U.S. investors are living in foreign countries, part time, to live a higher class of life at a reduced cost. This is one way to afford healthcare, living expenses, food, and life style during part of the year.
Investors should be opportunistic and avoid cookie cutter approaches. One size does not fit all people. Ensure your risk tolerance is matched with your portfolio holdings. Matching your income with your living expenses is crucial to financial planning.