It is somewhat surprising how often times one can get inspiration or words of advice from the lyrics of popular songs. The ideas or concepts burned into the verses standout like signposts. My latest discovery came from a unique source when the heavy metal band Metallica teamed up with the San Francisco Symphony (a strange but powerful union) to record a song "No Leaf Clover". In this song the most influential verse is,
"Then it comes to be that the soothing light at the end of your tunnel was just a freight train comin' your way".
This is not a new saying by any means, but when put to music it makes it that much more poignant. Speculative biotech investing is much like being in the tunnel. Investors are usually sitting in the dark as the companies they have invested in try to make their way into the light of the medical mainstream. Self-proclaimed experts and market traders will try to convince others of their inside knowledge, but in actuality no one knows the real outcome for each company and their products. No one truly knows what that light is at the end of the tunnel. Often times that light is nothing more than a monstrous freight train coming down the pike to devastate all in front of it. This train takes the form of failed trials, lack of funding, or a host of other negative issues to wipe out many companies and their investors. The question is what companies are close to emerging from the tunnel, and what trains might still be lurking in the darkness?
Arena Pharmaceuticals (NASDAQ:ARNA)
Arena Pharmaceuticals is a clinical-stage biopharmaceutical company engaged in discovering, developing, and commercializing oral drugs for the treatment of cardiovascular, central nervous system, inflammatory, and metabolic diseases. The company's advanced stage drug candidate is Lorcaserin for the treatment involving weight management and weight loss.
Lorcaserin has a very interesting history in relation to the company and the stock price. In October 2010, the FDA issued a Complete Response Letter with respect to the Lorcaserin application. The application was submitted in December 2009. Within the letter the FDA stated that it completed its review and determined that it could not approve the application in its present form. Needless to say this was the dreaded freight train coming investor's way. Below is a graph that shows the effect this had on the stock price.
Although this was a devastating hit, the company completed various other studies in response to the letter, and in December 2011, they resubmitted the application. The FDA accepted the resubmission for filing and review and assigned a new Prescription Drug User Fee Act, or PDUFA, with a target date of June 27, 2012. As this date approaches, so does the anticipation that the drug will be approved. As a result the stock price has taken a dramatic turn to the positive as shown below.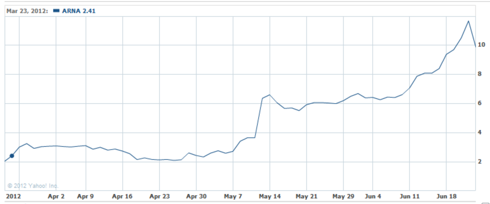 There are many possible reasons for this rise other than simple anticipation. One event occurred on May 10, 2012 where the FDA's Endocrinologic and Metabolic Drugs Advisory Committee met to discuss the Lorcaserin application. This committee voted 18 to 4, with one abstention, that the available data demonstrate that the potential benefits of the drug outweighed the risks when used in a long-term population of overweight and obese individuals. Obviously this was seen as a vote of confidence by many. Beyond this specific event lies the real issue that investors are looking at.
Obesity is a highly publicized health concern across the globe. Long have investors and health specialist looked for new and innovative therapies to help people with weight loss. If ARNA can get Lorcaserin approved and on the market place, it would be one of the first new therapies. Of course ARNA is not alone in this place. Consider Vivus (NASDAQ:VVUS) and their product names Qnexa. This drug is a product that combines low dose ingredients that the FDA has already approved. Much like ARNA Vivus also received a rejection at first, but they are still on the hunt for that final approval.
Needless to say, ARNA has lots to gain with an approval. According to the company, they intend to focus their efforts on seeking approval for Lorcaserin in the United States, the European Union and other select markets outside of the United States. If approved ARNA will commercialize the drug in the United States under the marketing and supply agreement with Eisai. Outside the United States the company will likely have to collaborate with one or more entities to achieve their goals. Steps have been taken here already as ARNA is also seeking regulatory approval for Lorcaserin in the European Union. On March 2, 2012, ARNA filed a marketing authorization application for the drug through the centralized procedure with the European Medicines Agency
As ARNA's stock price moves ever higher in anticipation of finally exiting the drug approval tunnel, investors need to keep their ears open for that last minute freight train. As time grows short what often happens is that price volatility increases at a rapid rate with little logical reasoning behind it. Day traders, shorts, and gamblers all pile into the stock looking for the quick buck. Little if any attention is paid to critical issues like estimated sales calculations, revenue sharing agreements, or whether insurers will accept this drug with open arms.
ARNA's recent run in stock price is great but it will be interesting to see how much more room it has to run if the drug is approved. Obviously there is much more to this story and it is only a matter of time before investors know how it might play out.
Advanced Cell Technology (ACTC.OB)
Let's turn our attention to a much different tunnel. Here we find the relatively new and exciting world of stem cells which offers a new hope for lots of people suffering many incurable aliments. On a closer examination though, we find that this tunnel is littered with wreckage of failed investments.
A prime example here is dealing with the company Geron (NASDAQ:GERN). Geron is a biopharmaceutical company that develops therapies for cancer ranging from metastatic breast cancer, advanced non-small cell lung cancer, blood brain barrier transfer agents. Prior to this GERN was heavily invested in stem cell trials dealing with the spinal cord. The FDA clinical seemed to be going well and investors, who were focused on this new and groundbreaking therapy, thought they could see the light at the end of the tunnel. Unfortunately, and like so often happens, this light was the freight train and it was barreling down the tracks. In surprising move GERN basically left the stem cell world of regenerative medicine to focus on other their other products. Any hope in a stem cell breakthrough via GERN was smashed.
When GERN opted out of the stem cell game there was a vacuum left behind in its wake. The focus now turned to much smaller companies like Neuralstem, Inc. (NYSEMKT:CUR) and StemCells Inc. (STEM) looking to capitalize on these new therapies. One small $136 million company leading the charge is Advanced Cell Technology. ACTC is a biotechnology company focused on the development and commercialization of human embryonic and adult stem cell technology in the field of regenerative medicine.
There are many facets to ACTC and writing about each would take an entire book. One of their most important assets is their patented Single Blastomere derived Embryonic Stem Cells (hESC). With this ACTC can generate hESC without the destruction of the embryo. This should help the company sidestep the very charged religious and political issues that hamper other companies in this field.
ACTC's real focus comes in the form of clinical trials dealing with the treatment of Stargardt's macular dystrophy [SMD] and dry age-related macular degeneration [dry AMD]. These trials have 12 patients each and they are being given ascending dosages of stem cell treatments. Needless to say these ground breaking procedure have attracted the attention of some stellar names in the medical world. Entities such as the Jules Stein Eye at UCLA, the Wills Eye Institute, the Massachusetts Eye and Ear Infirmary, and Moorfields Eye Hospital have all signed on to participate. The market for treating macular degeneration is worth well over $30 billion so the attraction is evident.
As the trials progress it is interesting to see how both patient's and investor's hopes are rising. Currently there is no cure for macular degeneration, so when one views the clinical results it is hard to not get excited. The company reports that one of the U.S. SMD patients improved from 0 to 5 letters on the ETDRS visual acuity chart. At the nine month follow-up the visual acuity gains remain stable and the patient continues to show improvement. In Europe a similar trend continues. The SMD patient there has improved from 5 letters to 10 letters on the visual acuity chart, and has reported that his vision has significantly improved to a point where he has the ability to read text on TV. In the dry AMD patient the vision improved from 21 to 28 letters on the ETDRS visual acuity chart. Results with the newer patients are said to show similar results.
If that was not enough to make investors happy, then one has to look no further than a recent interview given by the Chief Science Officer Robert Lanza to the radio show Coast to Coast with George Noory. Now Coast to Coast is not a financial program, nor does it dwell on investments. This particular interview though was extremely interesting as it gave a small look into ACTC's scientific realm and potential future products. The link to the show is below for those interested: http://www.youtube.com/watch?v=H3vR88HHGDc
It is at the 44 minute mark is where the interview gets electrifying. Here Dr. Lanza speaks of new and up and coming stem cell technologies that are truly radical. He even goes to far as to talk about new super potent stem cells that were recently tested. Dr. Lanza states that these cells were able to stop Multiple Sclerosis in its tracks in animal testing. Needless to say, therapies with this kind of dynamic usage would bring in an incalculable amount of revenue sometime in the future is successfully brought to market.
One would think that with all this positive news investors must be able to see the light at the end of the tunnel. The truth is that the freight train has been by several times already to hit investors in this stock. The first train was related to the toxic financing plans the company entered into to keep afloat. To try to get out from under potential litigative risks ACTC decided to undergo a major dilution to the stock to settle potential lawsuits related to this financing. While this was seen as a positive for an uncertain future, stock dilution never is seen in a positive light.
Another train that seems to have damaged investors is dealing with a planned reverse split of between 1 for 20 and 1 for 80 shares. ACTC wishes to be listed on the NASDAQ to further expose the company's future potential. To do this ACTC will probably have to enact the split which never sits well with investors. The final plan for the NASDAQ listing is a positive event for the company, but to get there it might be a bit painful.
At the end of 2011 ACTC had $13.1 million cash on hand and was virtually debt-free. In turn, for the year 2011 ACTC utilized $13.6 million in cash for operations. As one can see the cash burn rate could be an issue in the future. The company states that another $15 million more is available and that they are going to be able to self-fund both the U.S. clinical trials and EU clinical trial. There has been mention of a Chinese joint venture that is in the works, as well as other rumors of potential partnerships that could easily address ACTC's cash issue. Though none of these have occurred as of yet, it would not be surprising to learn that several larger institutions are performing their due diligence against ACTC's asset portfolio in anticipation of a future combination.
Basically ACTC's investors have endured some painful blows, but they can still see that light at the end of the tunnel. If they can emerge from this tunnel, then the potential of what they could offer would be awe-inspiring. Even if the company could only bring to market half of what Dr. Lanza was quoted in his interview, ACTC would be a game changer in the medical community.
In conclusion, there are several companies trying to make their way into the light. Investments in speculative biotech are about as risky as it gets and should not be taken lightly. The freight trains will always be there, but so will those investors who are willing to take the chance to achieve those outsized gains.
Disclosure: I am long ACTC.OB.
Additional disclosure: I have no positions in ARNA, but may initiate a position based upon final results of the upcoming trials.