Ah, the smell of freshly brewed coffee. Good, isn't it?. Is there any better fragrance for coffee lovers in this world? Doubt it. Or maybe there is? How about the smell of fresh currency? Better. How about the two together -- coffee and money? Best.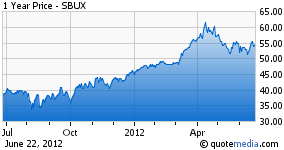 The next article of the dividend growth series is a slight deviation from the previous ones. So far, the focus has been on companies that have had a long dividend history. This one is about Starbucks (NASDAQ:SBUX), a company that paid its first dividend in 2010. This article presents a few reasons why Starbucks, though currently seen as a pure growth stock, should be on the watchlist of dividend and dividend growth investors as well.
Cash On Hand: Investors feel more secure about a company's dividend if the dividend comes out of its cash pile/earnings instead of a huge debt pile. While one might think it does not really make a difference as long as we get paid, in the longer run, companies that have a cash pile are more likely to maintain/increase dividends over the long term.
Starbucks has increased its cash on hand from $294 million in 2009 to the current level of $2.2 billion, in spite of various acquisitions like this recent one. The current payout ratio sits at a comfortable 40% based on the current EPS of $1.73.

Click to enlarge
(Click to enlarge)
(Source: Ycharts.com)
A Good Beginning: Starbucks has been paying dividends only for the past 9 quarters. But the good news is that the dividend has been raised twice already, with the percentage increase being 30% each time. While one cannot assume the same 30% growth each time going forward, the company has started on the right note. Even a "lowly" (loosely used term) 10% increase would make it a great dividend holding for long term holders.
Growth: While Starbucks currently looks pricey in terms of its price to earnings, the growth prospects make it seem reasonable. In this video, the CEO Howard Schultz talks about the emerging markets and how his company is expanding not only in the bigger cities in China but in the smaller cities as well. Apple (NASDAQ:AAPL) talks about its China growth and it looks like Starbucks is not far behind. The CEO also talks about China becoming his number 2 market behind the United States and does not rule out China becoming the number one market sometime in the future. While India might seem to be out of the race with China, the leading cities in India right now look more like the metros in the western countries with people favoring fast-food and coffee shops over other traditional forms of eat-outs.
While the company and the stock have both grown exponentially already, if a few of the emerging markets catch fire, who knows how much growth is ahead. Check this out for more news on the company's expansion.
A Drop Here, A Pop There: What we mean by this is, the way the market is acting and given Starbucks' exposure to Europe, a hard fall in the stock price cannot be ruled out. That is the "A Drop Here" part. "A Pop There" refers to the expected dividend increase in November of this year. A volatile stock that raises its dividend repeatedly can reach your dividend yield level very fast without you even noticing it. Freeport-McMoRan (NYSE:FCX) comes to mind as an example here. The stock was yielding just about 1% in 2011. But the market weakness, coupled with bad news from China made Freeport fall so hard, that with the dividend increase in 2012, Freeport almost reached a 4% yield level. That looked unimaginable in 2011, coming from someone who owned the stock in 2011 and 2012.
Agreed, Starbucks is not as volatile as Freeport. But the point here is, even though the current yield looks very tiny, a falling stock price coupled with an increasing dividend will certainly provide a great entry point into the stock.
Disclosure: I am long AAPL.