Medgenics (MDGN) is a protein-therapeutics medical technology company engaging in the research and development of products in the field of biotechnology. Founded in San Francisco, the company develops the Biopump Platform technology to provide sustained protein therapy for the treatment of various chronic diseases and conditions, including anemia, hepatitis, hemophilia, multiple sclerosis, arthritis, pediatric growth hormone deficiency, obesity, diabetes, and other chronic diseases or conditions. Its Biopump Platform technology converts a sliver of the patient's own dermal skin tissue into a protein-producing Biopump to produce and deliver therapeutic proteins. After seeing some recent excitement surrounding Medgenics, I decided to take a look and found many interesting attributes to this small company. Today, we will look at the technology they have created and the drug candidates potentially on the fast track toward FDA success and approval.
First, let's take a closer look at the technology. As mentioned in the introduction, Medgenics uses its Biopump system. This utilizes the patient's own tissue samples to manufacture and then re-implant back into their bodies the modified cells (biological pump) to produce their own human protein therapy for a sustained period of time. The first stage includes taking a very small amount of dermal tissue from beneath the patient's skin. Next, Medgenics creates the desired protein by introducing the appropriate gene into the tissue's cells. Tests are performed during processing to determine the daily protein production from each Biopump. The appropriate number is determined and then implanted back into the patient. After implantation, this system is designed to maintain protein levels in the blood for up to six months or longer.
The potential in this system is dramatic when looking at the types of diseases that look to be treatable using it. In addition, patients will have the opportunity to gain treatment while saving a large amount of money as well as creating a higher quality of life because of the convenience of avoiding the doctor's office. This is a continuing theme that I look for when putting the spotlight on companies. I want to find organizations that are making great strides toward improving the quality of peoples' lives since all of us have seen someone suffering and wanted the pain to go away.
Just as obvious are my hopes that people can easily afford this quality of life. Of course, when these scenarios are not in a positive place, it leads to higher health care costs for everyone. These are some of the reasons I have made Antares Pharmaceuticals (NASDAQ:ATRS) my most prized investment. Similar to Medgenics, Antares has developed technology that saves people money and many trips to the doctor. Let's look at the most advanced portions of the pipeline for Medgenics and the types of diseases they treat.
EPODURE:
This drug that uses the Biopump technology was created for the treatment of anemia in dialysis patients. It produces and delivers erythropoietin which is a hormone produced in the kidney that has improper levels in patients with anemia. From a single administration, Epodure has demonstrated elevation and stabilization of hemoglobin levels in anemic patients for six to more than 36 months in a Phase I/II dose-ranging trial, and has received approval of a Phase IIa trial in dialysis patients due to launch in Q2 2012 in Israel. An Investigational New Drug application has been cleared by the FDA to initiate a Phase IIb study to evaluate the safety and efficacy of Epodure in the treatment of anemia in dialysis patients in the U.S. Epodure looks to eliminate frequent, costly and inconvenient injections of erythropoietin (EPO).
Andrew L. Pearlman, Ph.D., President and Chief Executive Officer of Medgenics, seems very encouraged based on his comment about what Epodure brings to the table.
Filing for the anemia indication of our platform technology is a key step not only for Epodure, but helps pave the way for multiple future indications that address multibillion-dollar markets.
INFRADURE:
The company filed for Orphan Drug designation on April 23rd this year, and on June 20th, the company announced it received approval from the FDA for the orphan drug designation for INFRADURE to treat Hepatitis D, a serious liver disease caused by the hepatitis D RNA virus. I sucessfully predicted a much higher PPS of around $9.00 a share when this news would break, which I calculated it would at any time, since the company actually received the orphan drug designation on June 14.
Although rare in the United States, Hepatitus D affects about 15 million people worldwide. Infradure is based on the company's proprietary Biopump platform as well. Medgenics also is working on treatment for Hepatitis C using Infradure where the worldwide cases jump to about 150 million.
Hemodure is another pipeline candidate for Medgenics and is for sustained production and delivery of Factor VIII therapy for the treatment of hemophilia, a bleeding disorder in which it takes a long time for blood to clot.
In addition to treatments for anemia, hepatitis and hemophilia, Medgenics plans to develop and/or out-license a pipeline of future Biopump products targeting the large and rapidly growing global protein therapy market, which is forecast to reach $132 billion in 2013. Other potential applications for Biopumps include multiple sclerosis, arthritis, pediatric growth hormone deficiency, obesity and diabetes.
Medgenics believes that its technology can offer effective protein therapy at a substantially lower cost than repeated injections and will therefore appeal to and offer benefits to doctors, patients, and third-party payers. They can do this by increasing efficacy. The Biopump is designed to maintain blood protein levels within the intended dose range by sustained protein production over a period of several months.
Medgenics' therapy is also expected to be safer and have fewer and less severe side effects than are associated with current recombinant protein production and delivery methods. This has the potential to spare patients the side effects of overdose associated with frequent bolus injections and lack of efficacy when protein levels drop below the therapeutic window between injections.
As they alluded to in a recent presentation, Medgenics has been in talks for strategic alliances to help take their products to the next level. Typical pre-approval milestone payments for any of their drug candidates could mean more than $100 million in payments. This would be in addition to royalties on product sales after FDA approval.
Some key points to consider about Medgenics:
Innovative med-tech company developing sustained protein therapies for chronic diseases utilizing proprietary "Biopump" technology.
"Biopump" provides for continuous protein production and delivery from patient's own skin.
Designed to be better, safer and cheaper, replacing scores of injections, in $130b protein market.
Potentially offering major advantages in treating a wide range of chronic diseases starting with anemia, hepatitis and hemophilia.
Proof of concept shown in patients: 6 months to 3 years sustained treatment.
3 lead products address markets >$16B/yr in anemia, hepatitis and hemophilia.
EPODURE: Anemia/EPO - Completing Phase I/II in Israel, cleared for Phase IIa trial in dialysis patients in Israel commencing in Q2; IND cleared for Phase IIb in USA.
INFRADURE: Hepatitis/Interferon alpha - awaiting clearance of Phase I/II trials in Israel to treat hepatitis-C in Q2; filed for Orphan Drug Designation in hepatitis D.
HEMODURE: Hemophilia/FVIII - being developed as a sustained Factor VIII therapy for the prophylactic treatment of hemophilia.
Reimbursement: aiming at replacement value of current therapy.
Clinically demonstrated: one treatment can relieve anemia for 6-36 months.
US FDA Clearance for Phase IIb Trial in dialysis patients with anemia.
IP protection: 30+ issued and 70+ pending patents.
Pipeline for the Biopump Platform: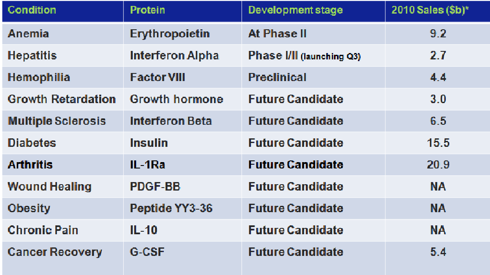 The following companies have shown significant progress in treating Hepatitis, mainly the Hepatitis C (HCV) segment. Medgenics' BioPump may have an advantage over these other treatments in the long run if its BioPump technology confirms, and data so far seems to suggest it will confirm.
Abbott Laboratories (NYSE:ABT) recently reported its positive Phase II study results from two different interferon-free HCV treatments.
Abbott's initial interferon-free study of its direct-acting antiviral agents for the treatment of HCV - showed that 91 percent of genotype 1 infected, treatment-naïve patients taking ABT-450/r and ABT-072 combined with ribavirin administered for 12 weeks, achieved sustained viral response at 24 weeks (SVR24). 82 percent of patients achieved SVR36. This is among the first 12-week, interferon-free HCV regimen with 36-week post-treatment data in genotype 1 patients.
Other Hepatitis treatment players in HCV treatment include:
Gilead Sciences (GILD). Gilead's GS-7977 plus ribavirin HCV genotype 1 Phase 2 to date has shown no detectible virus after 12 weeks of treatment, but at the end of treatment the majority of patients relapsed. GS-7977 plus BMS-790052 showed high hepatitis C cure rates: >90% for genotype 2/3 and 100% for genotype 1.
Vertex Pharmaceuticals (VRTX) treatment INCIVEK, (telaprevir), is approved for the treatment of patients with genotype 1 HCV infection. Incivek, which was approved by the FDA in May of 2011, works the same way as Merck & Co's (NYSE:MRK) Victrelis (boceprevir), which was approved by the FDA on May 13. The two competing drugs are the first new treatments for hepatitis C in two decades.
Idenix Pharmaceuticals (IDIX) treatment IDX184 is Idenix's lead product candidate for the treatment of HCV. It is a once-daily, oral HCV nucleotide polymerase inhibitor based on Idenix's proprietary liver-targeting technology. This technology enables the formation of high levels of nucleoside triphosphate, the active form of the drug, in the liver to potentially maximize drug efficacy and limit systemic side effects with low, once-daily dosing.
Company profile: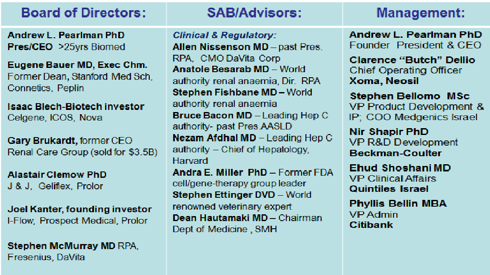 Director Issac Blech's name stands out of me from the list above. Blech, one of the most successful private financiers in the biotechnology industry, owns a substantial block of MDGN shares.
As an industry pioneer, he founded seven companies, all of which were subsequently brought public. These include Celgene Corporation, Genetic Systems Corporation, Icos Corporation, Nova Pharmaceuticals Corporation and PathoGenesis Corporation. These companies are responsible for major advances in a number of diseases including the diagnosis and/or treatment of cancer, chlamydia, sexual dysfunction, cystic fibrosis and AIDS. Their combined value is in excess of $30 billion.
I had the pleasure of speaking with Mr. Blech the other day on the phone, and he is very excited about his investment with MDGN. Issac is a market winner, and most everything he touches normally turns to gold, so I expect the same with MDGN.
As people know who read my articles frequently, I am very encouraged by companies in this industry who don't resort to printing hundreds of millions of shares. In this case, I feel there is an extraordinary opportunity for this company as they have less than 15 million shares outstanding.
| | |
| --- | --- |
| Shares Outstanding: | 9.68M |
| Float: | 2.05M |
| % Held by Insiders: | 78.69% |
| % Held by Institutions: | 4.20% |
Of note is the 79% insider ownership, which is always a good sign in my opinion that management believes in the company they are running, and are willing to take an investment risk along with regular investors.
With management actually having a large stake in Medgenic's success versus only looking for a large salary, the company is sending a strong message of confidence in its own company to the market.
I really like the technology and management of this company quite a bit. The latest financing is basically non dillutive with warrants exercisable far above the current price, and restricted for exercise until at least December 15th, 2012. Biotech investors might want to take a closer look at this company and do the deeper due diligence. Issac Blech is a winner in the biotech investment field, and since he owns 10% of the company, it's a safe bet in my opinion that it will be a winner in the long term.
If everything goes well with the company's tech platform, and it manages its money well, I would think a stock price north of $20 dollars a share within a year is certainly within reach, based on no small part the company's extremely low trading float and outstanding share count, equating into a reasonable speculative market cap valuation. As well, Mr. Blech has been involved with selling some of his former companies to larger pharmas at a nice premium, so a buyout 2 years or so down the line here looks like a real possibility.
Disclosure: I am long ATRS.