Coal is an unloved commodity asset nowadays. This is well reflected in the price of the coal ETF (NYSEARCA:KOL) that has dropped by 50% in the course of this past year alone, versus a 4% increase in the SPY over the same period.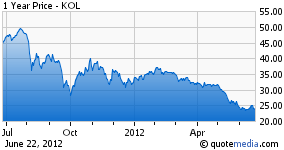 There are several reasons for this dramatic plunge in prices, endogenous as well as exogenous:
"Steam" coal, as opposed to metallurgical coal, is highly abundant. Everyone has been digging coal out of the ground for decades. Some experts claim that the current supply of coal is sufficient for at least the next century.
Depressed natural gas (NG) prices have become simply too attractive to pass. With current NG prices approximately 80% from their peak a few years ago, NG became the cheap and immediate alternative to a dirty, polluting coal.
Recessionary fears threaten the expected rate of growth, which in turn, lower consumption estimates in coal production for uses such as electricity generation and shipping.
In the long run, I believe that natural gas will ultimately replace the old-fashioned dirty coal. Many coal companies are bound to lose a lot of money from this shift in trend.
The short candidates
The biggest and most famous players in the coal field are: Teck Resources (TCK) Arch Coal (ACI), Peabody Energy (BTU), Patriot Coal (PCX) and Consol Energy (NYSE:CNX).
Company
Name
Market
Cap
Total Free
Cash Flow Over Last Six Years
P/E
(12-mo. trailing)
%
Metallurgical
Teck Resources
18,038 mil
$13,721.8 mil
6.9x
100%
Consol Energy
6,405 mil
$55.3 mil
10.8x
15%
Peabody Energy
6,248 mil
$2,724.4 mil
5.8x
60%
Arch Coal
1,322 mil
$148.8 mil
7.5x
17%
Patriot Coal
227 mil
$7.3 mil
-
20-25%
Our ideal candidate will have minimum exposure to metallurgical coal. This type of coal is a premium, high quality coal which is likely to suffer much less from the trends I described above. Our ideal candidate will be a 'small player' in the field and not a Goliath. Smaller size players are less likely to survive challenging times than companies which are market leaders. Also, our ideal candidate will be a company that has a hard time turning profits into cash.
We will go with Consol Energy
CNX is a relatively small player in the industry with a minimum exposure to high quality coal which sells at a premium. This means that when the price for "cheap" coal drops -- Consol does not have any other alternative, premium resource, to sell.
Also note that the company is highly leveraged with $5.5BL of debt. This means that if things turn out for the worse, Consol is likely to take a big hit.
Not only that, but Consol has made ONLY $55.3 mil in free cash flow (NYSE:FCF) over the past 6 years together. Think about this figure for a while. If Consol was only able to make $55.3 million selling coal in a $75 per ton environment, just imagine what it would make in a $50 environment.
Eat the cake and have it too
The volatility in commodity-linked trades is enormous. Therefore, betting solely on one side could be lucrative but risky. What we will do is try and follow the price trend: If the price breaks below its 52 week low, we will ride the stock down. If, though, we experience a rebound we will be sure to follow it upwards. Often, depressed stocks can rebound very quickly following a prolonged plunge.
How do we trade it?
In the time of writing, the current price of CNX is $28.26. We do not want to trade anywhere within this range of $27- $31, since this is likely to end up as a sideways market. We would rather wait and let the trade come to us than try and chase it around. This are our trade instructions:
Long CNX once price crosses $31 upwards, place your stop loss at $27 and take profits at $35.
Short CNX once price crosses $27 downwards, place your stop loss at $30 and take profits at $22.
Disclosure: I have no positions in any stocks mentioned, and no plans to initiate any positions within the next 72 hours.