While the largest ETFs passively track the market or specific sectors, others take a more dynamic approach. They attempt to select specific stocks to include in their indexes in an effort to deliver outperformance.
One such set of ETFs is the PowerShares Dynamic series. The fact sheet (pdf) on this series of ETFs spells out this philosophy quite clearly:
The index methodology on which the PowerShares Dynamic Portfolios are based seeks to evaluate and select stocks based on investment merit, as opposed to a single measure, such as market cap.
This means that specific stocks are added or removed from indexes based on such proprietary criteria as fundamentals, valuation, and momentum.
Does the approach work? Not in the technology sector. I took a look at two of the PowerShares Dynamic ETFs in this sector - the Dynamic Technology Sector Portfolio (NASDAQ:PTF) and the Dynamic Semiconductors Portfolio (NYSEARCA:PSI).
PowerShares Dynamic Technology Sector Portfolio
I compared this ETF to the SPDR Select Technology ETF (NYSEARCA:XLK), which represents the technology stocks of the S&P 500 index.
Since 2007, an investment in XLK was clearly the better approach
And the same holds true if you measure performance since 2009, which is roughly when some of these tech stocks bottomed.
Why the discrepancy? While I don't know which stocks the funds held over the past, I can compare today's holdings.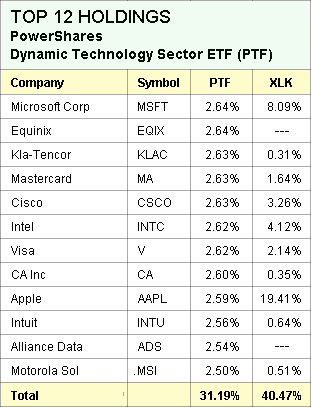 The PTF fund appears to be roughly equally weighted. That means PTF has a tendency to underweight stocks like Microsoft and Apple. As for Apple, it's clearly been a winner for the past several years, but PTF has under 3% exposure to this stock.
PowerShares Dynamic Semiconductor ETF
For this ETF, I compared its performance to the S&P Semiconductor ETF (NYSEARCA:XSD).
And there seems to be a similar pattern of underperformance across two time frames, since June 2006 and since 2009-although if you look closely you can see that PSI has outperformed XSD in recent months.
A comparison of holdings shows that PSI might be too concentrated in its top holdings.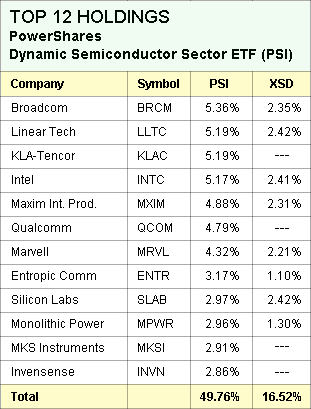 To be clear, I did not examine any other ETFs in the PowerShares Dynamic ETF series. They have plenty of different sectors to choose from. And there may be ones where they consistently outperform their logical benchmarks.
But in the technology realm, it appears that a passive approach either does just as well as or outperforms this dynamic methodology.
Disclosure: I am long XSD.