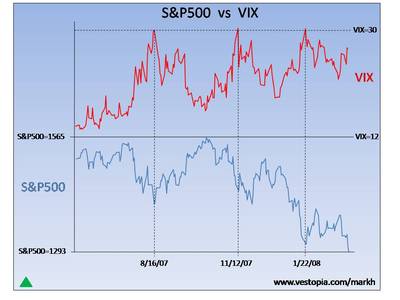 Check out the graph above of the VIX versus the S&P500. The last three times the VIX hit 30, it was almost immediately followed by a short-term bull run in the S&P500. Interestingly, the way things are heading, we may hit 30 again this week.

If you're not familiar with the VIX, it's basically a stock market fear indicator. More specifically, it's the expected 30-day volatility on S&P500 options traded at the CBOE.

I wouldn't suggest making any trades based entirely on the VIX, but it is something to keep in mind, especially if you are sitting on a little extra cash in your portfolio.