A common misconception that people have is that the market is always efficient. However, the market can be very inefficient, creating large opportunities for investors and short sellers. OfficeMax (NYSE:OMX) is one of those large opportunities.
People lump together traditional retailers like OMX, Office Depot (NYSE:ODP), Staples (NASDAQ:SPLS), Best Buy (NYSE:BBY), GameStop (NYSE:GME), and RadioShack (NYSE:RSH) as "going the way of the Dodo." Common belief is Amazon (NASDAQ:AMZN) and other online retailers are stealing market share and rendering these retailers obsolete. Over time this will be the case, but some of these retailers are actually doing well. BBY, GME and SPLS continue to earn profits and pay dividends to shareholders, while OMX has consistently earned a profit while keeping sales from slipping.
Shares of OMX are dirt cheap. The company has several changes that should be hitting its balance sheet at the end of this quarter. As I wrote on March 12th, 2012, OMX sold their timberland assets in 2004 to Boise Cascade. OfficeMax created Installment Notes to defer $543M in taxes until 2020 when those notes expire. Lehman and Wachovia were each guarantors of half of the notes, which is non-recourse debt. On September 15th, 2008, Lehman filed for bankruptcy and caused OfficeMax to take a non-cash impairment charge of $735M. Due to GAAP accounting rules, the non-recourse debt from Lehman has to remain on the balance sheet until Lehman's bankruptcy is finalized, and the debt is legally extinguished. On December 6th, 2011, the bankruptcy was finalized, with Lehman making a payment to creditors on April 17th, 2012. The non-cash gain the company should generate in Q2 will be $735M. It will offset the loss that was taken in 2008, and force OMX to pay half of the taxes that were deferred till 2020. Based on my math, the company will pay $117M in cash taxes and lose $160M in tax credit assets, while extinguishing $735M in non-recourse debt from their balance sheet.
As of March 31st, 2012, OMX has $5.79/share of cash on their balance sheet, and has a tangible book value of $5.87/share. After this massive Q2 gain, the company (using March 31st balances) will have $4.43/share in cash and a tangible book value of $11.16/share. One of the reasons that the stock trades under $5 is because investors perceive the company to have large amounts of debt on the balance sheet, when in reality the company's true recourse debt load (debt they are responsible for) is just $269M.
A new catalyst (long overdue in my opinion) has finally come into place. A shareholder, Neuberger Berman LLC, has become an activist investor in OMX and is looking to unlock shareholder value. On June 18th, 2012, Neuberger announced they owned 4.35M shares (5% holder) and had sent a letter to Ravi Saligram, CEO of OfficeMax. Neuberger voiced their frustration with management for not unlocking shareholder value through buybacks, dividends, and sales of non-core assets. In the letter, they planned on nominating new Directors if action wasn't taken this year. Finally! Having a shareholder publicly voicing their frustrations could mean a great deal to investors of OMX. Other shareholders could start to accumulate positions and also put the pressure on management to unlock value.
A potential catalyst this year is possible pension reform that could be snuck into a Transportation Bill. JPMorgan notes that the provision is buried on page 1472 of the bill. The bill was approved by the Senate in March and is currently being considered by the House. Corporate lobbyists are trying to sneak this provision into the bill to help corporations' underfunded pensions. JPMorgan says, "…allow[ing] corporations to use a 25-year average rate as opposed to the current 2-year average, increasing the current discount rate from the 4 percent range to roughly 6 percent. Since liabilities are sensitive to discount rate assumptions, the plan's liability will change roughly 15 percent for every one percentage point change in the discount rate." Assuming this reduced OMX's pension liabilities by 30%, the pension would magically see its $330M underfunded status disappear, helping the appearance of OMX's balance sheet and all other pensions in corporate America. Now, the accounting shenanigans mean nothing in the long run but could lead to share gains in the short-term for OMX and other companies.
OfficeMax management hasn't done a great job of adding value for shareholders, but they have done a good job in mitigating revenue declines and actually increasing profit margins. The company is currently projected to earn $.68/share in 2012 and $.75/share in 2013. The company currently trades at a measly 6.9x 2012 estimates, well below SPLS (8.6x) and ODP (110x).
There do remain several risks that could harm OMX and shareholders. If the U.S. economy does enter a recession, profits would likely decline. Also, AMZN and other online retailers do pose a long-term threat to all brick-and-mortar retailers. However, if states do come back and start charging sales tax on retailers such as AMZN, the tides could turn in favor of retailers such as OMX, SPLS and ODP.
Overall, OfficeMax looks like a bargain. With share trading near the cash on the balance sheet, and investors starting to voice their frustration with management, shares could trade significantly higher in the latter half of the year. The stock could easily return to $10, closer to its real tangible book value, if management adopts a dividend or stock buyback plan. Also, an acquisition by a private equity firm isn't out of the question either. With earnings 6 weeks away, there is plenty of time to buy OfficeMax. I finally bought shares last week at $4.40 after Neuberger sent their letter to the CEO, and I plan on accumulating more shares on any weakness in the coming weeks.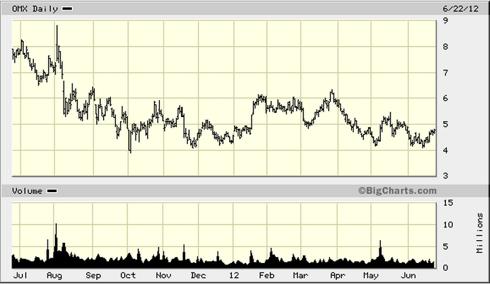 Disclosure: I am long OMX.
Additional disclosure: I may add to my OMX position at any time.