In this article, I will run you my comparable analysis for two stocks that have been experiencing overly optimistic momentum and thus are significantly overvalued in my opinion. The following information serves as a helpful introduction, but your further research is still warranted.
Chipotle Mexican Grill (NYSE:CMG)
Chipotle Mexican Grill shares have returned 46.06% over the past 12 months even amid substantial market softness and volatility. Lofty optimism on the company's store expansion helps fuel the price action. At $415.48 per share, the stock is trading at 22.0x the NTM EBITDA and 43.9x the NTM EPS. Taking the growth prospects into consideration, Chipotle trades at a PEG ratio of 2.0x, suggesting a large premium to the growth potential.
The table below shows my comparable analysis, which includes the major quick-service restaurant chains in the US. Compared to the peers, market expects Chipotle to experience the fastest growth in revenues, EBITDA, and EPS over the current and next fiscal years. The company also has a superior performance in profitability and liquidity relative to the group. As such, it makes sense that Chipotle should trade at a valuation premium to its peers, and in this case, I believe a premium of 15% to 20% would be reasonable. To justify the current market price of $415.48 using the relative valuation model shown below, a lofty premium of 135% is required on both the group average P/E and EV/EBITDA multiples.
Click to enlarge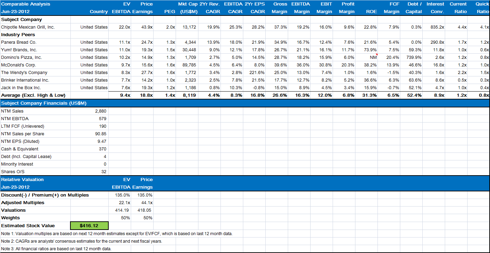 Boston Beer Co. (NYSE:SAM)
Boston Beer Co. has provided investors a solid return of 31.86% over the past 12 months. The price action has outperformed the majority of its peers. At $115.11 per share, Boston Beer Company is trading at 12.6x the NTM EBITDA and 26.8x the NTM EPS. Taking the growth estimates into perspective, the stock trades at a PEG of 1.3x, the highest among the comparable company group (see below).
My comparable analysis shown below includes major brewers in developed countries, which I believe are experiencing relatively slow growth compared to their peers in the developing world. Compared to the group, Boston Beer Company does not have better growth prospects, as its EPS will likely decline over the current and next fiscal years. Profitability margins are fairly in line with the group averages, but ROE is superior. Its free cash flow margin is slightly lower than average, but its balance sheet should bear less risk, given it has no debt and stronger current and quick ratios. It appears that Boston Beer Company should trade at a premium of 10% to 15%, given its overall better performance. Again, to test the current market price of $115.11 using the relative valuation model below, a substantial premium of 73% is required.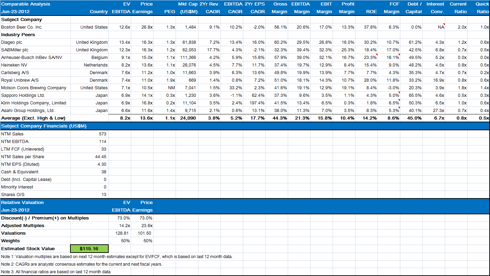 The bottom line is that the ridiculously high valuation premiums that are baked into the prices provide very little margin of safety for investors. Yes, it should not be denied that these growth stories would continue for a while, but things will eventually reverse to mean, and high growth is impossible to be sustained. Once the market has a visibility of slower growth, I expect significant corrections ahead. As such, I strongly recommend conservative investors to avoid them.
The tables are created by author and financial data is sourced from company 10-Q, 10-K, press release, Yahoo Finance, YCharts, Wall Street Journal, Thomson One, Bloomberg, CapitalIQ and Morningstar.
Disclosure: I have no positions in any stocks mentioned, and no plans to initiate any positions within the next 72 hours.