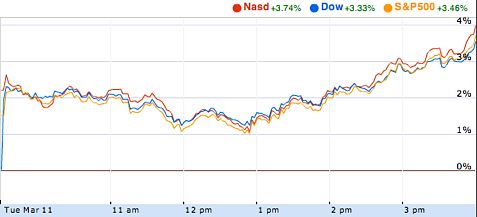 Haven't seen rally like this for quite a while. Actually, the last time it happened was more than five years ago.
US stocks surged Tuesday after the Fed, in a coordinated action with other central banks, said it will pump $200 billion into the financial market to ease credit fears. Stock index futures jumped when the news came out at 8:30 am and traded sharply higher from beginning to finish. According to Bloomberg, the Dow gained 416.66, or 3.6%, to close today's session at 12,156.81, the NASDAQ surged 86.42 points, or 4%, to 2,255.76, and the S&P added 47.28 points, or 3.7%, to 1,320.65, the most since October 2002.
On the currency front, Euro is last traded at $1.5357 after reaching $1.5495 against the dollar and one dollar buys 103.08 Japanese Yen. Spot gold is at $974.80 an ounce, silver $19.73/ounce, and spot platinum $2042.50/ounce. Meanwhile, crude oil future traded at record price for fifth consecutive day as traders bet on commodities to hedge against the falling dollar. Crude oil for April delivery traded as high as $109.72 a barrel in New York, the highest level since oil contracts began trading in 1983.